Meet The Capybara - Possibly The Friendliest (And Cutest) Animal In The Entire Animal Kingdom
Ever wondered what the friendliest animal in the world is? Well, it seems like the capybara is a good contender for that title, if these pictures are anything to go by this animal gets on with pretty much anyone and anything. Capybaras definitely put 'cute' in the word 'rodent, probably because they look a bit like giant hamsters.
The species, also called chigüire, is a member of the genus Hydrochoerus, which is the world's largest rodent and can weigh as much as a human male, can be found in Central America and across South America. They live in groups of 10–20 individuals and like to spend their days lounging around or going for a swim. Capybara even have webbed feet and can submerge themselves in water for up to five minutes to hide from predators.
They can also both purr and bark and like to eat their own shit too—it might sound gross but it's a way to make sure they're getting every last bit of nutrition from their food. They are the perfect animal kingdom recyclers.
Capybara are also known as "nature's chairs" because other animals like to sit on them (there's even an entire Tumblr page dedicated to this), which must go some way to making them friendly too, because they're used to being in close proximity of other animals. It sounds like it would make the perfect pet, but is that a good idea?
Would A Capybara Make A Good Exotic Pet?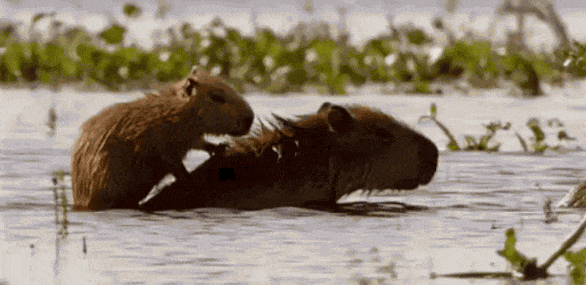 It's easy to see why Capybara are sometimes called 'nature's chairs'
Before you go running off to the local pet store to order a cuddly Capybara it might be worth listening to some wise words from Melanie Typaldos, founder of the ROUS Foundation for Capybara Veterinary Medicine in Texas.
"Capybaras are not the right pets for most people, or even for very many people, they require a tremendous amount of time and attention," Melanie advises. She adds, "they can be aggressive, their teeth are extremely sharp, they need a pool for swimming and fresh, non-toxic grass for grazing, their food is expensive as are any veterinary expenses." But while these exotic pets come with lots of challenges, Melanie Typaldos wouldn't trade her own pet Capybara (capy) for anything you could possibly offer her. Because they are totally adorable.
And if that isn't enough to make you weep from all the cuteness it also seems capybara make the perfect surrogate mother to pretty much anyone and anything in the entire animal kingdom with a natural tendency to foster care and nurture any animal whose parents are not around.
It maybe not make for the ideal house pet, but you can't deny, it sure is adorable.
If there was an award for 'Best Animal Ever' then the capybara would definitely be on the final nominee list.
Proof That Capybaras Are Friends With Everyone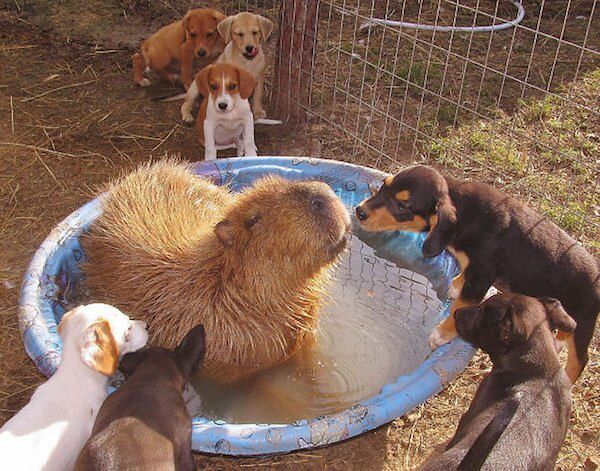 Capybaras love dogs and puppies.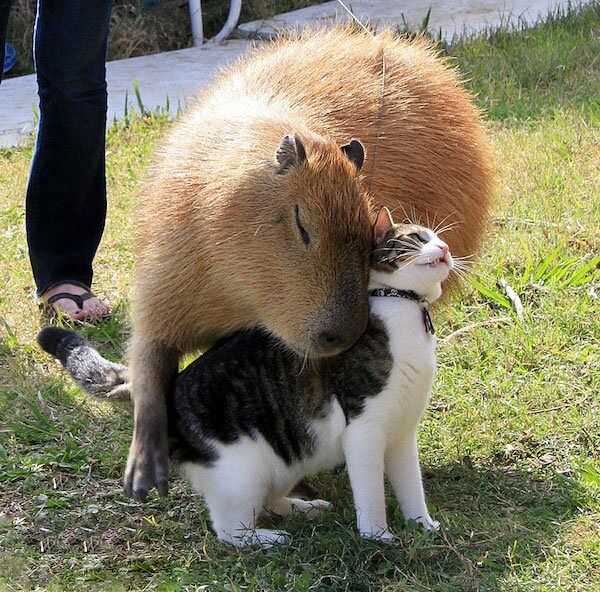 Capybaras also seem to love cats too, and vice-verca.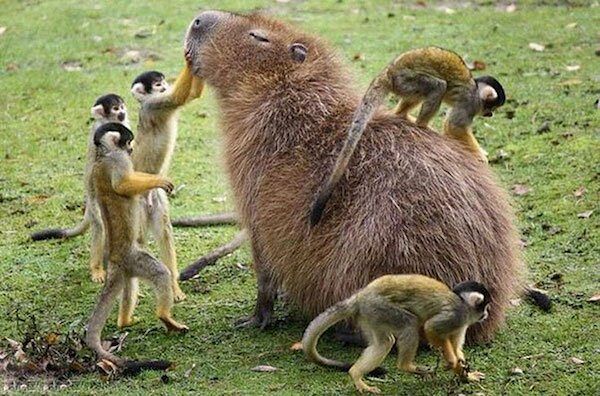 Even monkeys love a capybara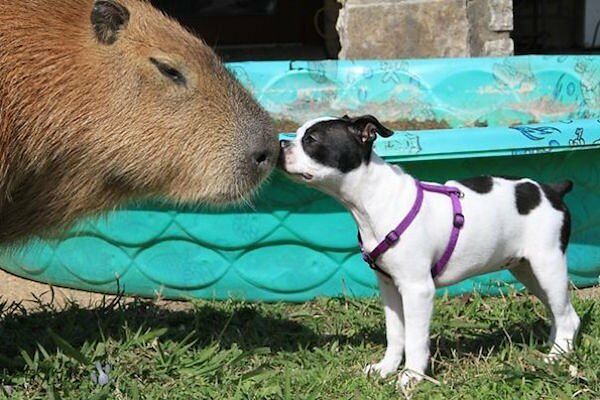 They love to give everyone they meet a nose kiss.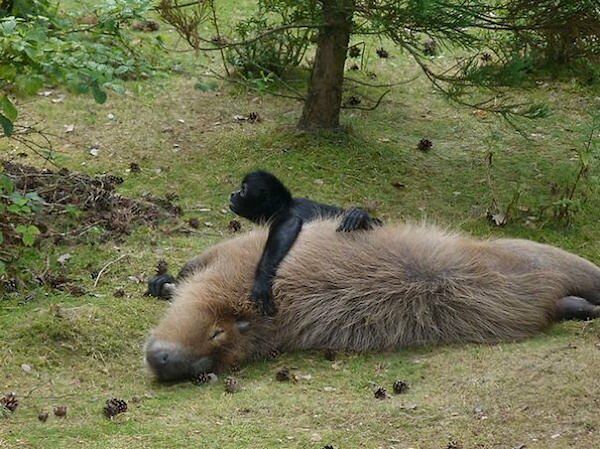 And seem totally relaxed in anyone's company.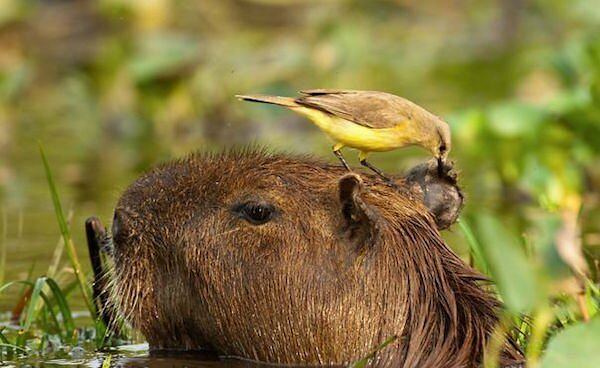 Seems like a capybara makes a great perch for a bird.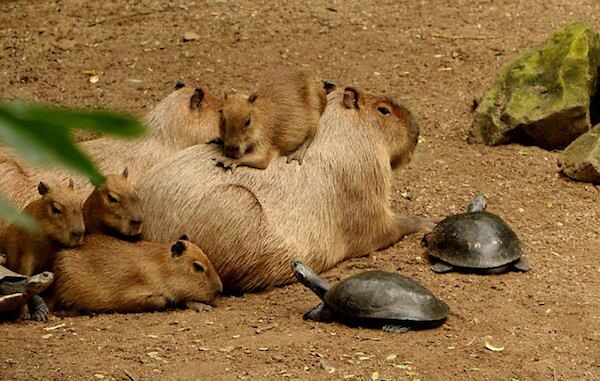 Even tortoises get curious around a capybara.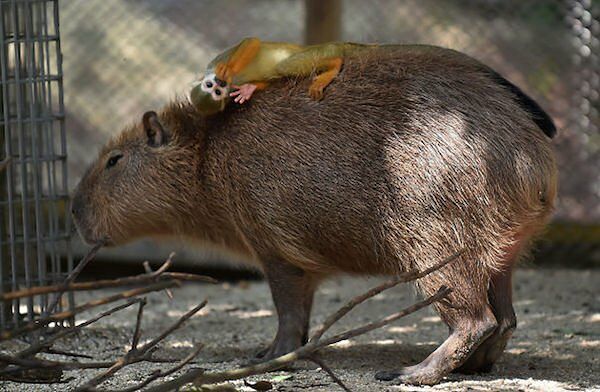 They really live up to their name 'nature's chairs'.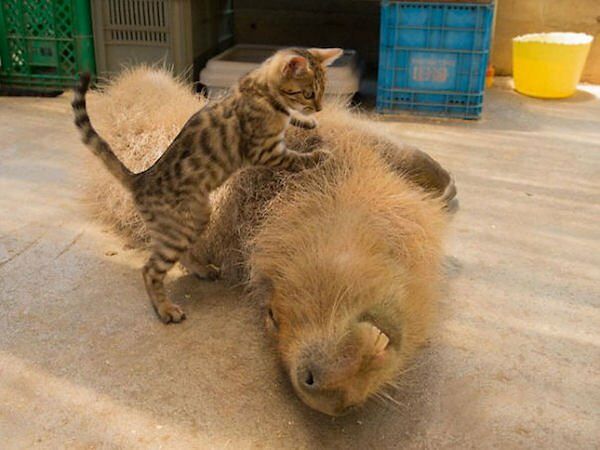 And who can't resist a free belly rub.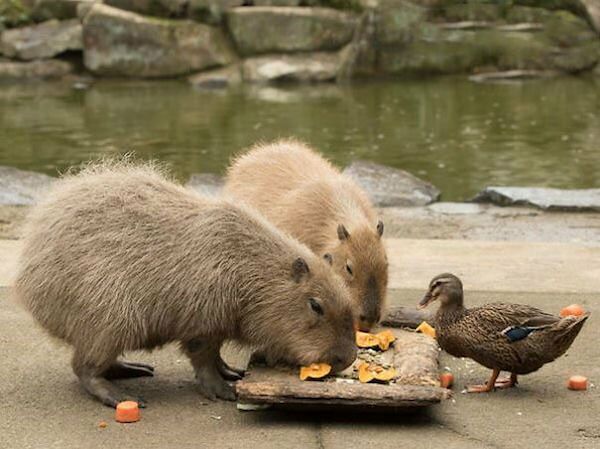 They are not fussy about who they share their food with.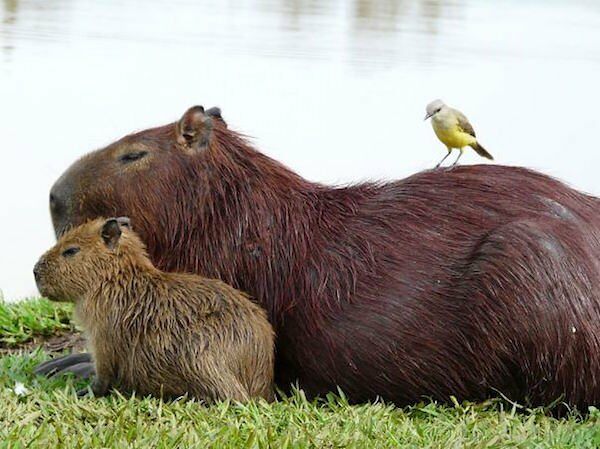 Sometimes capybaras don't even realize they have company.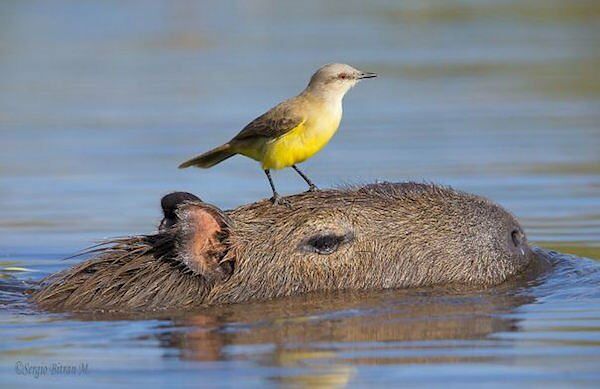 Or seem to mind another animal getting a free ride.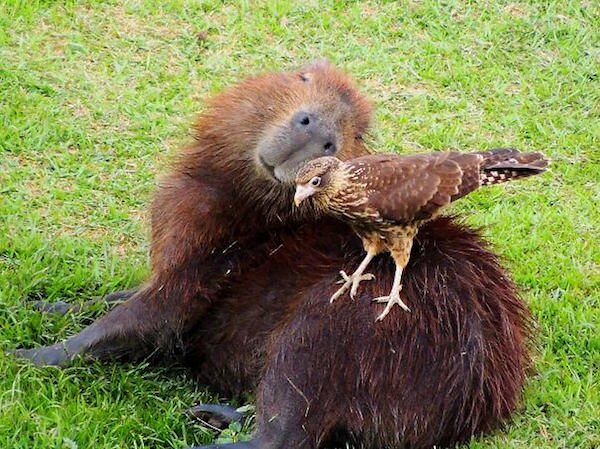 It really seems at times that a capybara can talk to other animals.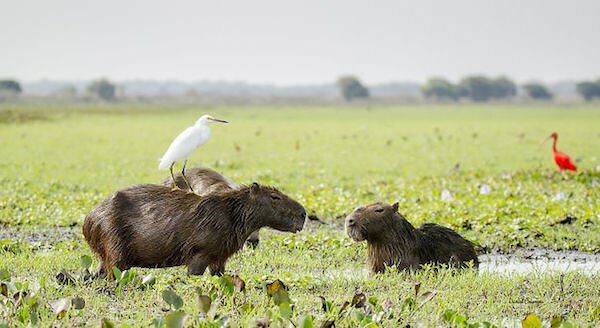 Even when they are having a conversation with other capybaras.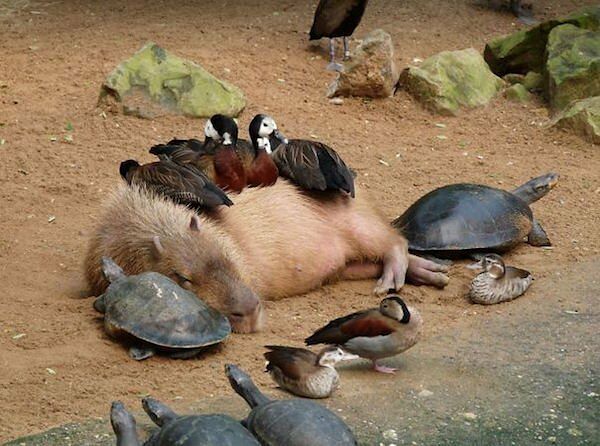 When a capybara takes a nap - everyone takes a nap.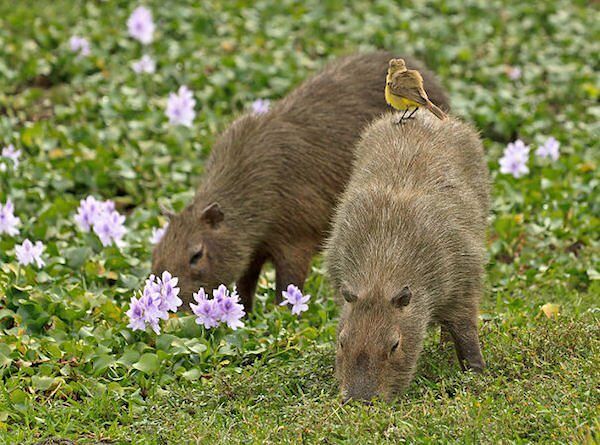 Company for a capybara is most welcome whatever the event.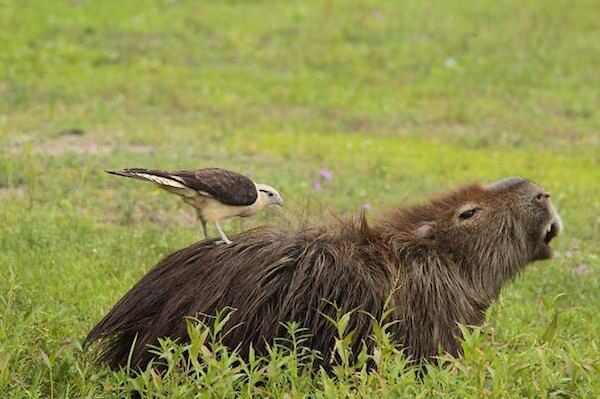 And birds do seem to love these cute animals.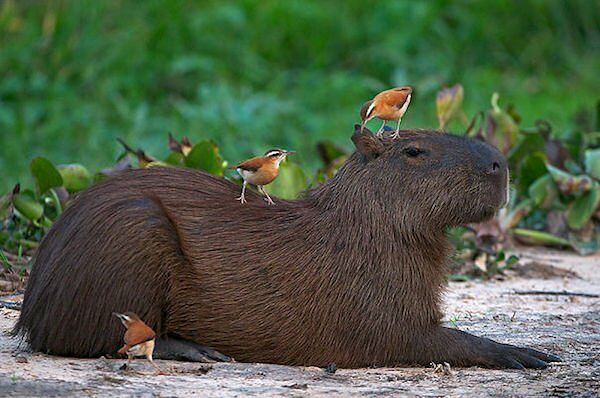 Yep, birds seem to love capybaras a LOT.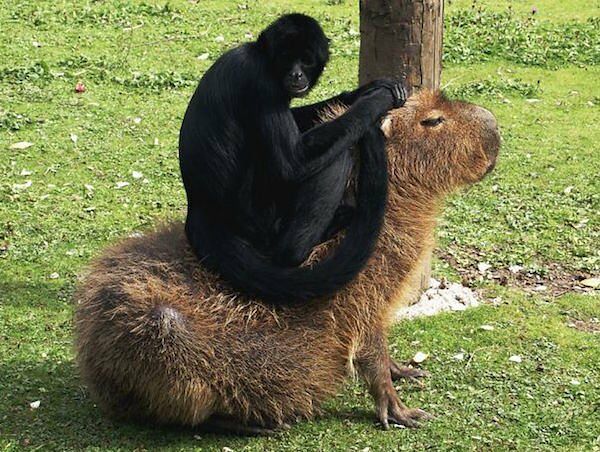 No ride is too big for a capybara.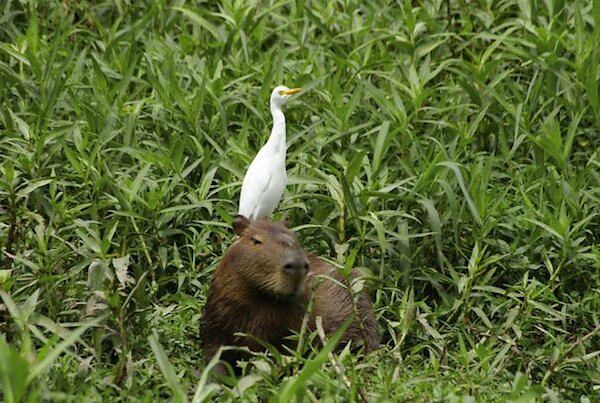 Or too tall it seems (they make excellent watch towers).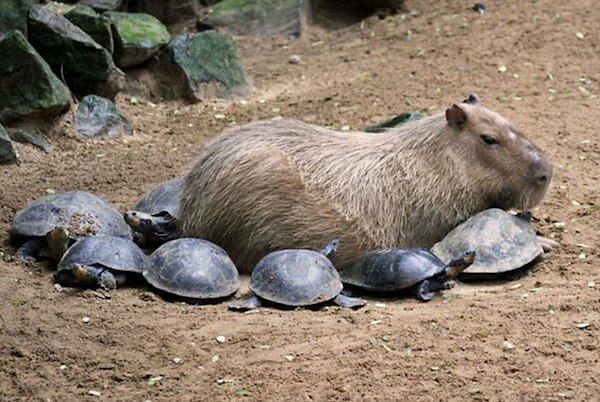 Tortoises surround them with love (or are they protecting this capybara?).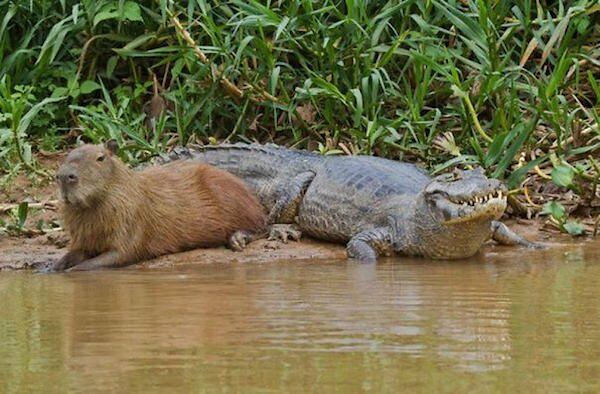 It seems even crocodiles can't resist them.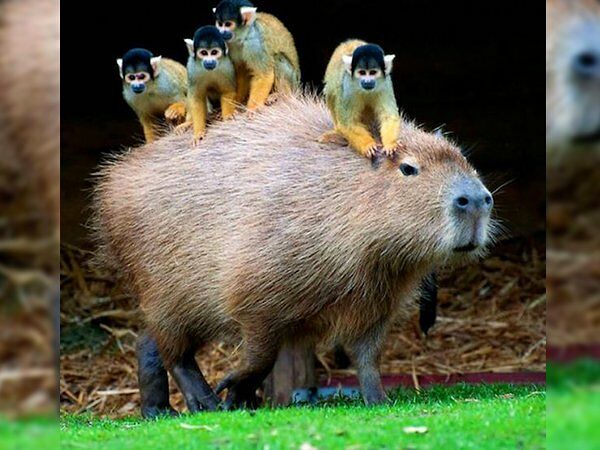 It seems no one can resist them.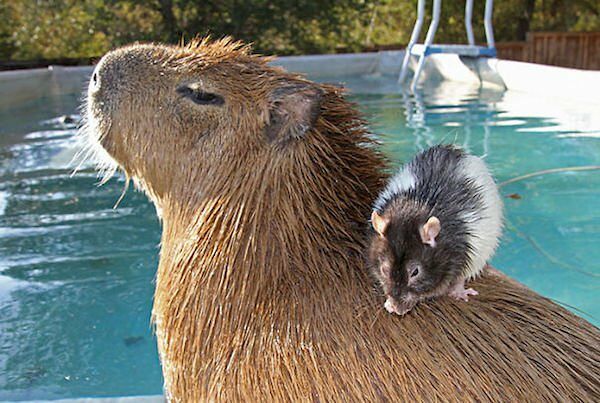 They really do look like a giant hamster.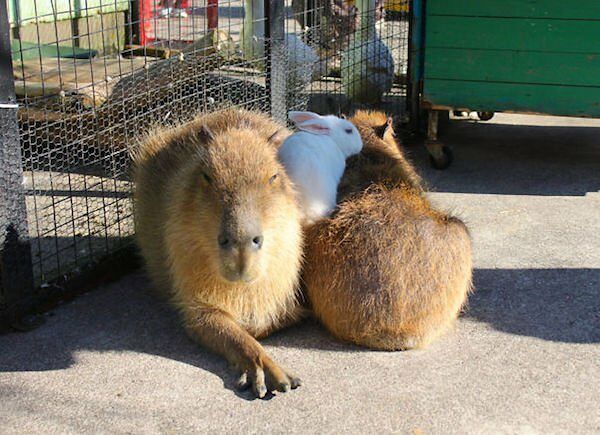 But look nothing like a rabbit.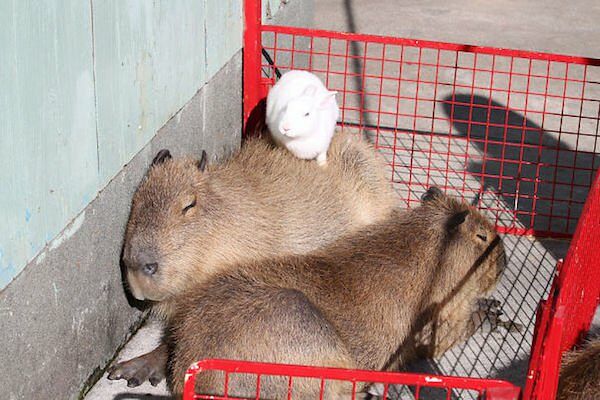 But rabbit can't resist a sleeping capybara.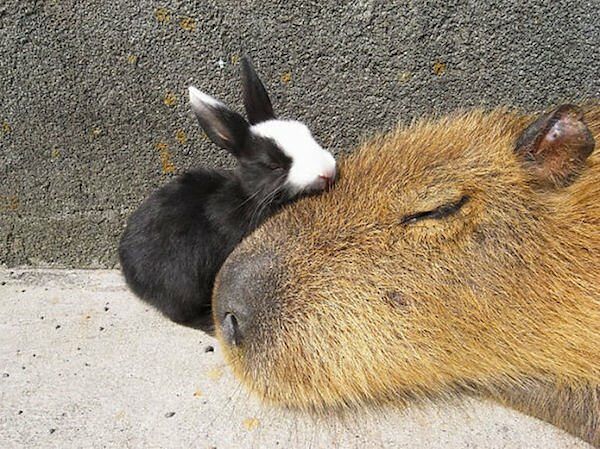 Because capybaras make great sleeping buddies.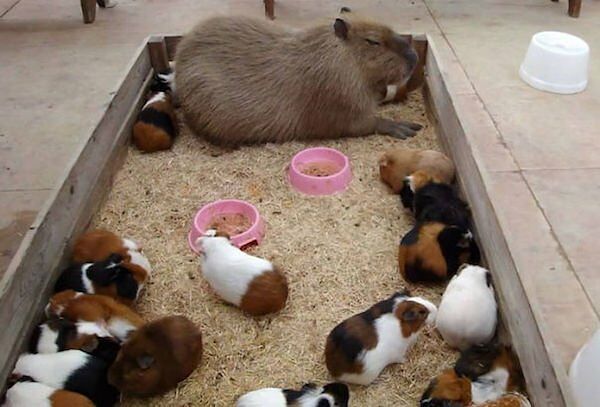 Even guinea pigs seem to think so.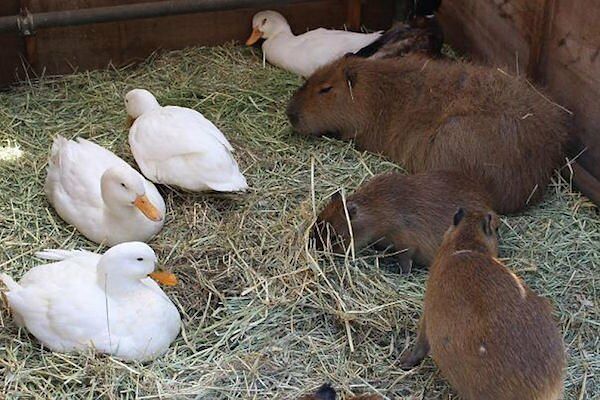 And the ducks too.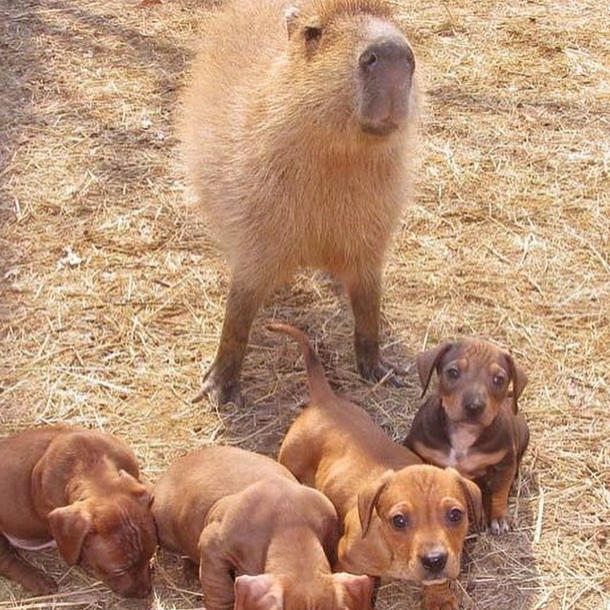 A capybara is everyone's friend.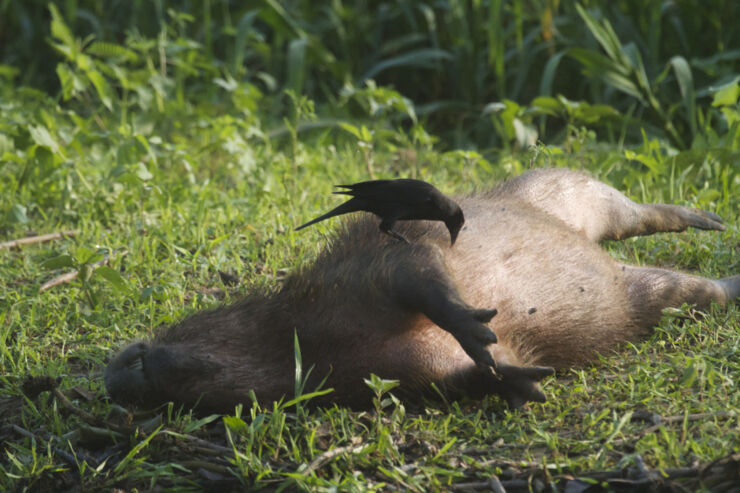 Even when they are fast asleep.