OM NOM NOM Of The Day: A 'D'oh Nut Burger' And Other Insane Concoctions From Burger Joint PYT
If the thought of getting your lips around a cheeseburger-stuffed donut sounds like some kind of food paradise to you, you might want to move to Philadelphia—preferably within waddling distance of PYT, a restaurant who pride themselves on making insane burger creations.
A quick peruse of their Tumblr page gives you an indication of what to expect. Pepperoni Pizza Pretzel Burger anyone? Or how about a Donut Cheesesteak Burger? Yep, these artery-clogging concoctions are PYT's specialty and are often only available for a limited time only. Which is probably for the best.
The restaurant was brought to the world's attention a few weeks back when Eagles running back LeSean McCoy left a waiter there a micro-tip of just 20 cents, news of which subsequently went viral.
Anyway, in case you're ever in Philly and have a hankering for the weirdest burgers in town, here's a few of their craziest hybrids you could try.
1. The Hot Pocket Burger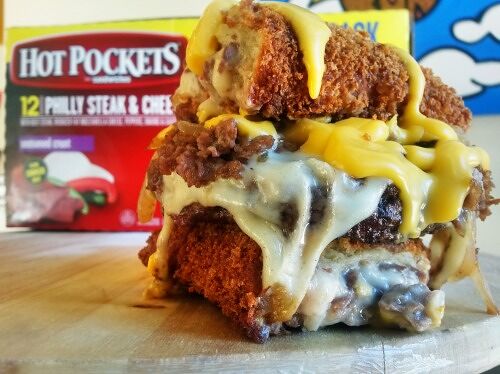 "Deep-fried "Philly Cheese Steak" Hot Pocket buns. Juicy PYT-blend beef patty topped with American cheese and truffle-drizzled wiz wit cheesesteak."

2. The D'Oh Nut Burger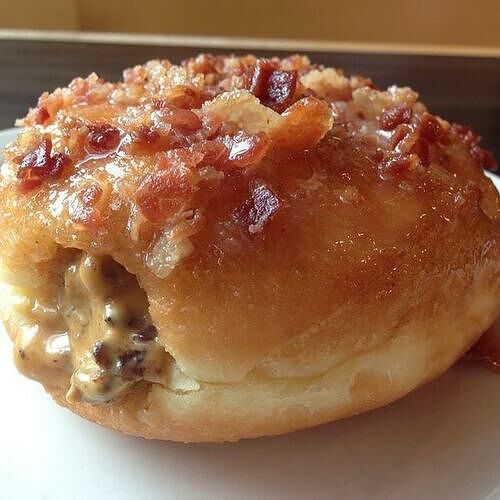 Foodbeast describe it as: "An homage to Homer Simpson and his legendary love of donuts. The contents forcefully stuffed inside this savory donut are your basic all beef patty and American cheese. The glazed donut itself is topped with bacon bits."

3. Donut Fried Chicken Sammy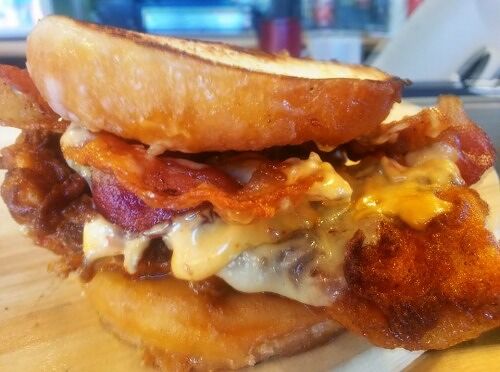 "Buttermilk fried chicken breast, american cheese, applewood bacon on a warm grilled donut bun."

4. Deep-Fried Ellio's Burger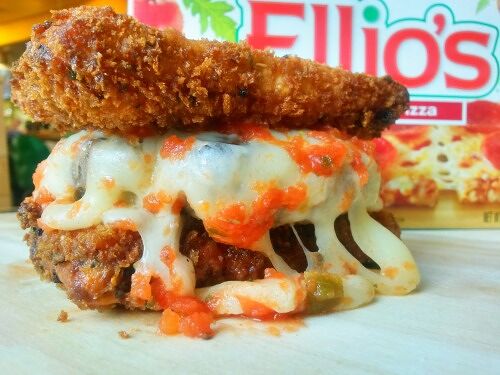 "Deep-fried Ellio's Pepperoni slices for buns. Meatball patty. Loaded with Mozzarella & Provolone. Kim's grandmom's marinara sauce."

5. Buffalo Shrimp Burger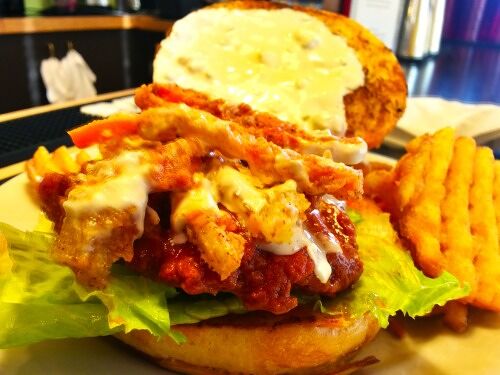 "An all-jumbo shrimp patty, breaded and fried and tossed in spicy buffalo sauce. Topped with crispy carrot & celery sticks and bleu cheese aioli. Served with waffle fries."

6. The Spaghetti Burger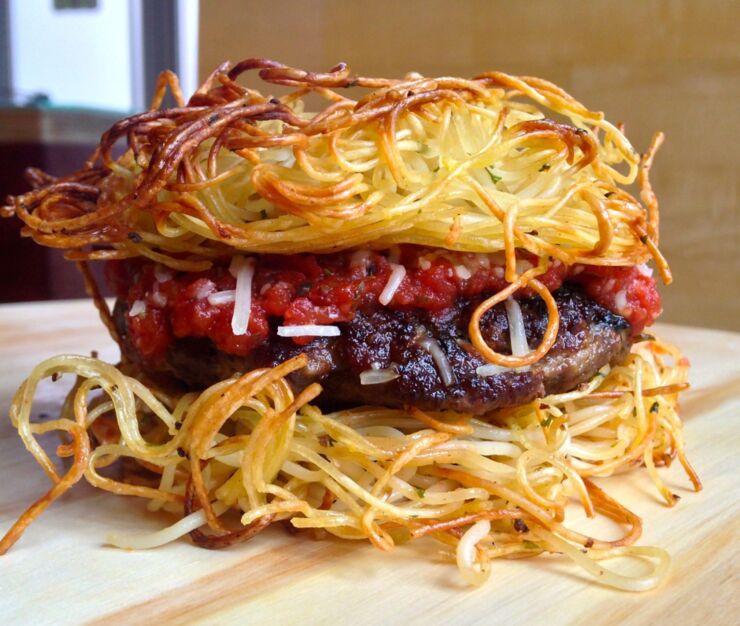 "Spaghetti cooked into tasty garlic butter buns. Mozzarella-stuffed meatball patty. Red sauce. Parmesan flakes."

7. Lasagna-Bun Burger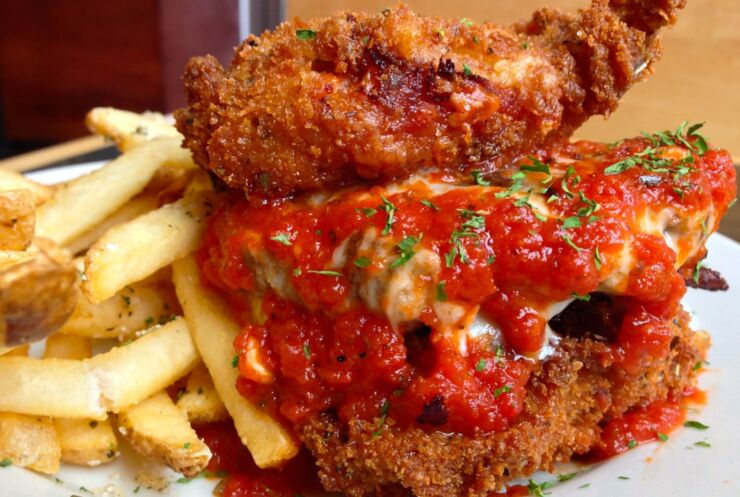 "Two thick slices of deep-fried mozzarella & ricotta lasagna are your bun. Meatball-seasoned juicy beef patty. Topped with provolone and house made marinara. Served with Italian-Parm fries."

8. Muffuletta Beignet Burger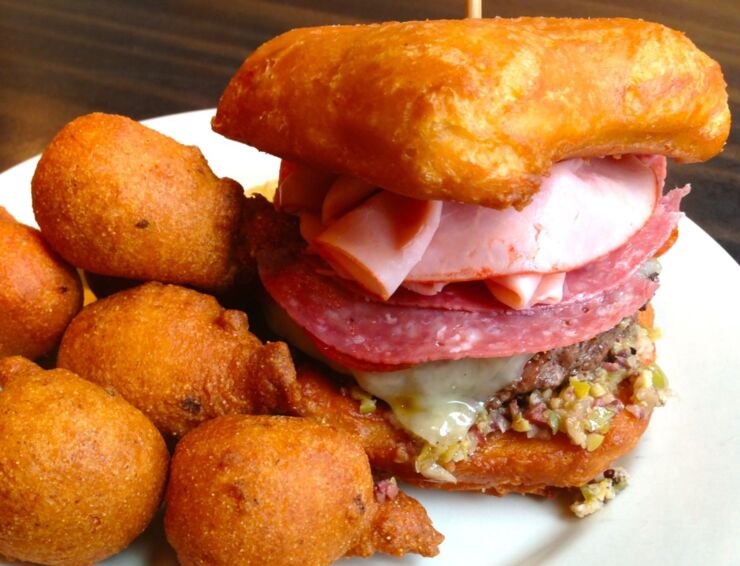 "Two house-made, deep-fried flaky beignets are your bun, inside is a juicy beef patty topped with melted Swizz, sliced Capicola, Salami & Pepperoni and olive tapenade. Served with house-made hush puppies with a side of honey butter."

9. Donut Cheesesteak Burger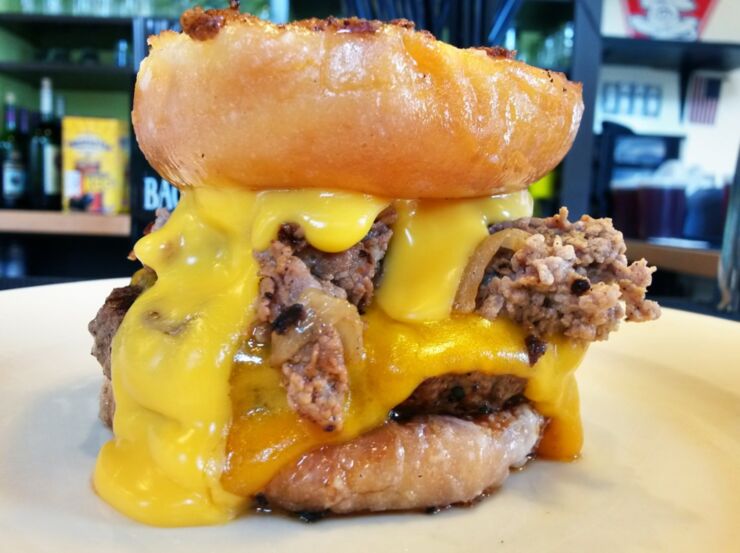 "Glazed doughnut, melted Cheddar, fried onions, steak meat and cheez whiz."

10. The Christmas Dinner Burger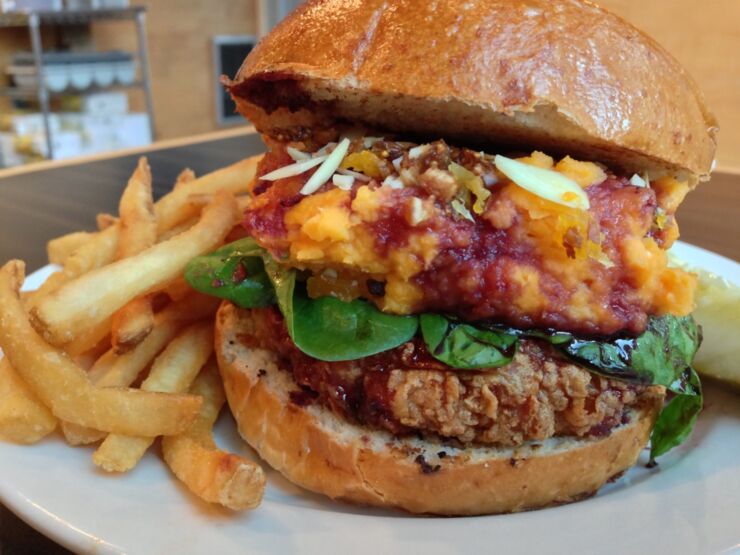 "Buttermilk-fried turkey leg patty topped with spinach, house-made goat cheese & sage mashed sweet potatoes, red wine sauce and crumbled sugar-plum mix."