Game Of Thrones' Actor Peter Dinklage Riding His Scooter Sparks A Hilarious Photoshop Battle
Being a popular and respected celebrity in today's online social arena is a very dangerous job, try too hard, come across as fake, say the wrong thing, do anything unusual, anything, and your career is potentially over as far as the web community is concerned. And god forbid it might be documented on a camera.
Once a photo ends up on Reddit's r/PhotoshopBattle sub anything is possible. Literally anything.
The community there will do their utmost to take a seemingly innocuous or ordinary image and have some highly inventive fun with it. And the balance of your internet credibility precariously rests in their hands.
That's especially true when it's a celebrity photo that gets submitted. Add in to that the fact that this particular submission is an actor who plays one of the most beloved characters from one of TV's most popular shows—and you have all the ingredients for photoshop wildfire.
That's what happened when a pretty uneventful photo of Peter Dinklage, who plays Tyrion Lannister on Game of Thrones, was uploaded a few days ago. It showed him looking cool wearing shades and a hoodie while riding a scooter and crossing a road. Yep, pretty uneventful. Nothing to see here. Move along.
But then Reddit got ahold of it and, well, things to a turn for the daft.
Because Dinklage is photoshopped into all manner of surreal juxtapositions, from riding with the War Boys in Mad max: Fury Road to biker crews, Spongebob, even charging at Jon Snow in the Battle of Winterfell.
You can take a look at some of the hilarity below. Head to Reddit for the rest.
Here's the original: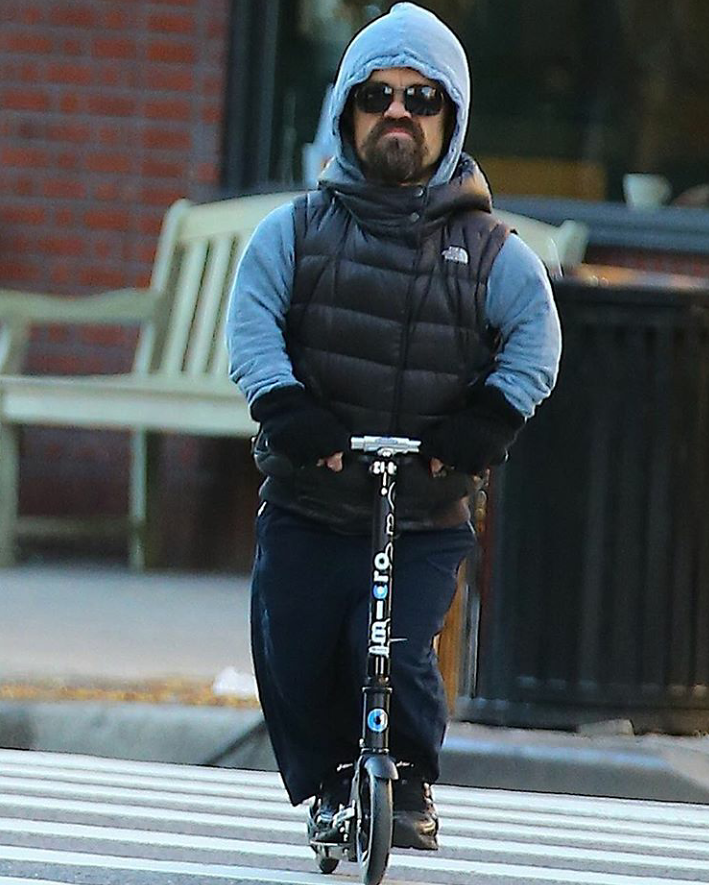 And here's the photoshopped fun.