Grindmother Documentary Will Tell The Story Of How a Grandma Became A Grindcore Singer
When it comes to grandmas who rock, the 68 year-old lead singer of Grindmother is up there. It was back in 2015 that Canadian Rain Forest's group Corrupt Leaders were looking for a vocalist and so Rain and couldn't find one, so Rain asked his mom to do guest vocals. And as they say, the rest is history.
"We were having a coffee together and I asked her if she was down to record a couple of screams." Rain previously told us. "The recording gear was already setup since I had been tracking vocals for the EP. It was a spur of the moment idea and she's a pretty fun, open-minded lady, so she gave it a try."
The video went viral and the band Grindmother was born, with Rain's mom as the lead singer. The band released their debut album last year. And Rain's mom has also gone on tour with the band, which has seen her play 25 cities in four countries. And now "metal's favorite senior frontwoman" is getting a documentary made about her story and her rise to metal stardom.. At least, that's the idea anyway.
Grindmother And Rain Need Your Help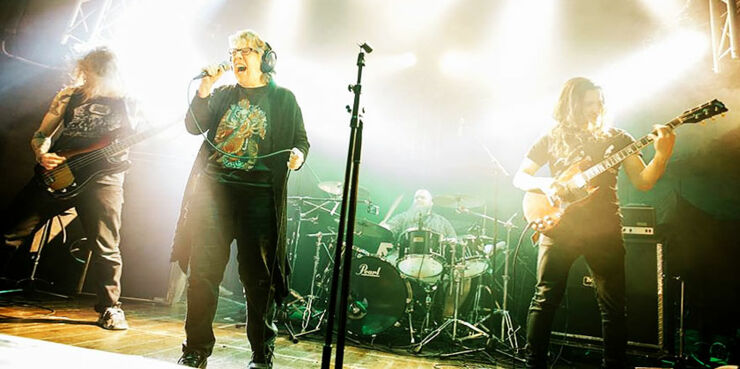 Rain's lead singer 'Grindmother' is a 68yr old retired social-worker.
But first Rain needs the funding, so he's launched a Kickstarter campaign to raise the money to cover the costs of camera hire, a film crew, travel, editor, and DVD production.
The goal is to raise $8,222 and at the moment they have around $1,900 with about 24 days to go. If you want to pledge you can do so here. The title of the doc is the same as their debut album, Age of Destruction, and if funding is achieved the aim is to release it in October 2019.
From the Kickstarter page:
After accidentally stumbling into the rock n roll lifestyle in 2015, she's captivated the world with her bad-ass vocals, and incredible story. Fans will get to experience the story as it unfolds, learning about Grindmother's life and why she is so passionate about singing in a metal band. The film will also outline stories from fans who have been personally inspired by Grindmother.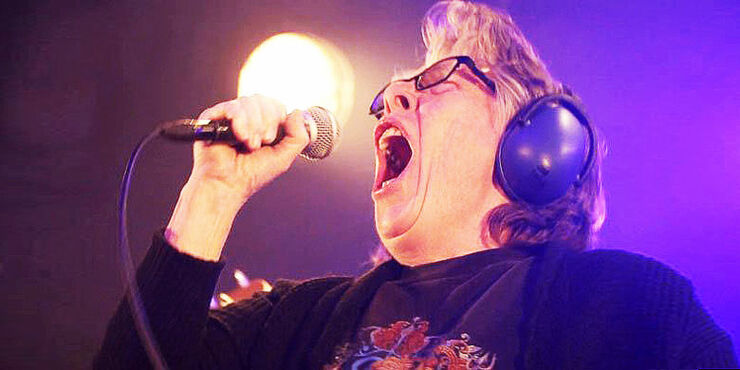 Grindmother in action