Star Wars 'Han Solo Movie' Details Are Revealed Plus Movie Cast Pics And Release Date
The upcoming Star Wars Han Solo movie has started shooting and Disney recently released a photo of the main movie cast plus the directors, along with a release date, plus a few minor plot details. IT'S HAPPENING!
At the moment there's no details on what the Hans Solo movie will actually be called, only that it will be the next standalone Star Wars movie from Lucasfilm, and the second prequel from Disney after Star Wars Rogue One in 2016. But A 'possible' working title can be seen on the bottom of the clapper board Below) 'Red Cup', but this might possibly be some sort of clever pun as these well-known red cups are also called "Solo" party cups. The Star Wars official site has said that principal photography on what is an as yet untitled Han Solo film is underway.
"Cameras are rolling on the adventure-filled past of the iconic scoundrel and everyone's favorite Wookiee," they say. "Principal photography on the untitled Han Solo Star Wars Story officially began February 20 at Pinewood Studios, London."
The film is co-directed by Phil Lord and Christopher Miller who have previously made the Lego Movie. "Watching such inspired people from all over the world, with such unique voices, come together for the sole purpose of making art, is nothing short of miraculous," Lord and Miller said. "We can't think of anything funny to say, because we just feel really moved, and really lucky."
As for the Han Solo Star Wars story Lucasfilm said "The movie will explore the duo's [Han and Chewie] adventures before the events of Star Wars: A New Hope, including their early encounters with that other card-playing rogue from a galaxy far, far away, Lando Calrissian."
Han Solo Movie Release Date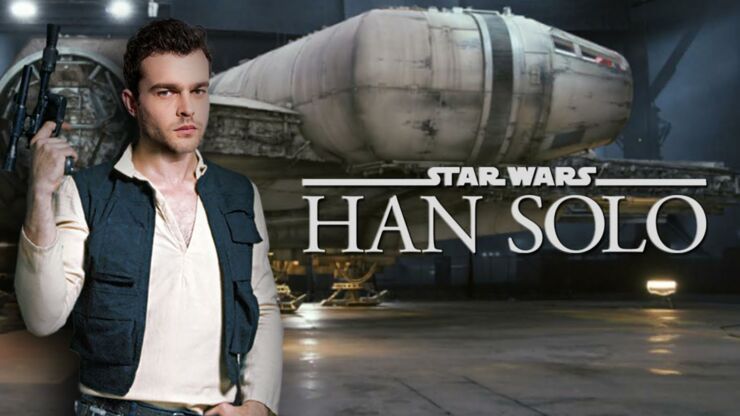 Han Solo movie release date img via StarWarsNewsNet.com
Along with detailing that production has started, they also informed fans that the film will hit theaters on 25th May 2018. That's five months after the release of Star Wars Episode VIII: The Last Jedi.
Also, the release date should be very familiar to some die-hard Star Wars fans - May 25th just happens to be the original release date of A New Hope released way back back in 1977.
Unlike Star Wars: The Force Awakens, Rogue One, and the aforementioned The Last Jedi, the young Han Solo movie is harking back to the traditional May release of a Star Wars movie. It's when the film that kicked it all off, A New Hope, was released back in 1977.
Han Solo Movie Cast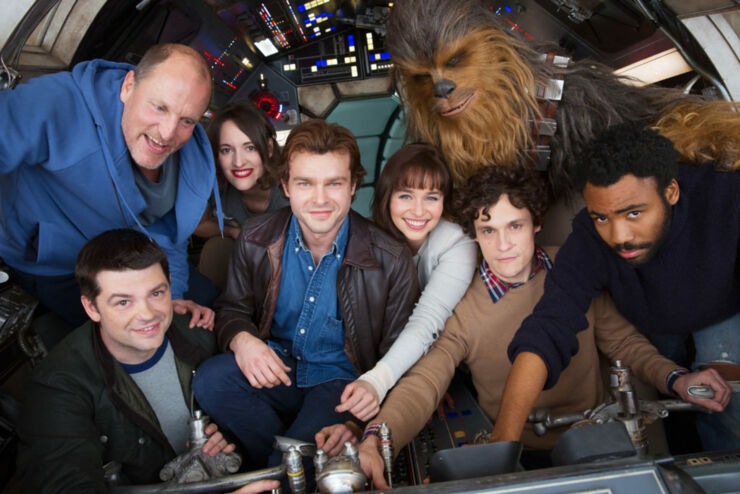 Han Solo movie Cast image via Lucasfilm Ltd ©2017 All Rights Reserved.
Along with posting the below photo of the cast in the Millennium Falcon cockpit, the press release also confirmed who would be starring. The Han Solo movie actor will be Alden Ehrenreich playing the man himself, with Donald Glover playing Lando Calrissian. They will be supported by Woody Harrelson, Emilia Clarke, Thandie Newton, Phoebe Waller-Bridge, and Joonas Suotamo.
(Clockwise from bottom left: co-director Christopher Miller, Woody Harrelson, Phoebe Waller-Bridge, Alden Ehrenreich, Emilia Clarke, Joonas Suotamo as Chewbacca, co-director Phil Lord, and Donald Glover. Photo credit: Jonathan Olley)
It's been reported that Westworld star Thandie Newton will also have a role in the film, although she is not featured in the informal snapshot (above) released on Tuesday.
Joonas Suotamo, a Finnish-born basketball player, will play Chewie. He was Peter Mayhew's double on The Force Awakens. See his statement about playing the iconic role in the tweet below.
Woody Harrelson will be playing a kind of mentor to Han. "I'm a mentor to Han, but I'm also a bit of a criminal." he's explained to Mashable in a live chat. "I don't think I should say much more than that, because the Force is not allowing me." Waller-Bridge will supposedly be playing a CGI droid character, it's not known who Emilia Clarke or Thandie Newton, recently seen as a robot in Westworld, will be playing.
More details will no doubt follow and it means that Star War fans will be getting two Star Wars movies, Star Wars Episode VIII: The Last Jedi and the Han Solo movie all in a six month period (see below).
Meanwhile, while we wait, check out Han Solo: A Smuggler's Trade, a Star Wars fan film at the top of this post.