'Oh Hi Mark Hamill' - Tommy Wiseau From 'The Room' Invades The Star Wars Universe
Star Wars and 'Oh Hi Mark', it's a mashup that you probably never expected seeing, where Tommy Wiseau's The Room character Johnny ('Oh hi Mark') pops up in various Star Wars movies. But this is the internet and anything is possible, especially by someone with Adobe After Effects.
And so YouTube channel Pistol Shrimps have taken it upon themselves to plant Wiseau's cult character from his so-bad-it's-good movie The Room into the franchise. It starts with Johnny's throwaway line from the film, 'Oh hi Mark', which he innocently says to his best friend Mark, who just so happens to be sleeping with Johnny's girlfriend behind his back. Except now it's being said to Mark Hamill in the scene from the end of The Force Awakens where Hamill, as Luke Skywalker, turns around to see Rey. But instead he sees Wiseau. Who throws a football at his head, which bounces off with comedic timing.
The Pistol Shrimps Get Creative With 'Oh Hi Mark'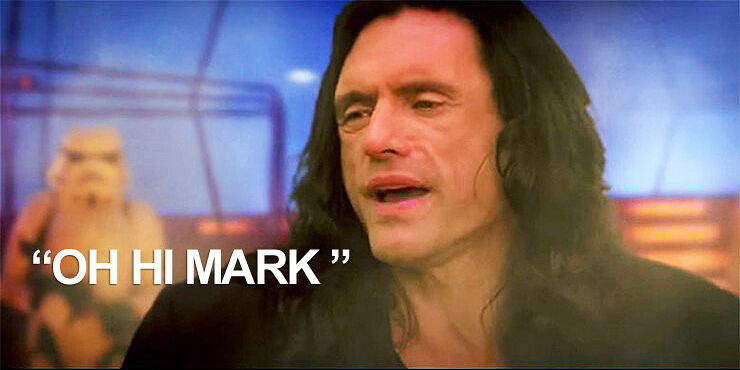 The Pistol Shrimps have taken the idea and run with it though. Starting with the 'Oh Hi Mark' scene and then transplanting Wiseau's Johnny into all manner of other instances from Star Wars. So we see Johnny getting Force lightning'd in the face by Anakin taken from Revenge of the Sith, we see Johnny talking sex with Luke—and throwing more footballs—in a scene from The Last Jedi, we see Johnny in the Millennium Falcon saying to Chewie, 'Hi, doggie.' It's all very, very funny.
The whole 'Oh Hi Mark' thing was already a meme anyway, thanks to Wiseau's incredible delivery in the rooftop scene in The Room where it's taken from. And by incredible you can read terrible. But the whole film has gained a following thanks to it being terrible, which paradoxically has made it a must-watch.
And this hilarious mashup of Wiseau and Star Wars is definitely a must-watch also. Perhaps president of Lucasfilm Kathleen Kennedy might consider Wiseau for a cameo in Episode 9? A quick 'Oh hi Mark' somewhere? Go on!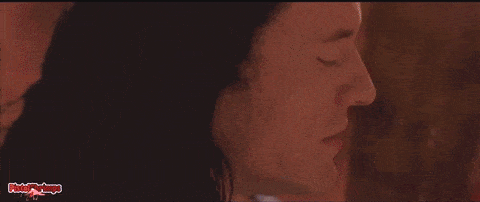 Tommy 'Oh hi Mark' Wiseau takes some Force lightning to the face