The HB Ring Lets You Feel the Heartbeat Of Your Beloved In Real-Time, Wherever You Are
If you can't stand to be apart from your loved ones, then the HB Ring and it's virtual hearbeat technology is here to help you. Sure, if you are apart, you can always Skype or FaceTime them, but if that still isn't enough then perhaps the Heartbeat Ring from tech company The Touch is the thing for you.
TheTouch's HB Ring, which lets you feel your partner's heartbeat no matter where you both are in the world, comes in a pared back design of either rose gold or stainless steel with a sapphire crystal surface and a thin lighting strip in the middle. Once you have the ring you download an app on your phone, connect to it via Bluetooth and then sync it with your partner's one and suddenly you are both sharing each other's hearbeats.
Then, no matter if you're in the next room or the next country, you can feel your partner's pulse simply by tapping the HB Ring, which sends a signal to their ring - 'One Ring to bring them all and in the darkness bind them' (or something like that) - You do need to be connected to WiFi or have a data connection for it to work though.
How Does The HB Ring Transmit Your Heartbeat?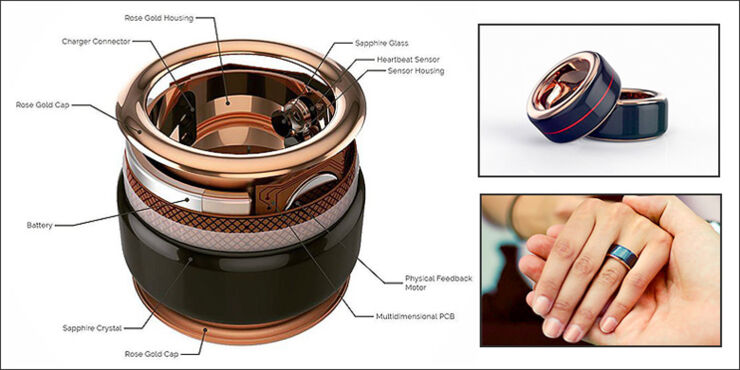 The Touch explain on their website that the ring has over 100 components inside which includes a heartbeat sensor, printed circuit board, battery, and charging connector. The rings, which are being marketed as replacing the traditional wedding ring, come in six sizes varying in width and thickness.
Price-wise a pair of the solid rose gold HB Rings will cost you $2,990.00 and the standard stainless steel $599.00 a pair. But what is the small matter of a steep price tag when the subject of love is involved?
If your partner travels a lot it might be something that can keep you connected in an instant. But all of this new technology and simultaneous feeling of connection brings with it other anxieties, like what exactly happens if you tap your HB ring and don't get a heartbeat?
It means they're probably either dead or worse, they've taken off their wedding ring. Still want one?
Images Of The Touch HB Heartbeat Ring