Apple iPhone 8 Price Is Leaked And You Will Need Over $1000 To Enjoy The Amazing New Features
It seems weird that the world is talking about the Apple iPhone 8 when it seems like only a few months ago that the iPhone 7 came out. But time waits for no smartphone and with the Apple iPhone 8 release date a mere, oooooh, six months away, some further details about it's new radical design have been leaked.
The Nikkei Asian Review has reports that Apple's 2017 lineup will include the release of three new phones. Two of those will be the iPhone 7s updates the other one the much-anticipated iPhone 8
As has been rumored Nikkei Asian Review reaffirm that the iPhone 8 will have an edgeless OLED display which will be an epic 5.8-inches (the largest display of any iPhone ever made and is significantly larger than any current mass-market smartphones):
"The upcoming iPhone, to be launched this fall, will come in three configurations -- two with liquid crystal displays and one with a 5.8-inch organic light-emitting diode display. By adding more large-screen options to the lineup to meet growing demand for BIG, Apple intends to raise the average iPhone price, which has already gone up by about 10% in the past three years to nearly $700."
This reference to price increases ties in with KGI analyst Ming-Chi Kuo, who a few week's back estimated that the price tag for the iPhone 8 will be starting at a staggering $1,000. The iPhone 7 is priced at $649 so that's quite an increase. Actually it's frightening. But it's a new iPhone and you know you will want it.
Apple iPhone 8 Comes With Radical New Features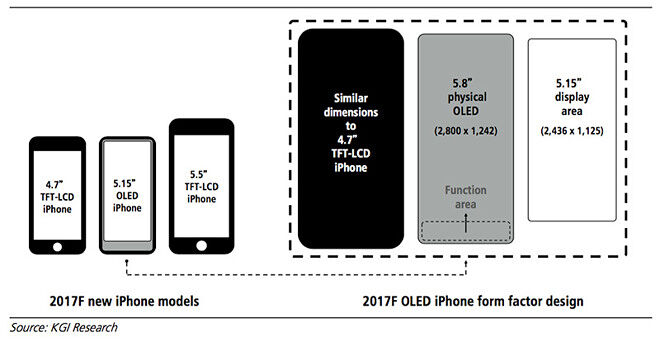 Apple iPhone 8 "function area"
But then it is getting an update that is going to be possibly unlike anything yet seen in a smartphone. For instance, although the new Apple iPhone will have a large display, only 5.15-inches of it will be usable.
The rest of the iPhone screen will be what's being called a "function area" which has been likened to the TouchBar on Apple's new MacBook Pro. And it will eliminate the need for a physical home button.
Other possible features in the new Apple iPhone 8 could include wireless inductive charging, an ultrasound sensor embedded in the display which will replace the need for touch ID fingerprint for users.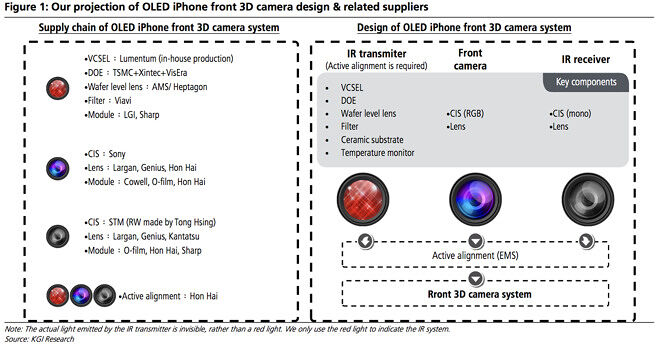 Apple iPhone 8 camera lens
Also, as reported in Apple Insider a few week's back, the 10th-anniversary edition of Apple's historic phone, Apple iPhone 8 (it's also been rumored it might be called the iPhone X or, get this, according to Japanese website Mac Otakara the "iPhone Edition") could include a "revolutionary" front facing 3D camera system used for biometric authentication—iris and facial—games, and more.
It appears that the move to focus on either 3D facial recognition or iris scanning might apply to this being the device's main security feature. JPMorgan analyst Rod Hall states "facial recognition on the iPhone 8 could be a more secure alternative, and help increase Apple Pay adoption with retailers and financial institutions."
Apple Analyst Ming-Chi Kuo On The iPhone 8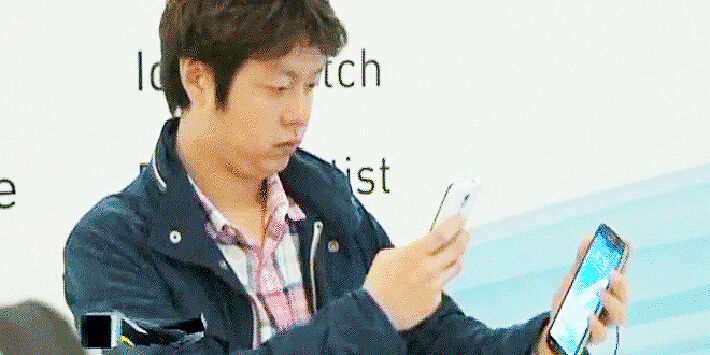 From Apple Insider:
According to analyst Ming-Chi Kuo of KGI Securities, the OLED "iPhone 8" or "iPhone X" will add an infrared transmitting module and an infrared receiving module to accompany the FaceTime camera.

The new system will enable the forward facing camera to accomplish 3D sensing and modeling. According to Kuo, this will be available for a range of unique use cases, including replacing the head of a character in a 3D game, or taking a 3D selfie.

Apple is expected to include a customized 1.4-megapixel image sensor in the infrared receiving model that will detect changes in light signals. The system is believed to use technology that Apple acquired from its $345 million purchase of PrimeSense back in 2013.

Combined with facial recognition technology from Apple's acquisition of augmented reality firm Metaio in 2015, Apple's system is expected to be far beyond anything currently available on the market.