'MURICA' Of The Day: A Machine Gun Theme Park Is Due To Open In Kissimmee, Florida
Orlando is home to some major theme parks, it's got Disney World, Universal Studios, Epcot, and now you can add to that family-friendly list: Machine Gun America. The trigger happy park will be opening on 20 December so visitors can turn up and shoot off some live ammo using real machine guns and high-powered firearms as opposed to, say, riding Space Mountain. Because, 'MURICA!
It's billed as "Orlando's first Automatic Adrenaline Attraction" and is a 13,000-square-foot facility situated in Kissimmee's Old Town, a tourist haven for families. The press release states that the park "offers guests an exciting way to experience firearms in a safe, secure, state-of-the-art environment designed to give anyone, regardless of their experience level, the thrill of a lifetime."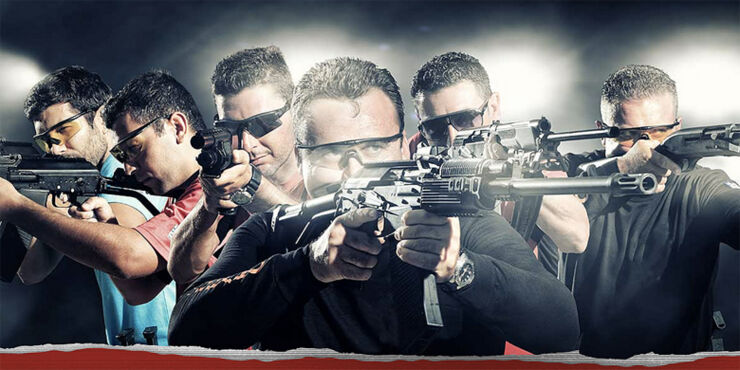 Visitors aren't allowed to bring their own firearms or ammo, no alcohol is served (praise be) and it doesn't allow children under 13 on the premises. If you do fancy making a trip down there they have 10 firing lanes, three-state of the art 'military grade' simulators, a full-immersion video experience with surround sound, and, of course, a gift shop.
The park also offers up different themes to choose from, like a zombie apocalypse one The Walking Dread or Big Screen Legends, "Say hello to our little friends. Live out your favorite movie scenes with some of the most legendary guns in film history and become the hero of your own story." There's also a Bond one, an Automatic Divas, and a few more.
Knocking back any complaints about the park's proximity to such a family-focused area, general manager Bruce Nierenberg says their customers will most likely be conventioneers visiting the Orlando area. "Everybody has something they always wanted to try," he told WTSP. "This would be on people's bucket list to try it and have a new experience. It's romanticizing our freedom and our history. I mean, it's part of American life. That's how we gained our freedom."