Makeup Artist Mimi Choi Creates Stunning And Very Trippy Optical Illusions
Mimi Choi is a makeup artist whose creations exceed what you probably thought was possible using typical off the shelf beauty products. Hailing from Vancouver, Canada the 31-year-old makeup artist was previously a school teacher Choi decided she needed a new challenge and left her teaching career and has been creating her mind-warping illusions for around three years, using herself and models as the canvases for her work.
Working as a makeup artist Mimi Choi is able to turn a human face into, say, a patchwork of eyes and noses. Or make someone appear as though their face is glitching. Or create multiple eyes cascading down the face like something out of a Guillermo del Toro movie. All done without any prosthetics too. The results are mind blowing.
According to Allure Choi honed her craft at beauty school, but now has creatd her own style, which is a mix of the bizarre, the gruesome, and the illusory. Some of them can take hours to complete, with the makeup artist using paint brushes to get the right amount of detail and accuracy in her designs.
""I'd never tried any kind of crazy make-up on myself, but I just got out my black and white eyeliner and gave it a go." Mimi recalls. Asked about how she gets ideas for her incredible makeup designs she tells Allure "When I do illusions now, I draw my inspiration mostly from my surroundings, photography, paintings, and emotions."
How Mimi Choi Creates Stunning Optical Illusions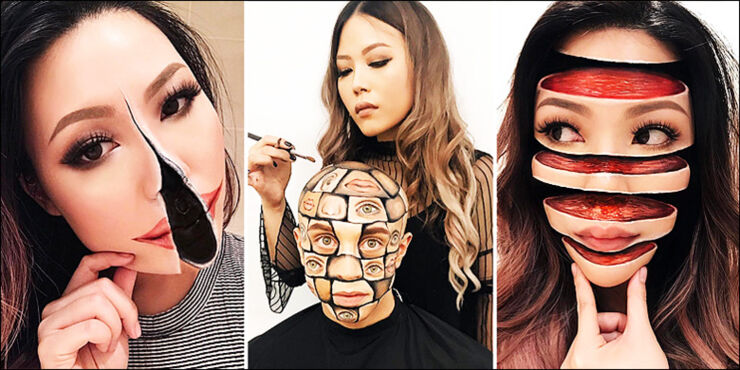 Images: Instagram / Makeup Artist Mimi Choi
Everyday and professional makeup products are used—like liquid eye liner and Kryolan Aquacolors—for these, which along with transforming facial features also include turning her hands into sushi rolls.
Of course it isn't just what the makeup artist uses that make her stand out, but how she uses them. Use of shadows, stark contouring and highlights help create the incredible illusions, like a woman who looks as though she's been cut up in sections. Many of them will make you do a double take to check what it is you're looking at.
And looking at the stunning results it's hard to take in that there's no digital manipulation going on.
"My main goal each time I do a new look is to beat myself from yesterday because I'm the biggest critic and competition to myself." she notes to Allure. "It's gotten really hard to impress myself these days but it motivates me to keep trying and doing better."
Check out some of Mimi Choi's designs below. And follow the makeup artist on Instagram for more.
Makeup Artist Mimi Choi Messes With Our Minds
CTRL C + CTRL V ?????? • Working on a recreation of my old face #collage makeup from 2 years ago on Maxwell. #bts #sneakpeek #makeup • Assist: @evelynaffleck
CHUNKY ? A chopped #makeup illusion done on @eliseritzel for a secret collaboration using @kryolanofficial Aquacolors and @mehronmakeup black face & body paints. • Assist: @evelynaffleck
The way you speak to yourself matters. • GEISHA ANDROID makeup ?? inspired by Manga #GhostintheShell, using @makeupforeverofficial @makeupforeverca Aqua XL Color Paints and Ink Liners, @kryolanofficial Supracolor Palette "N" and Smokey Rose Matte Eyeshadow Palette, as well as @mehronmakeup Face & Body Makeup and Metallic Powders. This makeup took around 4 hours to complete and was extremely therapeutic to paint! A very fun collaboration with beautiful model @hellosambo and talented photographer @clazarschuler ❤️??✨ Can't wait to see the final product!
EYE OR LIP??? ??? • I painted this eye on my lip using MAKE UP FOR EVER @makeupforeverofficial @makeupforeverca Aqua XL ink liners and color paints. ? Very happy that my eye doesn't look like a child's drawing anymore. ? Would you believe me if I told you that I did not know how to draw at all 3 years ago? This is not a result of talent, but a result of hard work, persistence, practice, practice and more practice. If you want something bad enough, if you work on it long enough, if your focus is to compare only to yourself yesterday, trust me - you will get it one day, whatever it is. Don't get me wrong - this eye definitely is not perfect but as long as it's slightly better than my last eye drawing, it's already a win for me. ✌?? #performincolor
This is #makeup • GLITCH using @kryolanofficial @kryolanuk Aquacolor Palette "AC" and Ultra Foundation Palette • My fiancé @andrewy527 came up with this #Glitch concept a while ago and tonight I finally did it in my new bathroom! First full-face makeup done in our new home! ? #glitchportrait
She's a bitch. ? • This is #makeup • Dog #muzzle makeup using @kryolanofficial Aquacolors and Supracolors. Inspired by the photoshopped images by surreal artist Sabastian Niedlich. Just a normal dog with human eyes, hair, body and 0 top teeth. ? Thought this was funny, not meant to be realistic. ? Had to paint something on myself after a long week of working on others, even though it's 2AM and my body is telling me to lie my ass down and sleep. ? #dothingsforyourself
I put my thing down, flip it and reverse it. ??? • This is #makeup -- COIN EYES makeup illusion using @makeupforeverofficial @makeupforeverca HD foundation palette, @mehronmakeup face and body makeup in black and white, and @kryolanofficial Matte Eyeshadow Palette in Smokey Rose.
"Success is fucking up on your own terms." ― Guillermo del Toro. • Freehand #SNAKE illusion lip art ? done using MAKE UP FOR EVER @makeupforeverofficial @makeupforeverca brow liners in 40 + 10, shading was done using MUFE Brow pencil in N50.
My cracked porcelain doll #makeup look for my @kryolanofficial Masterclass today! ?? Hand-painted using mostly @kryolanuk #Aquacolors, contour pencils, black liquid eyeliner and matte eyeshadows. ? I had such an incredible time meeting and sharing with all of you - thank you to those of you who attended #KryolanMasterclass2017 and watched my livestream today! Also a huge #thankyou to the amazing Kryolan team, my talented stylist @alexandra_greenhill and hair artist @emmiekennedyhair, and my beautiful model @gabrielalukschal for making my vision come alive! Last but not least, I'd love to thank my fiancé @andrewy527 for all his support and for taking such good care of me whenever and wherever I am. ❤️ #crackeddoll #dollmakeup #brokendoll
This is #makeup • LAVA MELT ???• Used @mehronmakeup Celebré Pro HD Cream foundations, @makeupforeverofficial @makeupforeverca flash palette and liquid matte lipsticks for this. Been too tired to create anything substantial lately so here's another variation of my #melt makeup. ?
CHOPPED ? This is #makeup • My only goal in life is to be better than myself yesterday. ? Chopped face makeup #illusion using @kryolanofficial Aquacolors and @mehronmakeup Celebré Pro HD Foundation. • I know some of you have questioned why there's no brain in my head - I did not intend to paint this in a way that reflects true anatomy. I create surreal art and it doesn't need to make any sense. ?
This is MAKEUP ??? • "Don't give people so much power over you that their silence leaves you questioning your worth." • COPY AND PASTE #multipleeyes and brow makeup done on myself using @makeupforeverofficial ink liner, Aqua XL pencils and Aquarelle. Brows were painted on using Aqua Brow 25. Definitely not the most realistic looking but that was the best I could do after 3 illusions that day. Took around 1.5 hours. As @satsukisoma said to me, sometimes you feel like you're going to have a nose bleed from what you're doing but you just gotta keep going. ?
SPLIT • This is #makeup • When I was little, my mama used to tell me that if I kept pinching my cheeks this way, my face would eventually split in half. I never listened to her. ? • A little SPLIT FACE makeup #illusion done using @mehronmakeup Paradise face & body makeup in white + black, and @makeupforeverofficial @makeupforeverca HD foundation palette. Initially I just wanted to test out how black my new @mehronmakeup Paradise makeup is... Oh my gaaa I love it! Thanks @mehronmakeup! ? #alwayslistentomom #hollowhead
Hey guys, is it just me or is my ??a little bit crooked? ?? • This is #makeup • Another variation of my #shift makeup illusion using @nyxcosmetics matte black liquid eyeliner and Vivid Brights. Inspired by the brilliant illustrations of @miles_art. Video coming next to clear some of your confusions! ?
FRESHY FRESHHH ?? All my fishy creations so far. ??? Not responsible for broken phones. ? I painted all of these on my own hand using @kryolanofficial Aquacolors, @suvabeauty Hydra Liners and @stilacosmetics intense black stay-all-day liquid eyeliner. What sushi do you want to see next? #salmonsushi #ebisushi #alaskaroll #fish #handpainting
Sushi chef in the making ??‍? What kind of sushi roll is this? ?This is #MAKEUP on my hand ? • #SUSHIROLL makeup illusion using @kryolanofficial Aquacolors and @suvabeauty Hydra liners. Stay tuned for final product! ? #alaskaroll #sushiroll #illusionmakeup #handpainting #handmakeup #sushi #workinprogress
If I could go back in time and tell my 20-year-old self anything: it is that terrible things will happen, but they will break you to save you. You will never be as thin or as beautiful as you have always wanted to be, but it is okay because someday you'll realize there are more valuable and attractive things about you than your exterior. The boy who took your hand when you were 19 will ask you to marry him one day. You two will hurt each other and have a lot to learn together in the years to come but don't ever doubt his love for you. Don't be so hard on yourself. You're trying your best and that's enough. You will keep messing up but you're not a disappointment. One day when you least expect it, you will finally find something that you're good at and it will reveal you. You will figure it out in your late twenties so just be patient. Everything happens for the best. Any pain will eventually fade no matter how unbearable it seems to be at the moment. Always be a positive energy. Treasure every moment because it could be the last. Tell people that you love them. Make decisions out of hope and not your fear. Your parents will tell you things that you don't want to hear but they are actually right. Family is the most important. You can be happy if you choose to be. You will eventually love yourself. You will be alright. x ____________ BROKEN • A #brokenface makeup #illusion using @makeupforeverofficial @makeupforeverca Aqua lip liners, Aqua XL pencils, artist shadows, Aqua brow and @velourlashesofficial "Whispie Sweet Nothings". All #makeup, no Photoshop.
My very sweet and long holiday has officially ended and I'm again back in hamster wheel working mode. ? I think my most recent creative deserves one last post because I put 5 dizzying hours into it. I even had to take a small nap in between to prevent my eyes from staying crossed forever. ? ________________ LACE UP ??? • Shoelace quadruple eye #makeup illusion using @suvabeauty Hydra liners, @nyxcosmetics @nyxcosmetics_canada liquid eyeliners, @makeupforeverofficial @makeupforeverca artist eyeshadows and @houseoflashes "Knockout" false lashes. All makeup, no Photoshop.
My eyes are up here ???• "INCEPTION" #makeup illusion inspired by a photoshopped image of Paul Ryan ?. (See the post before) Used @nyxcosmetics @nyxcosmetics_canada pencil and liquid eyeliners plus matte eyeshadows for this look. Lashes are all @houseoflashes "Knockout" falsies except for the littlest ones that I had to paint on. All hand-painted, took 3 hours. ?
This is #makeup • WORLDS WITHIN ME • Starting #2017 with this little layered-face makeup illusion inspired by a surreal drawing by @miles_art -- Thanks @ahlam_mallak for the suggestion! ❤️ _________ Products used: @kryolanofficial aquacolors, @suvabeauty hydra liners and @makeupforeverofficial @makeupforeverca eyeshadows. Lashes are @houseoflashes "Mon Chéri"