NASA SLS Rocket's First Mission (EM1) To Orbit The Moon In 2018 Could Include A Human Crew
The NASA SLS (Space Launch System), which is the agency's most powerful rocket ever, could see a human crew join it for its inaugural launch. The SLS NASA rocket is hoping to herald a new era for human exploration beyond the orbit of Earth, and putting astronauts on its first launch will be a great way to consolidate this endeavour. "NASA SLS will launch astronauts in the agency's Orion spacecraft on missions to explore multiple, deep-space destinations, including Mars." say the agency.
The first mission for the the NASA SLS rocket, scheduled for September 2018, is called Exploration Mission 1 (EM–1) and will be an orbital mission to the Moon. It was thought it wouldn't have a human crew but a NASA panel has given the go-ahead to look into putting a crew on to EM-1. According to SpaceNews NASA associate administrator for human exploration and operations Bill Gerstenmaier will begin a study on how feasible this would be.
Speaking about the initial panel meeting held on February 16th Spacenews added, "The witnesses, which included two former astronauts, a former chief scientist and a former center director, were asked about the issue late in a two-and-a-half-hour hearing on NASA by the House Science Committee." They went onto say "Should NASA decide to put a crew on EM-1, KSC officials said the additional work on ground systems there would likely be minimal. That work would include accelerated tests of the crew access arm on the mobile launch tower that gives astronauts access to the Orion, as well as software upgrades on various control systems."
If it goes ahead it will be the first manned mission to the moon since Apollo 17 in 1972, in fact it will be the first time a crewed rocket has left low Earth orbit. With the NASA SLS rocket launch vehicle system, which will feature an Orion capsule, a spacecraft for the astronauts that sits atop the SLS, they hope to get back out beyond low earth orbit.
How The NASA SLS Manned Mission Originated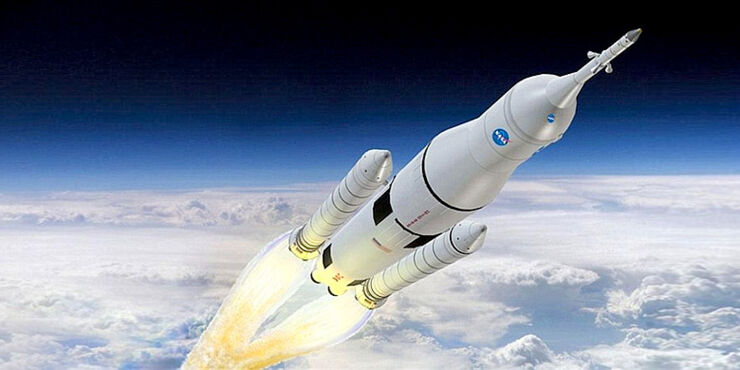 Here's NASA's official statement:
NASA acting administrator Robert Lightfoot has asked Bill Gerstenmaier, associate administrator for the Human Exploration and Operations Mission Directorate, to initiate a study to assess the feasibility of adding a crew to Exploration Mission-1, the first integrated flight of the Space Launch System rocket and Orion spacecraft. The SLS and Orion missions, coupled with record levels of private investment in space, will help put NASA and America in a position to unlock the mysteries of space and to ensure this nation's world preeminence in exploring the cosmos.
It's thought that the possible addition of astronauts to the NASA SLS first flight is a direct result of the Trump administration. Previously NASA hadn't planned on sending a human crew until EM-2 in 2021 at least. The Washington Post have described this u-turn as quite a big deal.
"This is, by NASA standards, a bombshell announcement, because major missions involving new hardware and astronauts are typically planned many years in advance." say the Post. But Trump's administration is pushing for it so they can show they've done something "dramatic" in his first term and also to send a signal to China that the US is the dominant country in space.
One things for sure it certainly isn't going to be easy, but that doesn't mean NASA aren't up for the challenge, as the acting administrator notes.
"At NASA, we're leveraging the very best the country has to offer on this work, and it's advancing the national economy." Lightfoot said in a NASA memo. "As the Acting Administrator, my perspective is that we are on the verge of even greater discoveries. President Trump said in his inaugural address that we will 'unlock the mysteries of space.' Accordingly, it is imperative to the mission of this agency that we are successful in safely and effectively executing both the SLS and Orion programs. I know the challenges associated with such a proposition, like reviewing the technical feasibility, additional resources needed, and clearly the extra work would require a different launch date. That said, I also want to hear about the opportunities it could present to accelerate the effort of the first crewed flight and what it would take to accomplish that first step of pushing humans farther into space."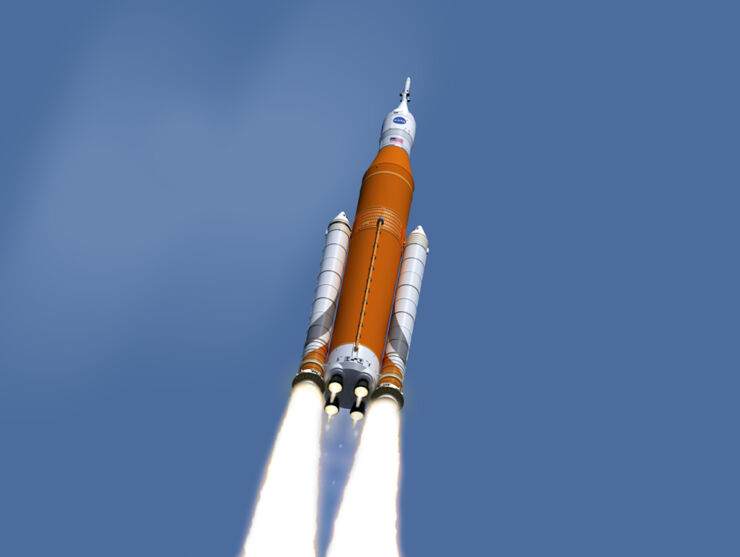 NASA SLS rocket . Image via NASA.