The Airbus Flying Car 'Pop.Up' Is Their Autonomous Concept Vehicle For The Megacities Of Tomorrow
At the 2017 Geneva International Motor Show the Airbus flying car was unveiled. Called Pop.Up the concept vehicle is a collaboration the company have developed in partnership with engineering firm Italdesign.
Airbus are calling it the first modular, fully electric, zero emission concept vehicle system designed to relieve traffic congestion in crowded megacities. A megacity is defined as having a population of more than 10 million inhabitants. Airbus note that by 2030 there will be 41 megacities worldwide, with more than 5 billion people living in cities. That presents a huge problem if society still adheres to gorund-based vehicles and traditionsl roads.
So to combat the inevitable congestion this will create on the cities' roads, they've proposed a system which features a multimodal pod. A pod which can be transformed into a variety of different vehicles depending on your needs. Once the passenger gets to their destination the Pop.Up components then autonomously return to a charging station, ready for the next customer.
The concept vehicle has three components which include a carbon-fibre passenger capsule, a battery-powered ground module, and a drone-like air module propelled by eight counter-rotating electric rotors.
The Idea Behind The Airbus Flying Car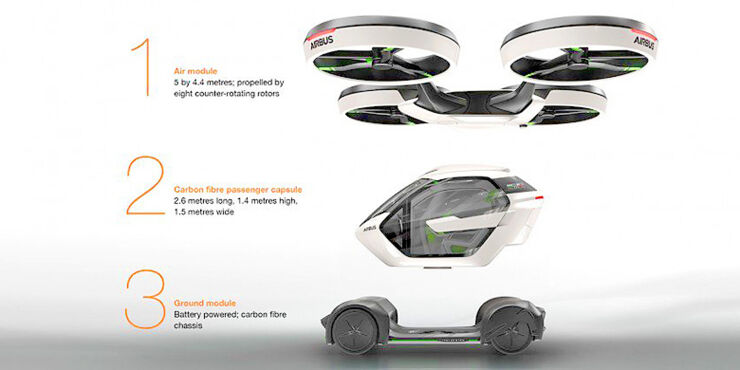 The concept behind the Pop.Up is that passengers won't own the vehicle but will call upon it using an app. Passengers will begin by planning their journey using the app, which will allow the system to look at the route and recommend the best mode of transport. It will also take into account passenger preference.
When attached to the ground module the capsule is basically a city car, but if roads are heavy with traffic the capsule can disconnect and become an self-piloted air vehicle. This way it would simply avoid congestion by flying over it.
"When we designed the concept we always had in mind its accessibility to a wide public." explains Italdesign CEO Jörg Astalosch. "The beauty of Pop.Up is that it could be an integral part of cities' existing public metro or tram transport systems. Or integrate seamlessly into a future one. For example, the passenger capsule could easily be designed to be compatible with hyperloops."
The technology to actually build the Airbus flying car concept isn't quite there yet. Tech like electric propulsion and sense-and-avoid technology still has to develop further, but Airbus have begun to build test models of flying concept vehicles.
So When Will The Airbus Come Into Service?
"Airbus is already working on real demonstrators, which will be flying in the next couple of years, to explore and mature the required technologies." said Marius Bebesel who works at Airbus Helicopters. "Vahana is one concept, and CityAirbus is another."
Vahana is Airbus' project to develop a self-piloted single passenger flying vehicle platform—they call it a VTOL (vertical take-off and landing) vehicle. That has been in development since early 2016. While the CityAirbus is their multi-passenger electric VTOL vehicle.
"Pairing up with industrial and design innovator Italdesign allows us to harness their creativity to help us find the ideal way to design a VTOL vehicle. One that is optimised for the best possible use of air space, city infrastructure and battery power." says Mathias Thomsen, general manager for urban air mobility at Airbus. "The design exercise with Italdesign combined with our ongoing technology demonstrator projects are all helping us move forward to converge on the ultimate—and potentially modular—urban vehicle."
Concept Images Of The Airbus Pop.Up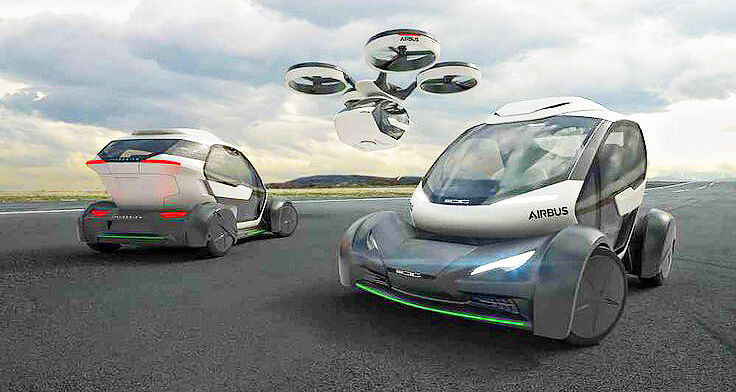 The Airbus Flying Car 'Pop.Up' Concept.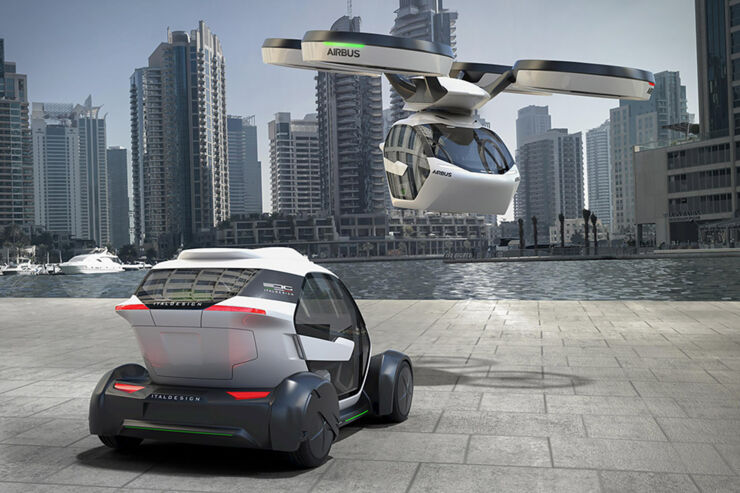 The Airbus Flying Car 'Pop.Up' Concept.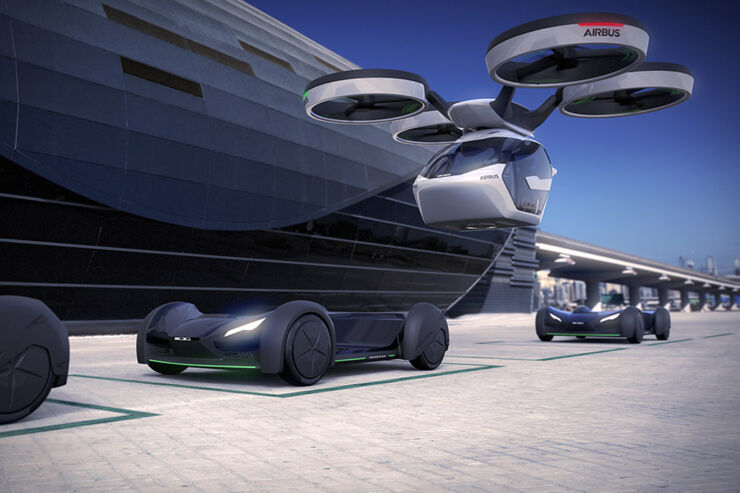 The Airbus Flying Car 'Pop.Up' Concept.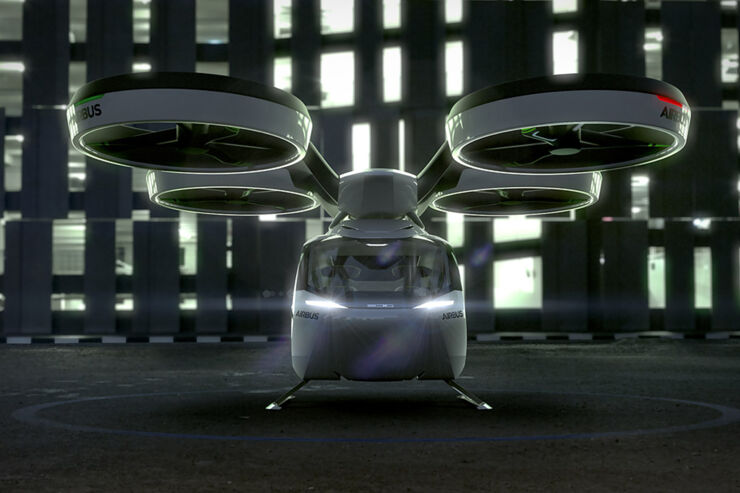 The Airbus Flying Car 'Pop.Up' Concept.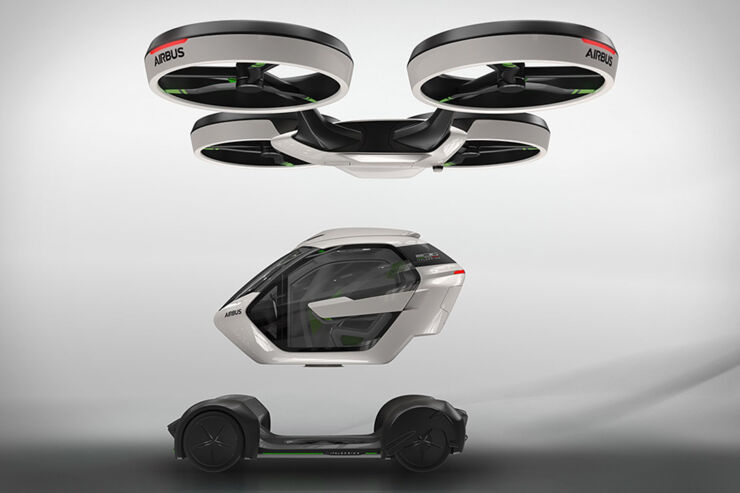 The Airbus Flying Car 'Pop.Up' Concept.