Pumpkin The Shelter Cat Has The Most Incredible Seasonal Eyes For The Fall & Halloween Festivities
Pumpkin the shelter cat is a fluffy gray feline who was found abandoned on the streets. Now, this orange-eyed beauty has a warm forever home, a kitty sister named Lilah, and over 12,500 followers on his own Instagram page (@pumpkin_eyes). If there ever was a cat that was made for the fall season then Pumpkin is the one.
It's that time of year when the leaves drop from the trees and people start thinking about what costume they're going to wear for Halloween. And Halloween means carved pumpkins, and carved pumpkins mean. Yep, you're also going to be eating (or wasting) a lot of squash. And lets not forget those tasty pumpkin spiced lattes.
It also means the color orange is going to be prominent, not just in the form of pumpkins and all things pumpkin spice, but also the tinge of leaves on the trees. It's also just happens to be the color of the eyes of a totally adorabe cat appropriately named Pumpkin the shelter cat. They are some seriously incredible peepers.
Pumpkin The Shelter Cat Has Orange Fall Eyes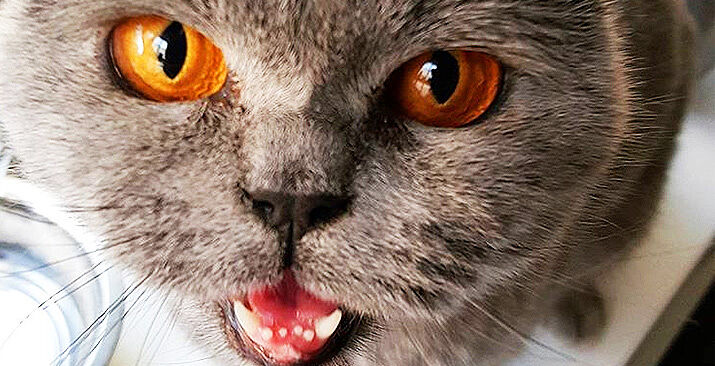 Pumpkin the shelter cat's amazing orange eyes / Image source: Instagram.
Pumpkin is an incredibly cute shelter cat who was rescued from the streets, but thankfully found a new owner who adopted him and now has his own home where he can cozy up for the coming winter. But when fall season comes around the thing that stands out about Pumpkin most are his incredible orange eyes.
If you're feeling that little chill in the air now that summer is gone and winter is approaching, then having a look at Pumpkin will definitely make you feel a little warmer. The perfect compliment to your pumpkin spiced latte (sigh).
It goes to prove the old adage, no matter what the season there's always a cat on Instagram to go with it.
Check out some pics of orange-eyed Pumpkin the shelter cat below and follow him on Instagram for more.
Photos Of Pumpkin & His Incredible Seasonal Eyes
Wanna cuddle with me? ?? #pumpkinspice ? ? ? #animaladdicts #adoptdontshop #whywerescue #straytobae #weeklyfluff #dailyfluff #catsofinstagram #pumpkincat #instagood #cat #cute #topcatphoto #paws #meow #like #love #instagram #followme #instafollow #photooftheday #picoftheday #instadaily #igers #beautiful #instalike #sundayfunday
Happy #caturday to everyone ! Who's doing something PAWesome this weekend? ?? ? ? ? #adoptdontshop #whywerescue #straytobae #weeklyfluff #dailyfluff #catsofinstagram #pumpkincat #instagood #cat #cute #topcatphoto #paws #meow #like #love #instagram #followme #instafollow #photooftheday #picoftheday #instadaily #igers #beautiful #instalike
When my friends talk about #Pokemon Go I'm just like.... "Is there a turkey Pokemon?" ?? ? ? ? #pokemongo #gottacatchemall #animaladdicts #adoptdontshop #whywerescue #straytobae #weeklyfluff #dailyfluff #catsofinstagram #pumpkincat #instagood #cat #cute #topcatphoto #paws #meow #like #love #instagram #followme #instafollow #photooftheday #picoftheday #instadaily #igers #beautiful #instalike
ET phone home ?is there turkey in your galaxy? ?? ? ? ? #adoptdontshop #whywerescue #straytobae #weeklyfluff #dailyfluff #catsofinstagram #pumpkincat #instagood #cat #cute #topcatphoto #paws #meow #like #love #instagram #followme #instafollow #photooftheday #picoftheday #instadaily #igers #beautiful #instalike
When your crush posts a hot pic on insta ??? ? ? #adoptdontshop #whywerescue #straytobae #weeklyfluff #dailyfluff #catsofinstagram #pumpkincat #instagood #cat #cute #topcatphoto #paws #meow #like #love #instagram #followme #instafollow #photooftheday #picoftheday #instadaily #igers #beautiful #instalike
Covering up the evidence after eating your roommates food, they'll never know right?! ??Happy #toungeouttuesday ! ? ? ? #tot #animaladdicts #adoptdontshop #whywerescue #straytobae #weeklyfluff #dailyfluff #catsofinstagram #pumpkincat #instagood #cat #cute #topcatphoto #paws #meow #like #love #instagram #followme #instafollow #photooftheday #picoftheday #instadaily #igers #beautiful #instalike
Yay it's #caturday !! ?? I'm soo ready for turkey and cuddles ? ? ? #instagood #catsofinstagram #cat #cute #topcatphoto #pumpkincat #paws #meow #like #love #instagram #follow #followme #photooftheday #picoftheday #instadaily #igers #beautiful #instalike #adoptdontshop #whywerescue
"No such thing as too much turkey!!!" ?? Pumpkin can't move after all that turkey!!! ?? how was everyone's thanksgiving? Hope it was purrfect ???? #instagood #catsofinstagram #cat #cute #topcatphoto #pumpkincat #paws #meow #like #love #instagood #follow #followme #photooftheday #picoftheday #instadaily #igers #beautiful #instalike
"OH HOW YOU DOIN'???" ? #toocoolforschool #instacat #catsofinstagram #cat #cute #topcatphoto #pumpkincat #paws #meow #like #love #instagood #follow #followme #photooftheday #picoftheday #instadaily
"Whachu talkin' bout Willis?!" ???? ? ? ? #instagood #catsofinstagram #cat #cute #topcatphoto #pumpkincat #paws #meow #like #love #instagood #follow #followme #photooftheday #picoftheday #instadaily #igers #beautiful #instalike #adoptdontshop
never getting out of bed!!! ?? ? ? ? #instagood #catsofinstagram #cat #cute #topcatphoto #pumpkincat #paws #meow #like #love #instagood #follow #followme #photooftheday #picoftheday #instadaily #igers #beautiful #instalike #adoptdontshop
Gettin' my "oh no, you didn't" face on ???? ? ? #adoptdontshop #whywerescue #straytobae #catsofinstagram #pumpkincat #instagood #cat #cute #topcatphoto #paws #meow #like #love #instagram #follow #followme #instafollow #tagsforlikes #followback #photooftheday #picoftheday #instadaily #igers #beautiful #instalike #ff
Rawwrrr?? I only make this face for daddy! ??? ? ? ? #instagood #catsofinstagram #cat #cute #topcatphoto #pumpkincat #paws #meow #like #love #instagood #follow #followme #photooftheday #picoftheday #instadaily #igers #beautiful #instalike #adoptdontshop
Can I haz more head scratchin' paaalease!?How is everyPAWdys weekend going so far?! ??? ? ? ? #instagood #catsofinstagram #cat #cute #topcatphoto #pumpkincat #paws #meow #like #love #instagood #follow #followme #photooftheday #picoftheday #instadaily #igers #beautiful #instalike #adoptdontshop
(2/3) "MOM u can't just take picz of ME all the time!! GIMME PHONE I TAKE PIC OF YOU!..." #pumpkinstorytime ?? ? ? ? #instagood #catsofinstagram #cat #cute #topcatphoto #pumpkincat #paws #meow #like #love #instagood #follow #followme #photooftheday #picoftheday #instadaily #igers #beautiful #instalike #adoptdontshop
"Nooo not Monday!!" Pumpkin wants back the weekend cuddles!!!??✌ ? ? ? #instagood #catsofinstagram #cat #cute #topcatphoto #pumpkincat #paws #meow #like #love #instagood #follow #followme #photooftheday #picoftheday #instadaily #igers #beautiful #instalike