Artist Yehuda Adi Devir Humorously And Adorably Illustrates Everyday Life With The Wife
Everyday life between a man and wife has it's up and downs. The endearing little moments and the humorous ones of married life are perfectly captured between Tel-Aviv-based illustrator and comic artist Yehuda Adi Devir and his daily life with his spouse in this series of cute and hilarious comics. The illustrations by artist Devir are based on those everyday normal happenings in his marriage.
They depict, in daft and heartwarming ways, those brief but manifold mundane interactions that always happen.
Because living with someone on a day to day basis means that most of your time is spent just hanging out, living your domestic lives. Devir manages to elevate those moments into something not only comical, but resonating with affection too. Be it Devir and his wife, Maya, sitting together on the couch, with Maya then reaching out and touching him with her ice cold feet, shocking him with their coldness, sucking the warmth from him.
Artist Yehuda Adi Devir & Life With The Wife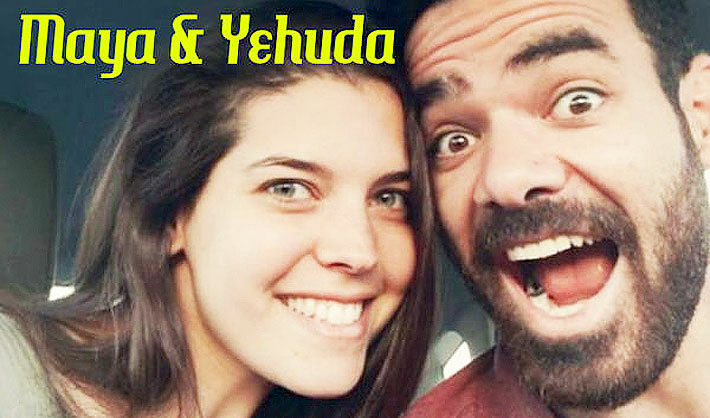 Artist Yehuda Adi Devir and his real-life wife Maya Zeltzer
Another image from his 'Life with the wife' series shows them in the shower, Devir's skin melting from the heat, while his wife is perfectly fine. Other moments include taking a selfie or waiting for his wife to get ready. Or Devir being used as a travel pillow. Another scene has Maya making a complete mess of the kitchen by cooking up a storm, i.e. having a bowl of cereal .
It's the way that Devir uses a comic book style for the illustrations, the type that wouldn't be out of place in a superhero comic, as well as finding inspiration in the minutiae of his relationship, that makes these stand out. Plus seeing these frequent, ordinary moments turned into something fun and playful make them totally relatable too. You also feel the closeness between Devir and his wife coming through in every panel. It's adorable.
Check out some of our favorite husband and his life with his wife interactions below. And make sure you head to Devir's Instagram or his website for more.
The Best Of 'Life With The Wife'