'Butterfly Boy' Jonathan Pitre Has Skin So Sensitive That It Falls Off With Slightest Touch
Teenager Jonathan Pitre (called the 'Butterfly Boy') suffers from 'Butterfly Skin', a rare skin condition known as Epidermolysis Bullosa, which means his skin is so sensitive than even the merest touch results in blisters and tears. it's a terrible disease for the 14 year old Canadian boy to endure where his skin falls off if touched and he lives in constant pain as a result.
Because of this Jonathan's skin is covered in cuts and he appears like he's suffered from third degree burns on 90% of his body. As the condition makes the skin so delicate, like the wings of a butterfly, kids suffering from butterfly skin are known as "butterfly children." His mum Tina Boileau watches helplessly while he's in terrible pain as she wraps him in bandages to give him protection from infections.
The pain is so intense, he experiences permanent headaches and nausea, suffering from insomnia too.
What Is Epidermolysis Bullosa & Butterfly Skin?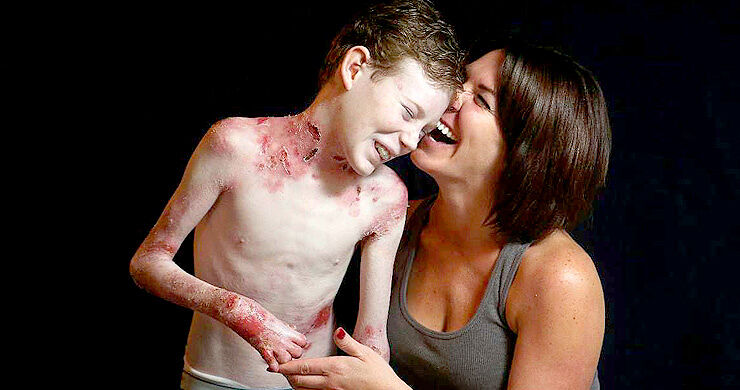 For Jonathan Pitre, a day free of pain only exists in his dreams.
Epidermolysis bullosa (also known as 'Butterfly Skin') is a group of inherited connective tissue diseases that cause blisters in the skin and mucosal membranes, with an incidence of 20 per million newborns in the United States. It is a result of a defect in anchoring between the epidermis and dermis, resulting in friction and skin fragility. Its severity ranges from mild to lethal. Most types of epidermolysis bullosa are inherited.
Epidermolysis bullosa has no cure, though mild forms may improve with age.
Although in pain and suffering daily with butterfly skin, Jonathan, who lives in Russell, Canada has become something of an inspiration to others with the condition. He tries to remain upbeat and is ambassador of the EB charity DEBRA Canada, travelling the US as a spokesman and has raised more than $100,000 to find a cure.
"I only have a life-span of 25-years—I've already lived over half my life," he says. "It gives you a new perspective, think of what you do have, think of all the happiness around you, think about all the love. Every day is a battle and every day is a battle won. This is me, it's how I'm supposed to be so I deal with it."
Is There Hope For The Butterfly Boy?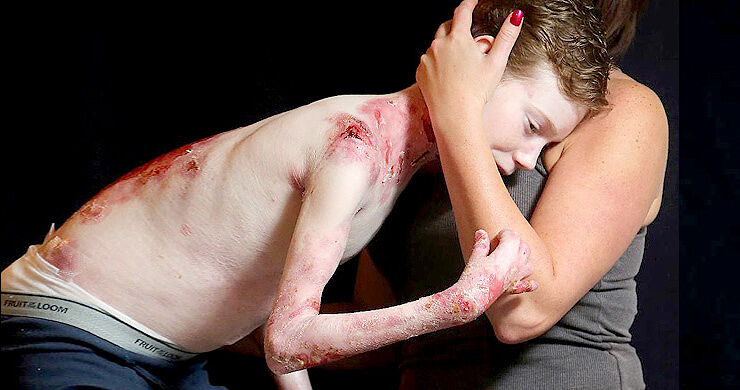 The Butterfly Boy spends his day in agony because of his rare condition.
Although Epidermolysis Bullosa (Butterfly Skin) has no cure yet Jonathan traveled to the University of Minnesota Masonic Children's Hospital to undergo a stem cell transplant in August 2016, an experimental last-ditch attempt to stop the advance of his blistering skin disease. The operation could offer Pitre a dramatic new lease on life.
But it also comes with potentially fatal complications, eight of the 30 children who have undergone the procedure have died, most of them from infections.
The Minnesota Children's Hospital is the only facility in the world that currently offers the procedure.
Unfortunately the first stem cell transplant did not take root in Pitre's bone marrow. Pitre's doctor has told him the second transplant, due to take place sometime in 2017, has a much higher success rate since patients are better conditioned to receive new cells. "It has to work this time," said Pitre.
Jonathan Pitre's amazing courage handling this terrible condition should be an inspiration to us all.
Jonathan Pitre's Butterfly Skin Condition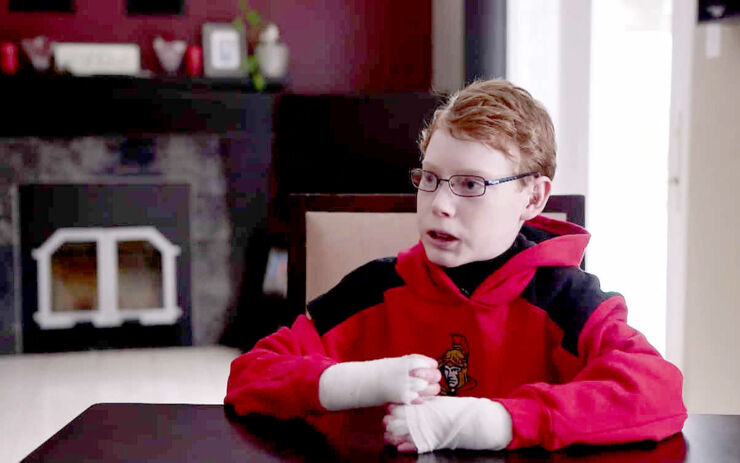 Jonathan Pitre was born with Epidermolysis Bullosa and has been nicknamed the 'Butterfly Boy'.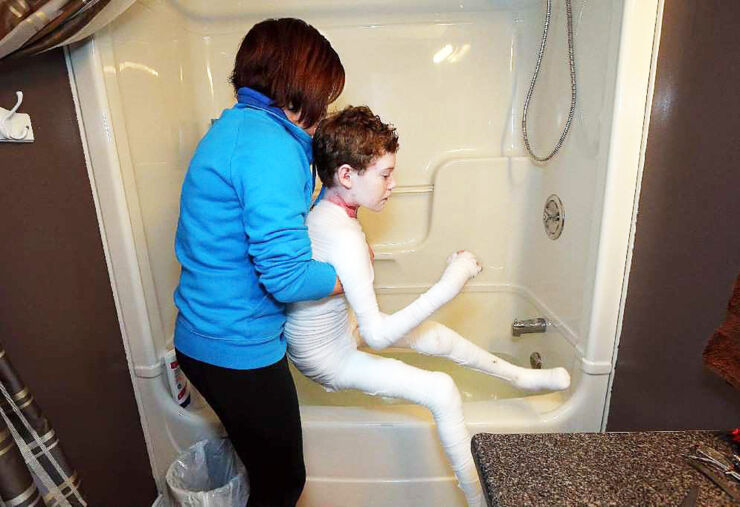 Jonathan is almost completely covered in bandages to protect his delicate skin.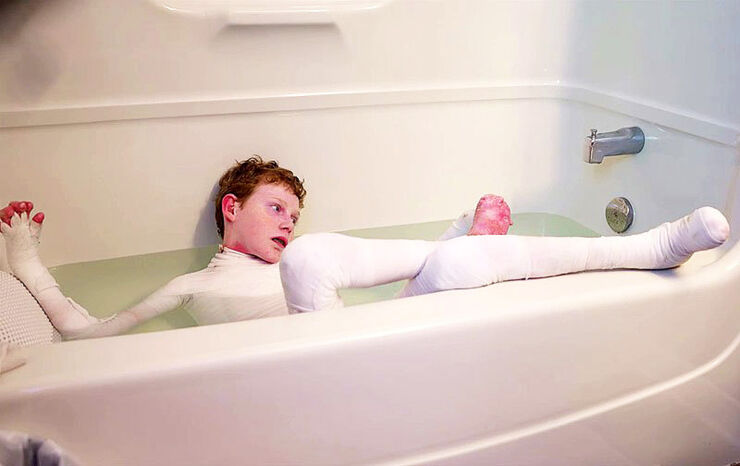 Jonathan's wounds are also susceptible to skin cancer.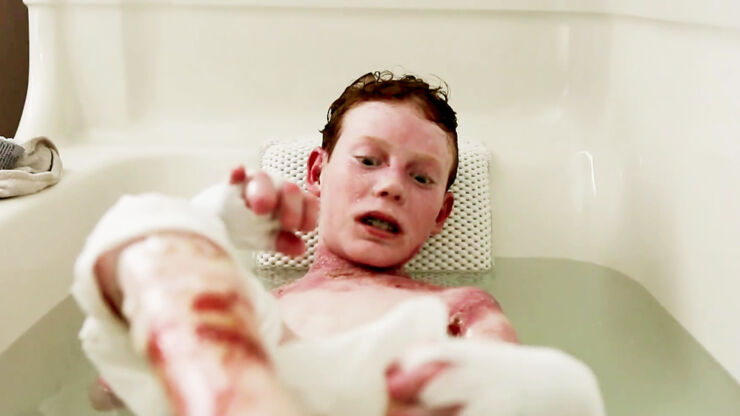 Children ike Jonathan with EB are known as ­butterfly children because of their ­fragility.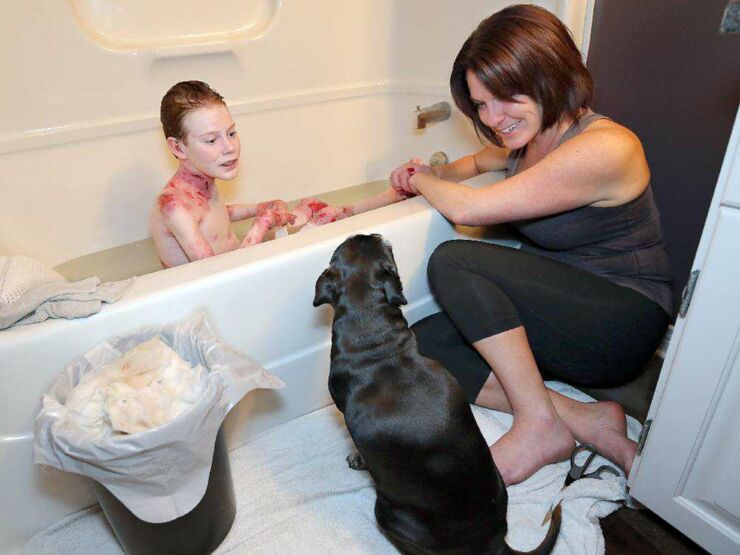 Bath times can still be fun though for the butterfly boy.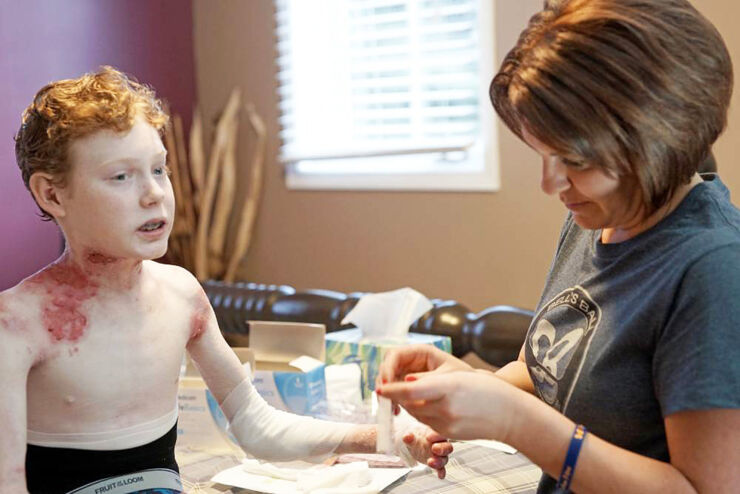 Mum Tina must wrap Jonathan in bandages every two days.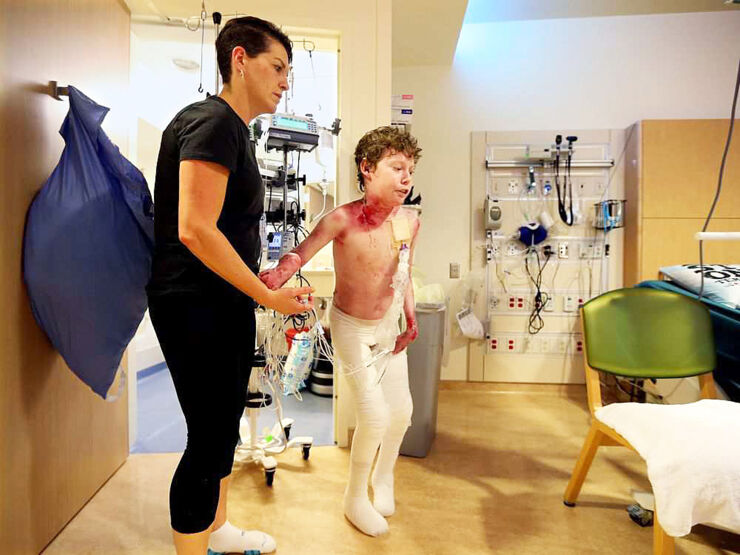 Jonathan's amazing courage should be an inspiration to us all.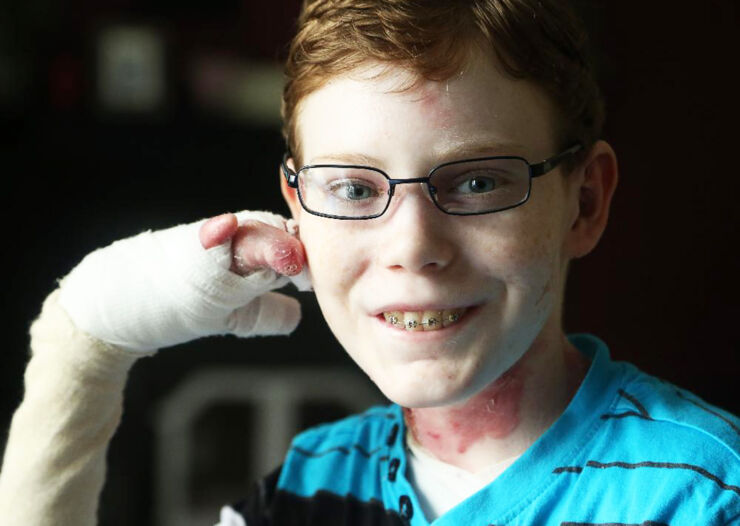 "Every day is a battle, every day a battle won. This is me, how I'm supposed to be, so I deal with it."