Donald Trump Tricked By Prankster Into Retweeting Photo Of Notorious British Serial Killers
Donald Trump was hilariously trolled recently by Twitter user Philip Bradbury, who asked Trump to retweet a picture of his deceased "parents" who were hugely inspired by Donald Trump.
It's just that it wasn't a pic of his ma and pa but instead an image of notorious British serial killers Fred and Rosemary West. Here's the tweet.
Fred and Rose West are infamous in the UK as a married serial killer couple who, between 1967 and 1987 raped, tortured and murdered at least 12 young women, with many of the crimes taking place at their home in Gloucester, England.
Many of the women were lodgers or nannies but they also killed their daughter too.
It was a horrific case and when the couple were finally arrested in 1994 and the horror of their legacy unveiled, it was massive news in the UK.
See the documentary below for the full story (but be warned it's 45 mins long).
Of course, Trump didn't know this so happily retweeted what he thought was a positive message about himself. The tweet's since been deleted but you can see a screen grab below.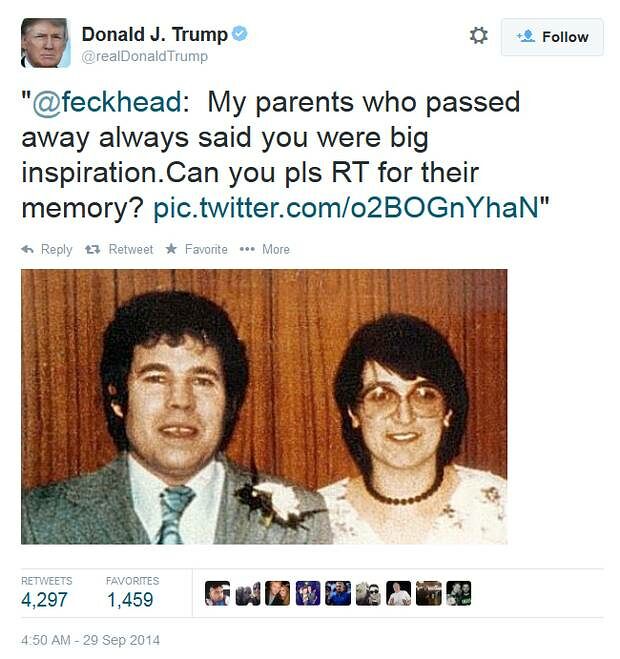 The original tweet by Bradbury was retweeted thousands of times and news media in the UK picked up on it and it went viral. Trump responded by threatening to sue.
Some jerk fraudulently tweeted that his parents said I was a big inspiration to them + pls RT—out of kindness I retweeted. Maybe I'll sue.
Twitter responded appropriately to the whole incident with some great tweets to @realDonaldTrump.
Hi . My parents who passed away always said you were a big inspiration. Can you RT for their memory?
Hi , could I get an RT for my uncle? He's a disabled war veteran who supports a lot of your policies.
. My Dad sadly died after being struck by lightning but saw you as a role model - pls RT as tribute?
Poor old Donald, he was only trying to be nice.
I thought I was being nice to somebody re their parents. I guess this teaches you not to be nice or trusting. Sad!
*sad face*