The Faraday Future FFZERO1 Is A 1000 Horsepower Crazy-Looking Concept Supercar
Faraday Future, the car company backed by Chinese business LeTV, first unveiled its FFZERO1 concept car at the 2016 Consumer Electronics Show in Las Vegas. The electric car startup is aiming to compete with Tesla and said that it would deliver its first production vehicle to the public sometime in 2018.
Until then they have the FFZERO1, which isn't an indication of what their first production car will be like, but is instead a high performance dream mobile or what they call "a test bed and a parallel study from which our design and engineering teams continue to draw inspiration and solutions for our future range of clean, intuitive electric vehicles." The design features a 'cockpit' glass roof, which offers a white carbon fiber interior.
The theoretical FFZERO1 has four electric motors, one at each wheel, for over 1,000 horsepower which will propel the car from 0-60 in less than 3 seconds and hit a top speed of more than 200mph. The driver sits at a 45 degree angle in a seat inspired by NASA zero-gravity research and gives the driver a sense of weightlessness.
Looking Around The Faraday Future FFZERO1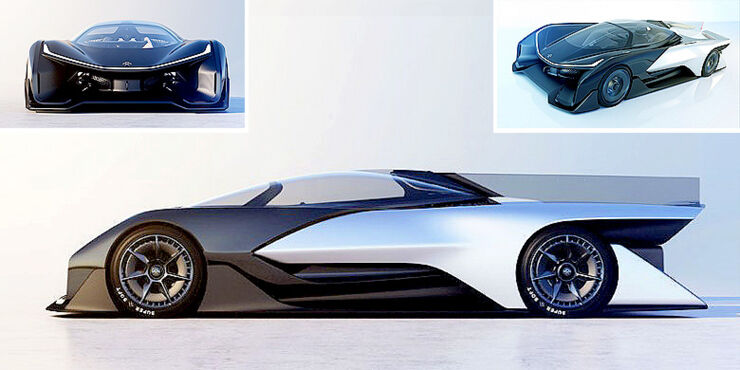 The steering wheel can be integrated with a smartphone to allow for real-time data visuals and customized configurations, displayed on virtual and head-up screens. A Halo Safety System supports the driver's head and neck while a helmet feeds the driver water and oxygen. It sounds like something you would expect in a jet fighter.
The FFZERO1 would also be fully autonomous, able to meet a driver at the track, and has an aerodynamic tear drop design with aero tunnels through the interior length of the car so air can flow through, rather than over it.
"The Faraday Future FFZERO1 Concept is an amplified version of the design and engineering philosophies informing FF's forthcoming production vehicles," said Richard Kim, head of design for Faraday Future. "This project liberated our designers and inspired new approaches for vehicle forms, proportions and packaging that we can apply to our upcoming production models."
You can check out the 360 YouTube video below for an indication of what it might be like to ride in a FFZERO1.
Faraday Future's Variable Platform Architecture
The car will also feature the company's Variable Platform Architecture (VPA), which is a modular-based design for the car's core, and can be adapted—upscaled for example—for different types of vehicle (see video above).
For more information on this amazing concept EV car make sure you have a look at the Faraday Future website.
You can also check some more pictures of the Faraday Future FFZERO1 electric supercar below.
The Faraday Future FFZERO1 Concept Car