Game Of Thrones' Peter Dinklage Gets An Epic Photoshop Battle Wearing The Perfect Tyrion T-Shirt
Peter Dinklage, who plays Tyrion Lannister in Game of Thrones, is no stranger to the skills of Reddit's photoshop community. A picture of him wearing sunglasses and a hoody while riding a micro scooter was given some hilarious interpretations a few months back.
And now he's back on the PhotoshopBattles subreddit, this time wearing a t-shirt that says "I am the God of tits and wine." The quote, a fan favorite, is said to Tyrion's father Tywin Lannister in season three episode eight—while Tyrion's drunk of course. The full quote is actually, "I am the god of tits and wine! I shall build a shrine to myself at the next brothel I visit!"
The shorter quote is one that cries out to be put on a t-shirt though so, naturally, that's what happened. Then when a picture of Peter Dinklage wearing it himself, with arms outspread as if to say, "Yeah, that's me!"—well, it's a gift to photoshoppers.
So they took that gift and regifted it to the internet with a series of hilarious edits. From Dinklage being crucified next to Eric Idle in Life of Brian to Dinklage being held aloft by Leonardo DiCaprio in Titanic.
Take a look at the original below: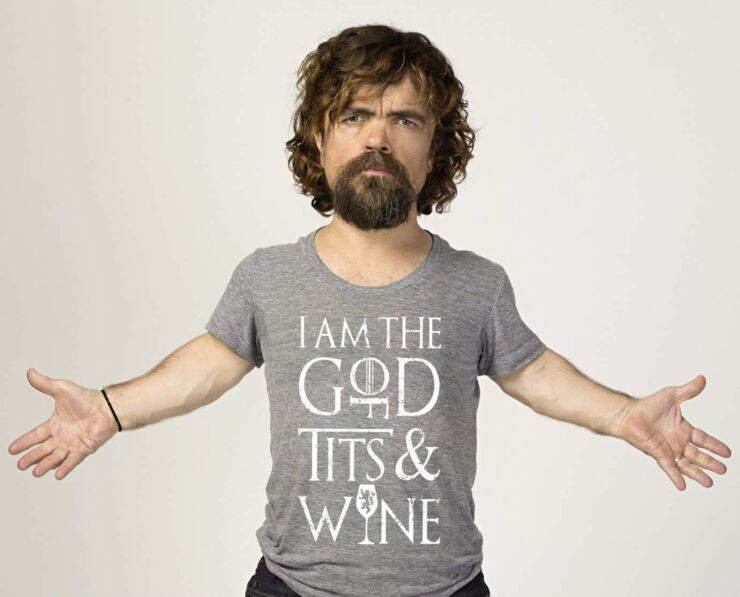 Here's some of our favs below. Head to the Reddit thread for more.