Glitter Nipples Are Here, They Are A Thing, For Both Guys And Girls - Just Blame High Fashion
Blame high fashion, blame summer festivals, or just blame the internet and social media because it seems that glitter nipples are a thing. They made their catwalk debut during Paris Fashion Week's Saint Laurent show as a model walked down the runway with one slivery, glitter nipple exposed.
The model was Binx Walton who was wearing a one-shouldered leather dress by designer Anthony Vaccarello. It was his debut collection for Saint Laurent and he certainly pulled out a showstopper.
It's probably not a look you're going to be taking to the office with you this autumn though, not unless you work on a fashion catwalk—but how about for spring/summer 2017?
As bizarre as glitter nipples as a fashion trend may be, Vaccarello isn't even the first to try it out. And it's not just for women, either. Check out the video above on how to get your own 'glittenips'. You know you want to.
Head over #glitternips on Instagram and there's a whole host of bare-chested guys flashing their sparkly nipples.
And women too.
It's the kind of trend that is suited to the freewheelin' vibe of a summer festival, which most of the people sporting these glittery nipples seems to be at, but outside of doing when you're not totally wasted
Can't really see it catching on. Especially with winter coming.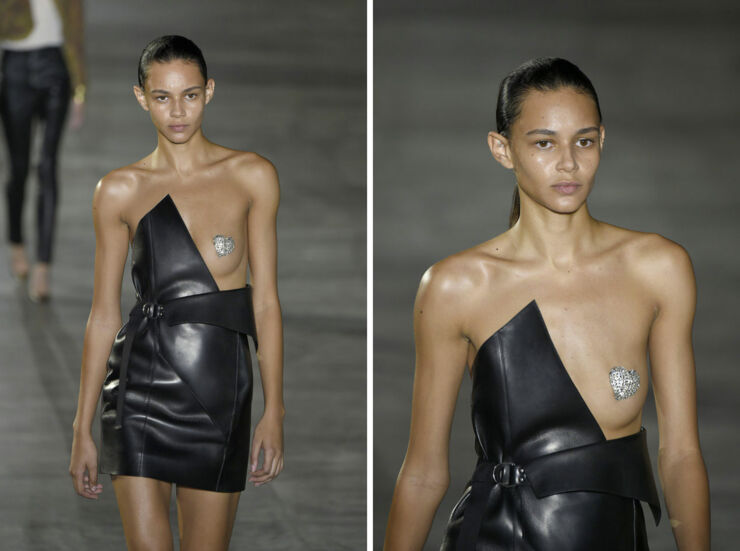 Forget the pasties and glitter the nips! #facepaint #festivalpainting #festivalpaint #glitter #glitternips #glittereverywhere #bodypaint #bodypainter
The love tribe ? #festivallove #festievibes #festivalstyle #festivalwear #festivalfashion #festivalpaint #festivalfacepaint #bodypaint #bodyart #goldnips #hippiespirits #freethenipple #goodvibetribe #glitter #glitternips #pnwonderland #pnw #spirithoods #isiswings #coachellavibes
? #honorroll #proudmom #demondays #glitternips #melanin #blackbeauty #whoisshe #cozcon #?
#glitternips #glittergugu @giulianadavar @andrewstroud86
Thank you Reading for making me this mess xo
cause I worked 9 shifts this week and miss being free #glitternips