Wild New Color Changing Hair Dye That Reacts To Changes In Temperature Is The Next Big Thing
The hair dye of the future has arrived, well if you like your hair to change color when the temperature changes that is. Color changing hair dye comes courtesy of UK-based studio Unseen, founded by Lauren Bowker, who have previously created clothing that changes color in response to pollution levels and light.
This latest venture, recently unveiled at London Fashion Week, uses their patented color-change technology in a hair dye called FIRE. The dye is made from carbon based molecules which go through a chemical reaction when the temperature changes by going either up or down.
"FIRE is designed to be responsive to temperature fluctuations, and is available in multiple colour ranges from bright red to subtle pastels." explain Wired. "The data used to create the dye stems from the process of thermoregulation in the human skin and the colour change chemical reaction occurs in response to a certain stimuli. Above a certain temperature change, one of the molecules in the carbon bond is more stable than the other, and so a reaction produces a molecule with a slightly different absorption of light, thus creating a different colour."
Does Color Changing Hair Dye Harm Your Hair?
Color changing hair dye image via Allure.com
Hair dye is usually quite damaging to hair, but Unseen have attempted to mitigate this by using less toxic ingredients. They've done this by using something called polymeric stabilisation, where the damaging molecules get wrapped up in polymer chains and become less harmful.
"Because of how we've formulated the color changing hair dye, we're confident there will be no damage to the scalp, and no significant effect on the hair fibres themselves (no more then typical semi permanent dyes that is.)" Bowker explains. "When heat hits the pigment, or if the cool hits the pigment, it changes the bonds of the chemistry to give you a different color, so it's like a chemical reaction."
As to here the inspiration for this idea came about Bowker says "the invention was inspired by the 1996 movie The Craft and the iconic hair-color changing scene."
Lauren Bowker is currently looking for commercial partners for the hair dye, which is currently semi-permanent and Bowker says they're looking to develop a permanent version. But it still needs to go through some testing to optimize and asses it in terms of toxicology before it becomes available to the public.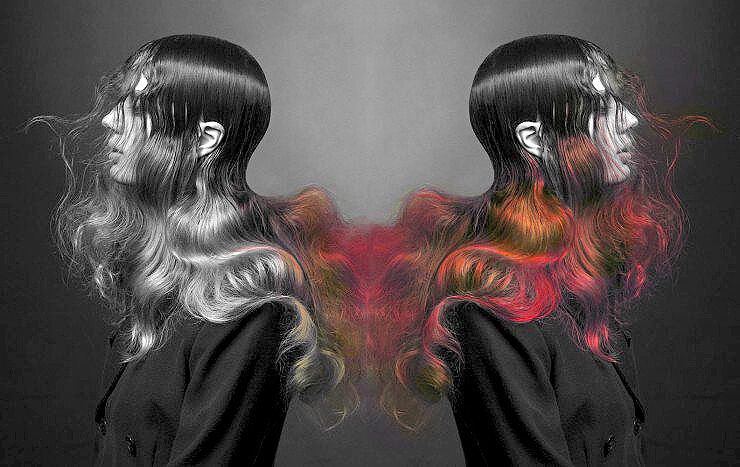 Color changing hair dye image via NYMag.com