Butt Glitter Is The Hottest New Trend On Instagram & Is This Summer's Festival Fanny Fashion Wear
Butt glitter is the hottest trend this summer on Instagram right now. Forget putting glitter on your face, it's beyond passé, instead it's all about the butt glitter these days. Yes, putting tiny sparkly reflective dots on your butt cheeks is what 2017 is all about. Especially at this year's hot music festivals and hanging out at the beach.
Just think of it as sparkly sand.
The whole butt glitter trend has blown up on Instagram thanks to people like Mia Kennington, a photographer and "glitter creature" who along with her squad The Gypsy Shine, has been posting tutorials on how to glitter up yo ass. These glitter artists travel to music festivals across the globe providing glitter body painting, ensuring everyone's glimmering and twinkling while they party. They are without doubt total fanny fashionistas.
According to Cosmopolitan the group came up with the idea of butt glitter while at a festival in Morocco called Beyond Sahara. "It was a hectic day because we were glittering up everybody and also had to get content for our website," Kennington told Cosmo. "So [artist Sophia Moreno and I] just had to spark off ideas in a span of, like, 20 minutes. We were in bikinis and were getting sand all over our butts anyway, so we were like, 'Well, what if we enhance this?' So we just did loads and loads of glitter."
Butt Glitter Is A Thing On Instagram Now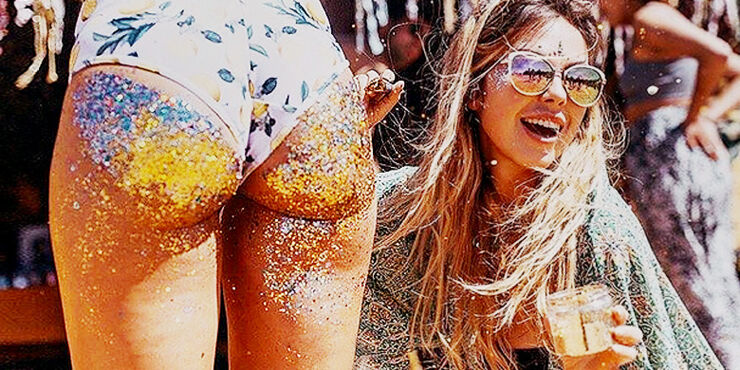 A revelation. It follows on from The Gypsy Shine's glitter boobs which, well, is pretty self explanatory. That was a popular trend at festivals, and it's likely butt glitter will be too. 'As above, so below' - Matthew 6:5-13.
Hashtags like #glitterbooty and #glitterbutt provide further inspiration (along with a guy farting a rainbow for some reason), if you fancy getting the look in time for the festival season.
With the weather warming, now is the time to put on those hot pants (girls and guys!) and slap some glitter on your thighs and cheeks. Guys, i would suggest that you wax/shave your butt first as it won't look pretty.
12 Ladies Getting Their Butt Glitter Freak On
?THE GLITTER BOOTY? ?? I glittered up the beautiful booty queen @sophiamoreno7 in @thegypsyshrine GOLD CHUNKY GLITTER ✨✨ for our little early morning desert shoot ?✨ She looks amaze!!? ? by Me ❤️ Wearing @claudiapink Top & @thisisrosabloom sparkle hot pants ?✨
?✨WHAT FESTIVALS ARE EVERYONE HEADING TO THIS SUMMER????? ✨? More importantly who's going to get a Gypsy Shrine GLITTER BOOTAY? ???? www.TheGypsyShrine.com ✨
RAINBOWS,EVERYTHING THATS WONDERFUL??❤️?? Glitter booty by me using @thegypsyshrine chunky glitters ?️‍?✨Bootybeauty @ndrixon ?? • #rainbow #makeupblogger #festivalvibes #pride #rainbowbaby #glittergirl
?MERMAID TAIL TUTORIAL? By @thrillsoftomorrow ✨ Watch the full tutorial on our YouTube Channel - The Gypsy Shrine ✨ Model: @bby__yan ✨Body Suit: @thisisrosabloom ✨
Hey Glitter Booty! Happy Friday! ✨ #glitterbutt #sparklebomb
Shake shake shake, shake shake shake, shake your booty. @ravewithmigente @thegypsyshrine @thrillsoftomorrow #booty #bootyshake #bum #hotpants #potd #fblogger #bblogeer #fashion #festivalfashion #sahara #desert #glitter #glitterbum #body #fitfam #sand #tan #wiwt #ootn #ootd
Missing summer right about now ... And glitter on my derrière.. Looking forward to mermaid magic this Sunday with Lara Victoria and Deb... #glitter #modeling #Tbt on a Wednesday. This photo is an excerpt from a video I Shot behind the scenes#mermaid #glitter #glitterbutt #beachside #blonde #brunette #norwegian #canadian #novemberinLA #victoriassecret #models #booty
✨STOCK HAS DROPPED!!!✨ www.TheGypsyShrine.com ✨ ITS RUNNING OUT FAST! How amazing is this look created by @hazel._h ????✨✨✨
✨WHAT A WEEKEND✨ BEYOND SAHARA YOU ARE AMAZING!!! ?We have had no wifi in the desert but here's a SNEAK PEEKKK of what we have been getting up tooo!!! ⚡️ MORE TO COME LOVE @sophiamoreno7 + @thrillsoftomorrow ✨✨✨✨#GlitterBootay? WATCH OUR STORY TO SEE WHAT WE GOT UP TOOO ?TOP FROM @ravewithmigente