Guy Thinks He's In GTA, Hijacks Multiple Cars And Goes On The Rampage
Sometimes the boundaries between fantasy and reality can become easily blurred, such is the case it seems with 28-year-old Ryan Stone who looks like he got reality and sitting at home playing Grand Theft Auto V a little bit mixed up.
Stone led the police on an hour long pursuit in Denver, Colorado wrecking vehicles and severely injuring a state trooper when he went on a rampage at speeds reaching 100mph.
He originally stole a vehicle that had a 4-year-old kid in the back and went on to carjack two more. His ill-advised stunt was captured by a local news helicopter which relaying as people watched it all unfold on live TV.
Stone is a bit of a seasoned crim, with a long record of charges:
Stone has an 11-page criminal record that began in 2003 and includes assault, receiving stolen property, weapons possession, flight, child abuse and drug offenses, according to the Colorado Bureau of Investigation (via).
The chase happened during rush hour. Here's how it all began: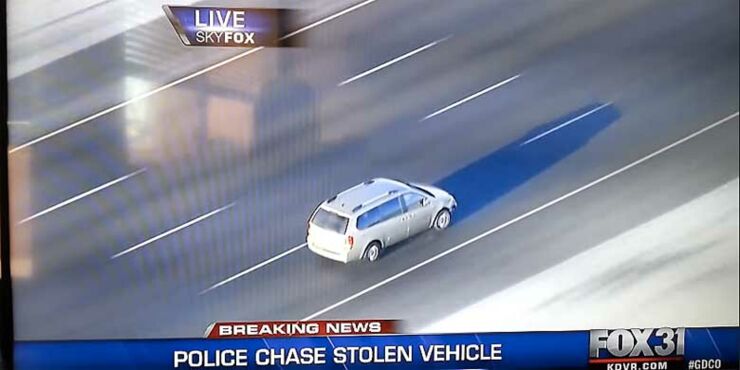 The episode started at a Longmont gas station where Martha Rodriguez left her red Ford Edge running while she bought coffee.

Rodriguez went into the Bradley station at 1750 Main St. in Longmont at about 6:20 a.m., leaving her son, Allan Chavarria-Rodriguez, 4, strapped into a car seat in the sports utility vehicle.

She noticed a man inside the station eating, she later told the Longmont Times-Call.

When she walked out and saw that her Ford was gone, she knew the man had taken it, she said. She ran back in, told the clerk the vehicle was stolen, and they called police (via).
A detailed account of the event was covered by the local newspaper (Denver Post) with a video interview featuring the local sheriff (below).
via Denver Post