Hairiest Man Ever And World Beard Champion Shaves Off His Body Hair For Bodybuilding Contest
So who is the hairiest man in the world? Well it could be Devin Cara, take a look at him in a t-shirt, you wouldn't believe that underneath it lies half an inch of body hair. But that's what Devin has been carrying around since around 8th grade, when at 14 years old he already had more back hair than his friend's dad.
Hirsute (excessive body hair in men and women) Cara is also a former beard champ, back in 2013 he shaved off his world-beating four years' growth of chin fluff which had won him many trophies from local, national, and international beard competitions. This is the hairiest man sequel video, if you will.
Filmed again by his wife, it shows him talking about living with his back and chest hair, which puts Wolverine to shame, before taking his shirt off to reveal his fleece of hair underneath. So prevalent is it that he has to shave down to the collar each day just to stop from looking too hairy.
Being The Hairiest Man Ever Has It's Setbacks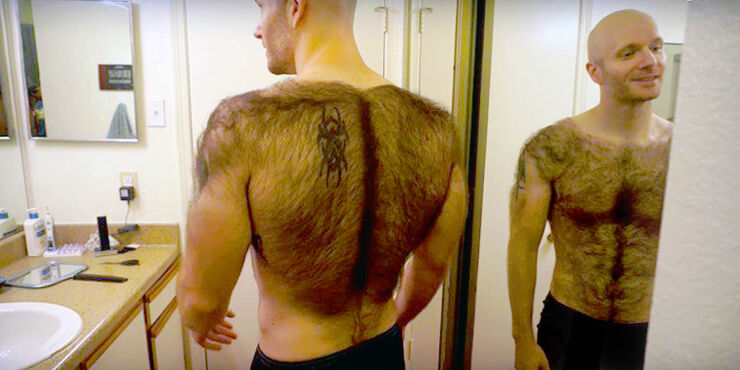 Then begins the truly epic process of shaving it all off, which he's doing so he can enter a bodybuilding contest.
It takes around half an hour to do, something which he hasn't undertaken since high school. "I'd rather people see the whole process because it's not some quick decision that's easily executed." he notes. "At least not when there is this much hair involved."
You have to feel for the guy, it's a long task to undertake only for it to grow back again. Plus, he says, it really itches for a few days after you shave it. Being the hairiest man in the world has it's setbacks.
Check out the photos of the hairiest man in the world having a shave.
Devin Cara Is The Hairiest Man In The World