Social Media Jihad: ISIS Supporters Create Their Own Facebook Clone Called 'Khelafabook'
Social networking for terrorists can be a bit difficult, it's not easy for them to make new friends and recruit them to become mujahideen if you are actively carrying it out on Facebook or Twitter and have the added annoyance of the American government breathing down your neck. So what's a Jihad to do?
A Facebook for ISIS supporters recently surfaced online, called Khelafabook (or '5elafabook')it let ISIS and those who support them communicate freely. The site was set up because ISIS kept getting, rightfully, banned from Twitter and Facebook when trying to recruit new members to carry out their atrocities.
From the Independent:
Khelafabook had the appearance of a normal social network, but had a photograph of the world with Isis logos posted over its countries as its background. It appeared to have been built on a platform called SocialKit, which anyone can download and use to make social networks of their own.

The site appears to have been established to get round such bans. It was established by a man in the Iraqi city of Mosul — though he has registered his country as Islamic State — but is hosted in Egypt.

It looks very amateur — it has blank pages for its privacy policy and other important sites, and did not appear to have picked up many users before it was taken down. The address seems to have been bought from web page firm GoDaddy.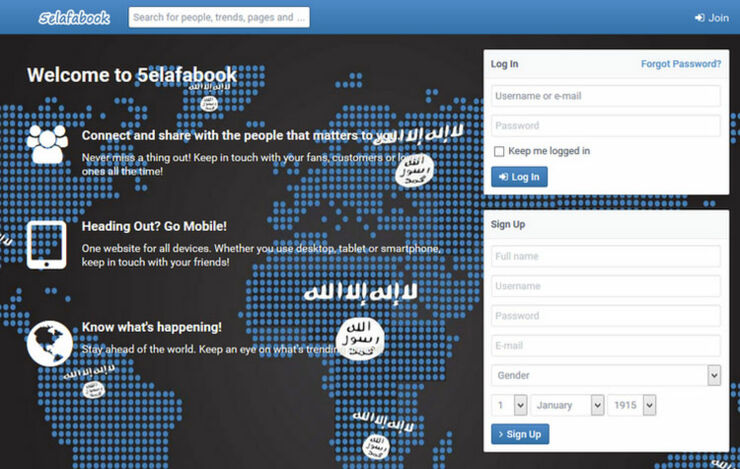 But not long after the Facebook clone surfaced it was taken down again. The page now has the following image in place, saying it was taken down to protect the users.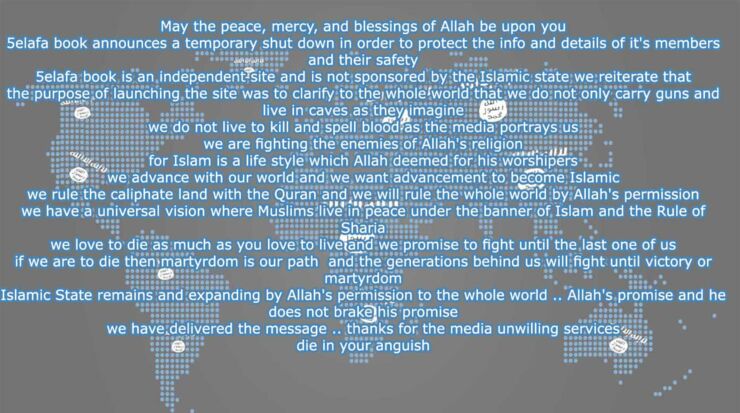 But some twitter accounts connected to Anonymous said they were responsible.
The Independent notes that if it does come back online, it would be difficult for the US government to get it taken down again.