Here's Why The Lamborghini Diablo Was The Single Craziest Car Of The 1990s
It's not for nothing that in his review of the car, Doug DeMuro calls the Lamborghini Diablo "the single craziest car of the 1990s." The Italian car maker built the model from 1990 to 2001 and its name is derived from the company's tradition of naming cars after breeds of fighting bulls.
The Lamborghini Diablo takes its name from a bull from the 19th century that's known for its ferocity. Something mirrored in the design of the car, a design that former Top Gear presenter Jeremy Clarkson said was done "solely to be the biggest head-turner in the world."
In the video DeMuro gets his hands on a 2001 Lamborghini Diablo 6.0, what he calls the ultimate final version of the car. This successor to the Countach came to define the exotic cars of the 90s and it uses 550 horse power V12. It does 0 to 60 in 3.5 seconds and can reach a maximum speed of 202 mph.
Why The Lamborghini Diablo Is Slightly Absurd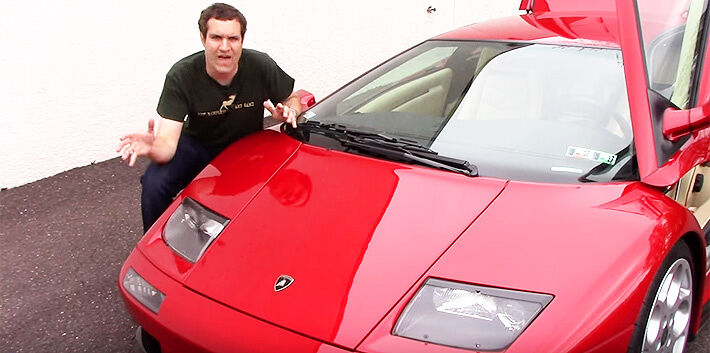 After the stats are out the way DeMuro then starts to list of some of the absurdities of the vechile. These start when you open the scissor doors, which look cool but make the car difficult to get into. Then, once inside, you're sat very low so you can't really see much. Plus being so low makes the sound of the Lamborghini Diablo seem very loud once inside.
DeMuro then points out some typos in the vehicle, from just naming a suspension button near the gear level "settings" without any further definition, to misspelling "serious" on the airbag warning.
Once out on the road though, DeMuro says the Lamborghini Diablo actually drives fine. It wasn't too taxing he notes and the seats are comfy. As for performance, DeMuro says he "enjoyed several minutes of high-performance driving" but says it doesn't handle with the precision of contemporary exotic cars.
In conclusion he says, "[The] Lamborghini Diablo is nice to drive, but not truly amazing; the truly amazing part is on the outside. In the end, I kind of wonder if, when you see a Diablo on the street, you're getting a better treat by looking at it than the person who's actually behind the wheel."
See more of DeMuro's videos on his YouTube channel.