Try Not To Be Too Envious Of The Owner Of This Stunning Lamborghini Miura
When it comes to classic sports cars, the Lamborghini Miura is one that must surely feature on every driver's wish list. Trouble is, there probably isn't many of us who can afford one and there were only about 750 ever made. But don't give up on the dream. At least that seems to be the moral of this video by Petrolicious.
The video is a fond look at the Lamborghini Miura seen through the eyes of car enthusiast and now owner of one, Dennis Varni. Varni talks about how back in the 1960s there was a sports car shop next to where he was working. That was where he first set eyes on a Lamborghini Miura. And it was love at first sight. But the car didn't come cheap, especially brand new as they were back then.
"These things were $19,000 new in those days, and I'd just bought a house with my wife for $11,000 in 1966, and I said, 'I'll never be able to own one of these'." Varni notes.
Back in 1966 the Lamborghini Miura was debuted as the P400 prototype at the Geneva Motor Show. It got glowing reviews from the media and from motorists at the show. Who marveled at car designer Marcello Gandini's curved chassis and its mid-engine two seat design, which was revolutionary for a supercar. That layout has since gone on to be the standard for high-level sports and supercars.
The Lamborghini Miura Was The First Supercar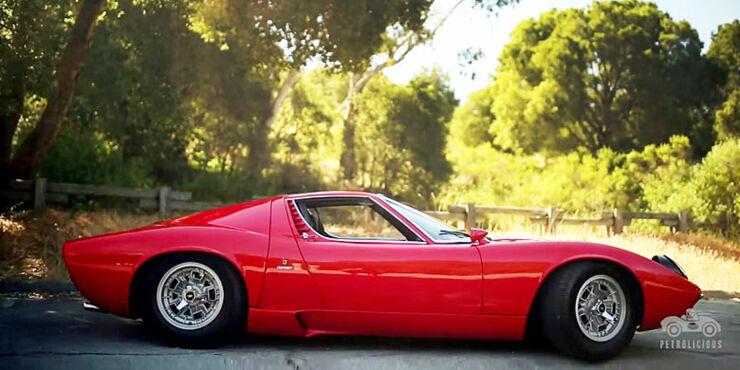 Of course back then Varni thought owning one would never be within reach, but only just over a decade later in life he was able to afford one. In 1979 he bought his Lamborghini Miura P400 S. "I love the car," he enthuses. "I never will sell it. It's just a beautiful, exciting automobile."
Along with being a stunning car, Varni also credits it with opening his eyes to a new world of automobiles. He'd always been a fan of hot rods, but after purchasing the Lamborghini Miura he became more aware of the European sports cars. So now his collection includes Bonneville Salt Flats racers along with a Fiat Topolino. Along with, of course, the Lambo, which you get a sense is his favorite.
"I think it's the car that put Lamborghini on the map," Varni says. "The most redeeming thing about the Miura would be the fact that there's only so many of them. It's highly collectable, it's exciting, because it's unusual, it's small, it's exotic—it's still exotic today. And it was significant in its styling." he continues. "I hope I get to stay around a long time, and play with all my toys, and then when I go someone else will have them."
Whoever that is will be a very lucky person.
Top Gear Review The Classic Lamborghini Miura
Back in 2009 the TV show Top Gear did an excellent review of the Lamborghini Miura to celebrate it's 40th anniversary stating the fact it wasn't even an official project for the Lamborghini company.
But it set the template for all future supercars by designing it with a mid-engine, a first for a sports car.
Photos Of Dennis Varni's Lamborghini Miura