Light And Shadow Photography - Stunning Photos Of Photographers Creating Shadow Pictures
Light and shadow photography can be a very intriguing way of creating a subtle mood, using the highly creative aspect of shadow play can obviously play a hugely important part in the composition of a photograph. Light and shadow pictures can not only be used as a great contrast but also, like in these amazing photos, the shadows cast by light on various objects—plants or structures—are used to pattern the human form or to give the picture an extra degree of abstraction.
These shadows aren't just an afterthought but instead are as integral to the shot as the light. Proving that being an accomplished photographer isn't just about being a master of light, but a master of shadows too.
To show how important shadow can be, it's good to look back at the work of artist and fashion photographer Man Ray and his "rayographs" (or photograms). These were created on photographic paper but without a camera.
How Man Ray Used Light And Shadow Photography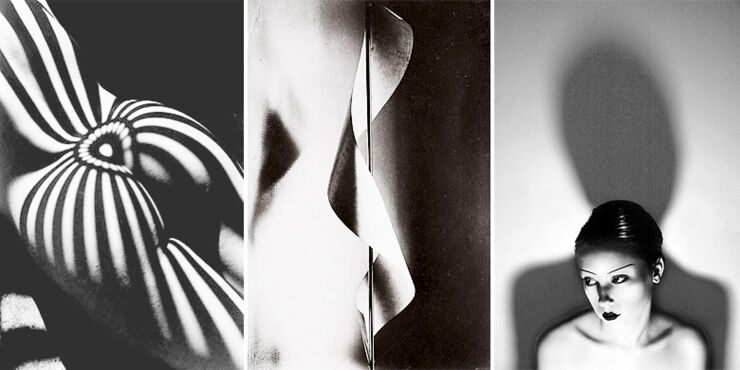 Man Ray was a master of light and shadow photography and a pioneer of this technique. Instead of using a camera Man Ray placed objects like thumbtacks and coils of wire—directly on the paper and exposed it to light. What this produced was a negative shadow-image of the object. As well as being remarkable images that went on to influence the Surrealism movement, they highlight the importance of light and shadow.
The Art Story reports "For Man Ray, photography often operated in the gap between art and life. It was a means of documenting sculptures that never had an independent life outside the photograph, and it was a means of capturing the activities of his avant-garde friends."
He later went on to use this technique outside of the darkroom on his model subjects and ordinary objects to great effect and has had a lasting influence of generations of photographers who have used this style.
Light And Shadow Images In The Modern World
With the advent of digital photography and the 'what-you-see-is-what-you-get' instant results on a camera's LCD screen have inspired a new generation of photographers, both professional and amateur to experiment and push the boundaries of what is possible. And if not on a camera, then on a smartphone. Anything is possible.
It's great fun to try out and play with and using shadows can be a very simple yet very creative way of creating some highly visual results. So the next time the sun comes out grab a camera and start to have some fun.
Take a look at some of the light and shadow photography images that use shadows to stunning effect, below.