Norman Reedus Bitten By Overenthusiastic Zombie-Imitating Fan At New Jersey Convention
Sometimes fiction imitates real-life and sometimes those boundaries can get very blurred and strange things can happen, especially if you are an over-excited fan of the The Walking Dead.
Just because you star in a hit TV show about zombies doesn't mean you like to actually get bitten in real life.
But no one seems to have told a female fan who did just that to Norman Reedus, aka Daryl Dixon, at New Jersey's Walker Stalker Con.
The Daryl superfan went up to Reedus and his on-screen bro, actor Michael Rooker who played Merle Dixon, for a photo and took the opportunity to take a bite out of The Walking Dead actor Reedus.
The woman was then tackled by security and thrown out. Rooker supposedly exclaimed "What the f**k was that?!" - she has since been banned for any future Walker Stalker conventions and pretty much any other event where Norman Reedus will be present.
Here's a photo of the woman posted to her Instagram account with Reedus and Rooker moments before she turned into a biter, but in the caption she seems to lament her zombie-like actions.
"I lost my mind" the fan explained, of meeting "the love of my life," and added: "I don't know what came over me. It wasn't my intention to hurt him. I'm sorry Norman!"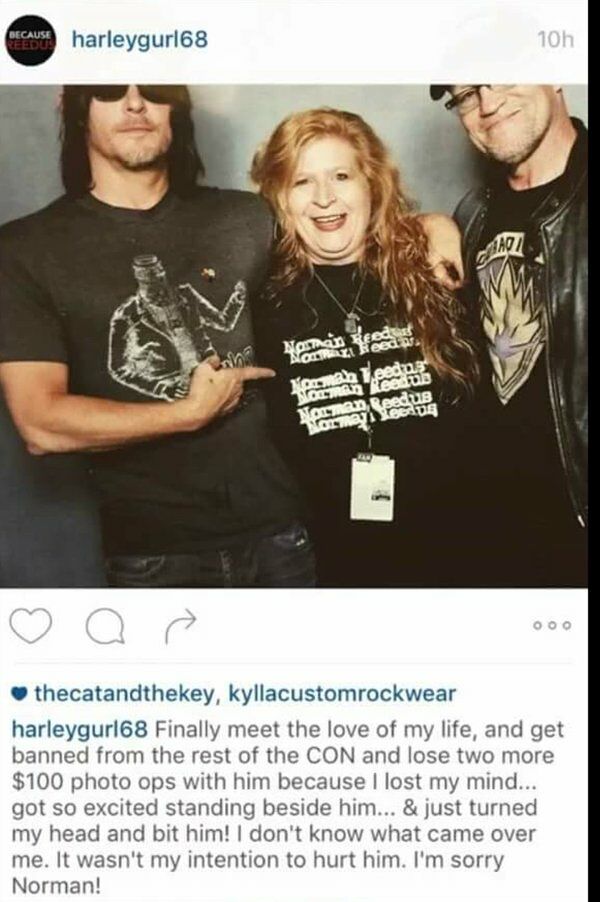 Other fans who were at the convention and witnessed the event reported the following: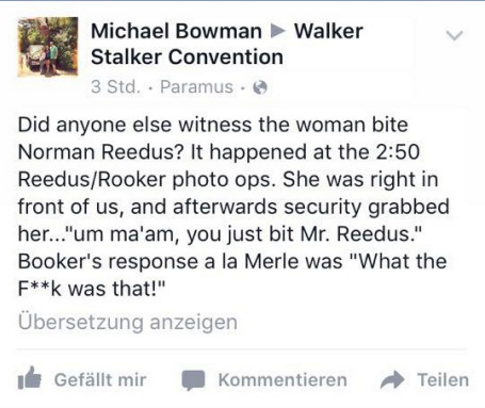 Reedus, who's always very friendly with fans, seems to have taken the incident in his stride. She didn't break the skin and he carried on with the photo ops afterwards.
He's since posted the following pic to Instagram with the caption "Um, please don't"—it features an altered version of an image of him wearing a t-shirt that said "Bite me."