In The Spirit Of Pink Floyd Live at Pompeii, Cover Band Pink Tones Perform At Roman Amphitheatre
When it comes to unusual live rock performances, Pink Floyd Live at Pompeii has to be considered as one of the most legendary. The 1972 concert was captured in a documentary, directed by Adrian Maben, of the same name and was recorded at the oldest surviving Roman amphitheatre in the world. Which is, as you can no doubt guess, the one in Pompeii, Italy—it's seen some rock action before Pink Floyd too, because it somehow managed to survive, pretty much intact, being buried by the eruption of Mount Vesuvius in 79 AD.
As well as its setting the Pink Floyd Live at Pompeii concert is also famous for taking place in front of an audience of zero. The amphitheatre itself was completely empty, except for the band and their equipment at the center. So no one but the film crew got to see Pink Floyd play various songs from their albums Meddle and A Saucerful of Secrets including "Echoes, Part 1," "Set the Controls for the Heart of the Sun," and "A Saucerful of Secrets." But thanks to the doc it's gone on to become one of the most celebrated concert films ever made.
Pink Tones Recreate Pink Floyd Live at Pompeii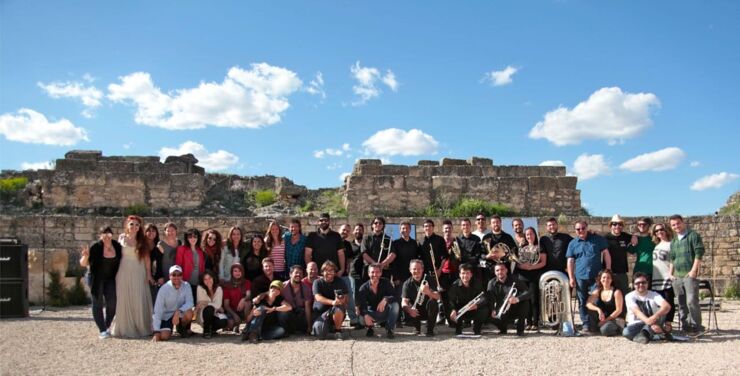 The team behind cover band Pink Tones' gig that pays homage to Pink Floyd Live at Pompeii.
And now Pink Floyd cover band Pink Tones have attempted a recreation of Pink Floyd Live at Pompeii. Or perhaps it would be more accurate to call it a homage. Because for one it doesn't take place at the Roman amphitheatre in Pompeii, that's probably far to difficult to swing these days (unless you happen to be David Gilmour who played it on his 2016 'Rattle That Lock' tour). But instead takes place at the Roman Amphitheatre in Segóbriga, an old Roman city that's located near Saelices in Spain.
Spanish band Pink Tones have been playing Pink Floyd covers for over a decade, emulating their live shows. So why not emulate one of the band's most iconic gigs? As well as the setting, the Pink Tones do other things slightly different too, because they actually have an audience and the set list isn't quite the same either, although it does feature some of the same music.
"We tried to keep the spirit of Pink Floyd Live at Pompeii, but at the same time doing something different, with different songs that fit the place." the band note in the YouTube description. "Same concept as the other performance we made at this place two years ago, but instead of just one song, a whole concert to a selected and reduced audience. All played live with no pauses."
You can check out some performances from the 1972 original Pink Floyd Live at Pompeii concert below.
Pink Floyd Live at Pompeii - Echoes (Part 1)
Pink Floyd Live at Pompeii - One Of These Days