Interstellar Overdrive: The Night Frank Zappa Jammed With Pink Floyd At Amougies in 1969
Pink Floyd and Frank Zappa on stage together performing 'Interstellar Overdrive', who'd have ever thought it possible. Well, it happened. Pink Floyd's experimental instrumental composition features on their 1967 debut album The Piper at the Gates of Dawn. It's also found fame because it's become notorious for the song that was performed when the band members from Pink Floyd played live on stage with Frank Zappa.
That now-legendary performance took place in 1969 at an event in Belgium called the Actuel Rock Festival. Check out the teaser video of when Frank Zappa jams with Pink Floyd's drummer Nick Mason above and then take a look at the video of the full Pink Floyd and Frank Zappa performance of Interstellar Overdrive below.
The festival, Europe's answer to Woodstock, was put on by Parisian magazine Actuel and the BYG record label. It was originally due to take place at the Parc de Saint Cloud in Paris on 24th to 28th October. But a few days before this the French authorities banned it and it was moved to Amougies in Belgium.
The turnout was over 15,000 people. And for those lucky enough to be there they not only got to see Pink Floyd perform with Frank Zappa, but also got to see Captain Beefheart and Frank Zappa jam together too.
Pink Floyd & Frank Zappa 'Interstellar Overdrive'
It was on 25th October 1969 at the Actuel Festival that Pink Floyd and Frank Zappa performed together.
Pink Floyd were playing a set when Frank Zappa came on stage and joined them to play "Interstellar Overdrive." In the footage from the event and photos you can see Zappa standing next to drummer Nick Mason, often casting a look over at Mason's trance-like drumming.
It was the only ever time Zappa played with Mason, David Gilmour, Richard Wright, and Roger Waters.
For many years after it remained a mystery as to if the whole Interstellar Overdrive event actually happened or not. Zappa, ever the joker, even denied it took place when asked about it in interviews.
But eventually audience recordings began to surface and it has now become rock music legend.
In an article about the event by Dangerous Minds Pink Floyd drummer Nick Mason is quoted as paying respect to Zappa saying about the Interstellar Overdrive jamming session, "Frank Zappa is really one of those rare musicians that can play with us. The little he did in Amougies was terribly correct. But he's the exception. Our music and the way we behave on stage, makes it very hard to improvise with us."
Pink Floyd's Nick Mason On Frank Zappa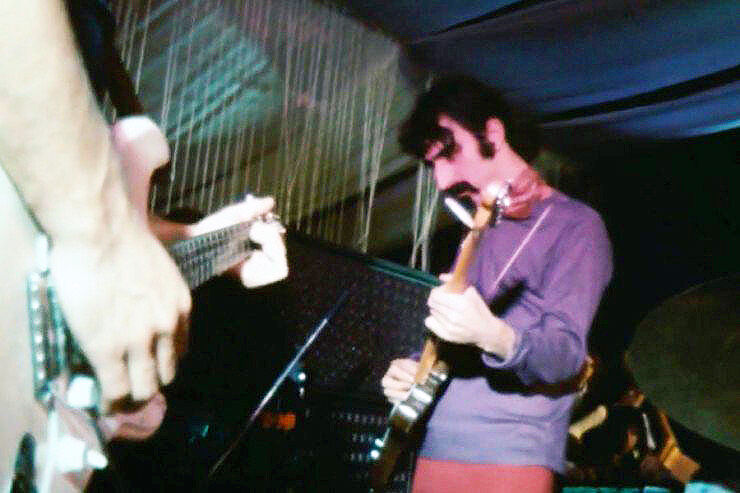 Frank Zappa performing "Interstellar Overdrive" on stage with Pink Floyd.
Many years later Nick Mason spoke again about the Interstellar Overdrive performance at Amougies in a Rolling Stone interview from 2016. He again praises Zappa, while also pondering why they were all their in the first place. No doubt those hazy days are quite difficult to recall. LSD will do that.
"The interesting thing is that no ne of can remember why we were at Amougies? Why was he at Amougies? The Mothers weren't playing, but I think he was somehow involved as the curator. Roger knew him probably better than any of the rest of us, but we'd hung out with him on our first and second tours. No one can remember who said, 'Do you want to jam?'"
Mason continues: "The interesting thing with Frank was that he's one of the very few rock & roll intellectuals. I would put Frank Zappa, Roger and Pete Townshend together – people who are a bit more thoughtful. Frank obviously had an extraordinary ability as a musician and composer. He could knock out Joe's Garage or produce the G.T.O.'s. He had a very broad vision of rock music."
Why Pink Floyd & Frank Zappa Were At Amougies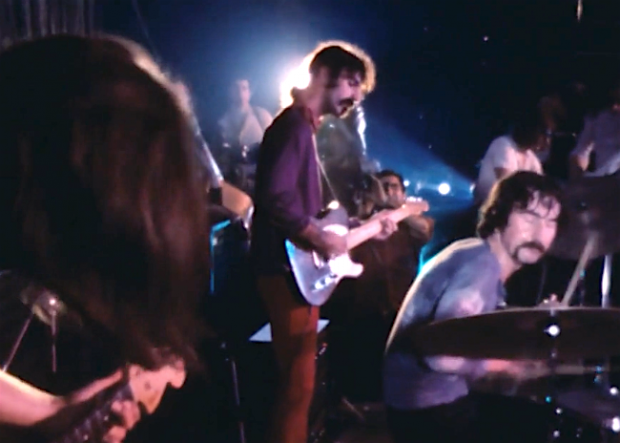 Pink Floyd's drummer Nick Mason and Frank Zappa playing "Interstellar Overdrive"
It seems that while Mason might not remember why Pink Floyd or Frank Zappa were at Amougies, the notes from The Amougies Tapes Zappa bootleg explain why:
Frank Zappa was present at the festival in a twofold capacity. First, as Captain Beefheart's road manager; secondly, as M.C., assisting Pierre Lattes, a famous radio/TV presenter at the time (and the pop music editor for Actuel magazine). The latter task proved problematic given Zappa's limited French, the prevailing language among the audience, who themselves didn't seem to understand much English. Instead, Zappa relinquished his M.C. job for one of occasional guest guitarist. He plays with almost everybody, especially with Pink Floyd, Blossom Toes, Archie Shepp and Aynsley Dunbar, a fabulous drummer he will hire shortly thereafter. He introduces his friend Captain Beefheart and provides a powerful stimulant to all the other musicians. Most legendary, of course, is Frank Zappa's jam with Pink Floyd on a very extended "Interstellar Overdrive". The festival was filmed by Jerome Laperrousaz, and the film was to be called MUSIC POWER. Due to objections from various bands (most notably Pink Floyd) whose permission hadn't been properly secured, the film was never officially released. (via Dangerous Minds)
Frank Zappa & The Amougies Tapes
You can listen to the whole of Frank Zappa and Pink Floyd performing "Interstellar Overdrive" at the Actuel Rock Festival in the 'The Amougies Tapes' video below (skip to to 7:08 on the timeline to hear the song).
Poster From The 1967 Actuel Rock Festival
The festival took place over the course of five freezing cold days in late October (24-27) of 1969. The audience numbered between 15-20,000 people who were treated with performances by Pink Floyd, Ten Years After, Colosseum, Aynsley Dunbar (this is allegedly where Zappa met his future drummer), former Yardbird Keith Relf's new group Renaissance, blues legend Alexis Korner, Don Cherry, The Nice, Caravan, Blossom Toes, Archie Shepp, Yes, The Pretty Things, Pharoah Sanders, The Soft Machine, Captain Beefheart and many more.
(Source Dangerous Minds).