Puddles The Clown Performs Stirring Acoustic Cover Of Pink Floyd's 'Wish You Were Here'
Sat in a pop up coffee shop Puddles the Clown (the 7-foot-8-inch lead singer of Puddles Pity Party) and his stunning voice deliver a stirring version of Pink Floyd's classic song 'Wish You Were Here.' The performance is part of the musician's Coffee Shop Covers series where he takes requests from his fans.
"I take one of your requests from social media and learn it right there and then." he says. "Play it and make a video. Hopped up on coffee. What could go wrong?" And when it comes to Puddles the Clown covering a Pink Floyd song about absence, nothing could.
The tall clown's sad persona is entirely fitting with the track and its themes, which is a lamentation and reflection on former Pink Floyd band member Syd Barrett and his drug-induced breakdown. And Puddles' melancholy approach and stripped back acoustic guitar are perfect for 'Wish You Were Here' and the song's tone.
Of course Puddles the Clown is no stranger to covers when it comes to music. He rose to internet fame back in 2013 when this "Sad Clown With The Golden Voice" covered Lordes' hit 'Royals' in a collaboration with Postmodern Jukebox.
So Who Exactly Is Puddles The Clown?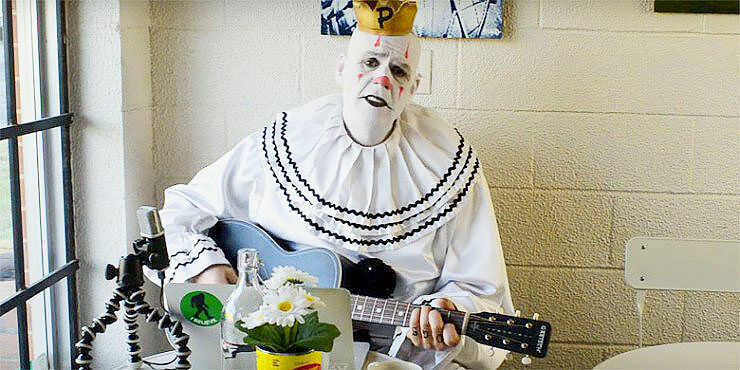 Puddles the clown performing Pink Floyd's 'Wish You Were Here.'
Since then he's been churning out covers with his band Puddles Pity Party with recent and quite amazing Johnny Cash mashup of 'Folsom Prison Blues' & 'Pinball Wizard'. But if you're wondering who Puddles the Clown is, well, it's all part of the mystery. Although he does look suspiciously like Georgia based singer Big Mike Geier.
Because other than singing, Puddles the Clown doesn't speak much, unless it's through close friend Big Mike Geier. In fact in 2014 Grantland wrote an interesting article about Puddles, attempting to track him down and find out more about him, perhaps even get an interview with him. But it didn't happen, instead the clown's legendary silence when it comes to interviews, and even on stage, persisted. They did manage to speak to Big Mike Geier, but Puddles remained an enigma.
"I heard that the clown would never say a word. That he barely ever spoke, even to friends." the piece begins. "That he chose to communicate through song, and all of his songs were sad. He was a really sad clown, sadder than all the others, and whenever he had something to say, it could only be cast through the baritone of his beautiful voice."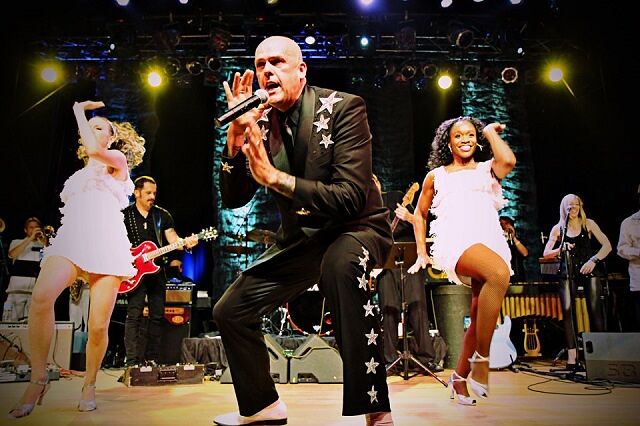 Musician Big Mike Geier
Puddles The Clown Performs Lordes 'Royals'
You can check out Puddles the Clown covering Lordes hit song below with Postmodern Jukebox. The Youtube video describes him as 'For the uninitiated: Puddles is a 7 foot tall sad clown with a voice like Tom Jones.'
Lordes herself has said it's her favorite version of the song.