Sarah Connor Is Back! Linda Hamilton Is Returning To 'Terminator', Joining The Upcoming Reboot
Sarah Connor is coming back to the Terminator movies, with the news that Linda Hamilton has joined Arnold Schwarzenegger in returning to the franchise that made them stars. After a few bad movies, the Terminator franchise is heading back into James Cameron's hands with the original characters and actors we all loved.
News came earlier this year that, after the rights to the series come back into his hands in 2019, Cameron is keen to do a Terminator trilogy reboot (see video above where he discusses Terminator 6). And now it seems, according to The Hollywood Reporter, Hamilton is reprising her role as Sarah Connor for the upcoming movies being made by Skydance and Paramount.
Cameron made the announcement at a private event that was celebrating the classic sci-fi movies, with THR reporting the director as saying, ""As meaningful as she [Sarah Connor] was to gender and action stars everywhere back then, it's going to make a huge statement to have that seasoned warrior that she's become return." continuing, "There are 50-year-old, 60-year-old guys out there killing bad guys, but there isn't an example of that for women." Linda Hamilton as Sarah Connor is a sure contender to join that all-male clique.
The new movie will see Hamilton and Arnie join forces again after a 26 year hiatus, and will be produced by Cameron and directed by Deadpool's Tim Miller. Mercifully it's going to ignore the crappy movies made in 2003, 2009 and 2015 and be a direct sequel to 1991's Terminator 2: Judgment Day, kicking off a proposed new trilogy.
Linda Hamilton Reprises Her Sarah Connor Role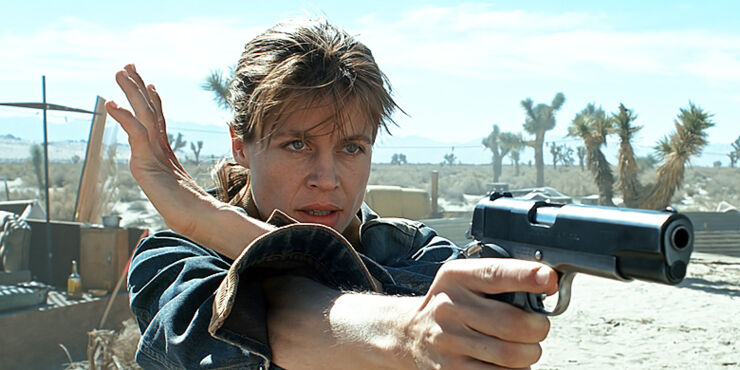 Image: Linda Hamilton as Sarah Connor in Terminator 2: Judgment Day. Tristar / Sportsphoto Ltd / Allstar.
According to THR the film will be based on a story by Cameron. "Cameron and Miller created a writers room to hammer out what is planned to be a trilogy that can stand as single movies or form an overarching story." the site notes. "David Goyer, whose credits include the Blade and Christopher Nolan's Batman movies; Charles Eglee, who created Dark Angel with Cameron; Josh Friedman, who created the Terminator TV spinoff, The Sarah Connor Chronicles, and Justin Rhodes, a frequent Goyer collaborator, were part of that room."
Along with the original creative dream team back together, the new film will also be casting young actors who can maybe carry the franchise over in the next two movies. Could we see Sarah Connor die and pass the baton to a protege? Maybe, but it would be nice to see Sarah Connor be the main action star throughout the trilogy. That would really be something akin only to Ripley in the Alien movies, notable because she's one of the only female action stars who's starred in multiple films of a sci-fi franchise.
"We're starting a search for an 18-something woman to be the new centerpiece of the new story," Cameron said. "We still fold time. We will have characters from the future and the present. There will be mostly new characters, but we'll have Arnold and Linda's characters to anchor it."
Hopefully though the crazy Sarah Connor warrior hardass we all know and love won't get too cast aside by these young upstarts.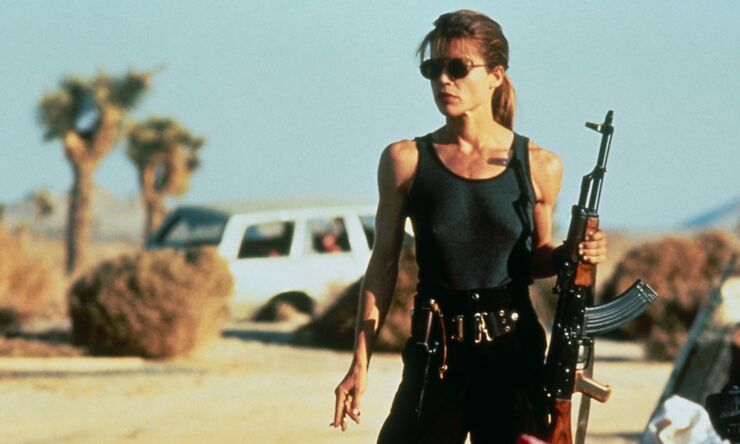 Image: Linda Hamilton as Sarah Connor in Terminator 2: Judgment Day. Tristar / Sportsphoto Ltd / Allstar.