'Say No More' Barber Meme: Here's 34 Of The Most Abominable Haircuts Ever To Grace The Internet
We've all in our time walked away from the barbers full of regret, but many of us have never sported a haircut as bad as a 'Say No More' barber meme demonstrates. And you should be eternally grateful for that.
Because the hair styles on show here are so bizarre, they look more like some kind of performance art/sculpture than they do a haircut you would happily walk in to the office with on Monday morning.
Which is why they've all ended up as hilarious examples of the Say No More meme. The barber meme basically goes like this: someone walks in to a hypothetical barbers and asks for, let's say, their hair to resemble a medium rare steak. "Say no more," replies the barber. And lo, the person's hair looks like a medium rare steak.
It's basically there to point out (and mock) people with eccentric (aka terrible) hair. That's not to say there's no doubt some intriguing stories behind, say, why a guy wanted his hair and beard to look like a strawberry.
But for the purposes of the barber meme, those stories shouldn't get in the way of pointing and laughing.
What Makes A 'Say No More' Barber Meme?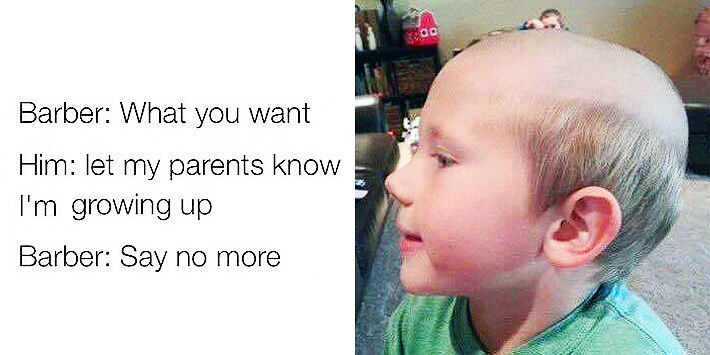 Many of the hairstyles from the Say No More meme defy all logic when it come to style and taste. But then again those are two subjective matters. One man's hair styled to look like a turd is another man's groundbreaking, forward fashioning, bleeding edge innovation.
Or maybe some of these people had heard about the barber meme and they just wanted to push it to places it had never been before. Well, 'Say No More' guys, i seriously think you did it!
Maybe some of them just like bad haircut styles or maybe it's the rest of us who have bad hair. And these people are the select few on this planet who have great hair. Or maybe not.
Either way, take a look and then feel better about your own bad hair day next time it comes along.
34 Photos That Define A Barber Meme