Soldier Shot As Gunman Opens Fire At Canadian Parliament, Shocking Footage Shows Police Exchanging Fire
Parliament Hill in Ottawa, Canada is in lockdown after a gunman fired shots in the building and the surrounding area. A Canadian soldier was shot and is now in hospital and it's been reported that the shooter in Parliament Hill has now been killed. The chilling video above captured from inside the building by The Globe's Josh Wingrove shows police exchanging fire.
The situation is still unfolding and it's unclear whether the gunman who's been shot is the only one or if there are more. CTV Ottawa are running live coverage. There were three separate incidents.
Twitter has been flooded with people uploading and retweeting dramatic pictures from the attack.
": Witness says this is the suspect's car. He says two men climbed out. No licence plates on it. " #ottawa
This tweet pretty much sums up the mood in Canada.
We have no idea who did this yet, or why, but Canada lost its innocence today with the shooting in Ottawa. We are not immune.
Events are still unfolding. There's no indication yet as to who's behind the attacks.
Total pandemonium near rideau centre. Police screaming for everyone to leave we are. Will tweet when I can #ottnews #cdnpoli
We would like to remind the public that the current incident is on-going. If you have any information please contact local authorities.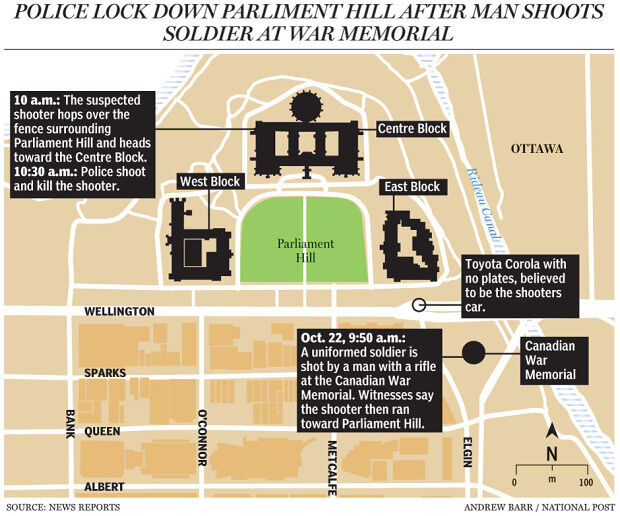 Image via