Texas Policeman Suspended After Going Nuts And Pulling Gun On Teens At Pool Party #TexasCops
It's summertime and that classic song by Will Smith, (above) is playing in your head, you decide to have a pool party at the local community pool. But there's an unwanted guest or two, namely some OTT Texas police officers, one of whom disgraced himself by pulling a gun on a bunch of unarmed teens.
The incident happened last Friday when police were called to the Craig Ranch North Community Pool in McKinney, Texas which involved "multiple juveniles at the location, who do not live in the area or have permission to be there, refusing to leave" according to an official statement.
A seven minute clip of the whole drama was uploaded to YouTube (below) which shows the cop, who's been named by local reporters as Patrol Supervisor Cpl. Eric Casebolt, pulling a gun, shouting profanities, and brutally handcuffing teens.
After it was uploaded the clip went viral and people have been outraged by the police's actions, especially the cop who throws a 14-year-old girl in a bikini to the ground, placing his knee on her back while she cries for her mom (i bet that Will Smith song isn't playing in your head anymore?).
"He grabbed me, twisted my arm on my back and shoved me in the grass and started pulling the back of my braids," the girl named as Dajerria Becton told Fox 4 News. "I was telling him to get off me because my back was hurting bad."
As people come to help her, the cop pulls his gun and chases them off. The cop involved has now been suspended and an investigation is underway.
McKinney Police issued the following statement.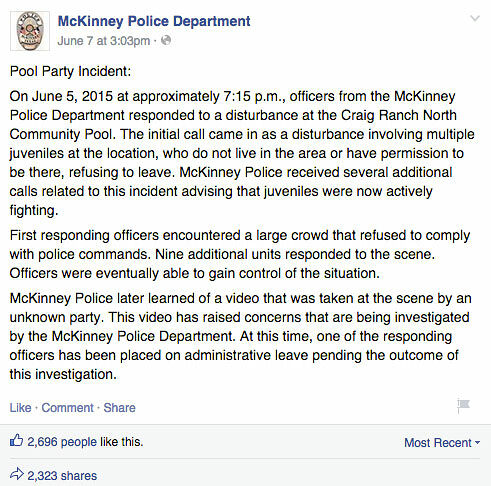 It all seemed to kick off after a security guard for the pool threw out all the black teenagers. Local residents were also getting involved, annoyed that kids who aren't from the neighborhood were using the pool.
Brandon Brooks, who's white and uploaded the video to YouTube, told Buzzfeed News, "I think a bunch of white parents were angry that a bunch of black kids who don't live in the neighborhood were in the pool. Everyone who was getting put on the ground was black, Mexican, Arabic. [The cop] didn't even look at me. It was kind of like I was invisible."
Things got racist when residents reportedly told the black kids to go back to their "Section 8 [public] housing." Buzzfeed News reports.
As well as the questions of what role race had to play in the policeman's actions, and the disdain for him pulling a gun on unarmed kids, one other thing has caught the internet's attention. The Rambo-style barrel roll the cop does at the beginning.
Was it intentional? Did he trip and try to recover? WTF is going on there?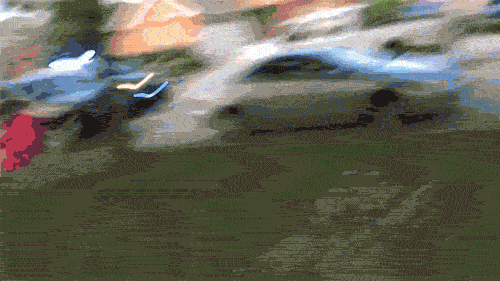 Watch the full seven minute video below.