Next-Gen Tesla Roadster - Concept Design Imagines What Elon Musk's Creation Could Look Like
The next-gen Tesla Roadster hasn't been officially announced yet, but Elon Musk's company appear to be working on a replacement for their flagship battery electric sports car, which was produced by the company from 2008 to 2012. The original Tesla Roadster could do 0 to 60mph in 3.7 seconds and cost about $98,000 when it first came out. According to rumors a new version may come out in 2019.
In a series of tweets this year Tesla CEO Elon Musk has hinted at some of the possible capabilities of the new Tesla Roadster, saying it will be faster than their Model S, which is currently one of the fastest cars around. And it will feature a 'Maximum Plaid' mode. It follows on from their 'Ludicrous mode' which accelerates the Model S P100D from 0 to 60mph in just 2.5 seconds.
In the tweets Musk hinted that the new Tesla Roadster would beat this and go from 0 to 60 in under 2 seconds. It will also be a convertible too. Both the mode names reference the movie Spaceballs.
The Next-Gen Tesla Roadster Will Be A Convertible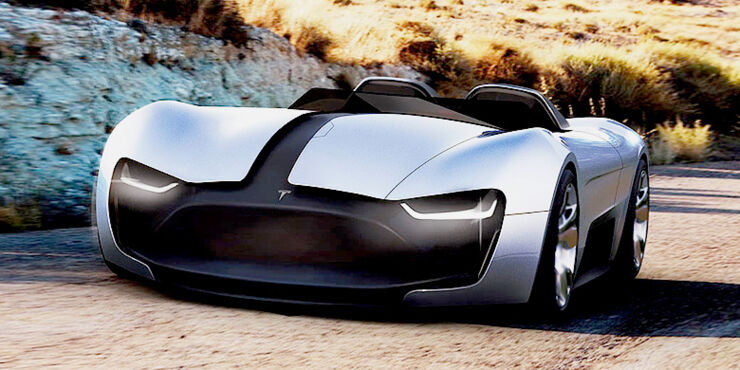 Meanwhile Tesla's Nordic Countries manager Peter Bardenfleth-Hansen has said about the remodel. "We would have loved to build more, but if no one other than you would be listening right now, then I'd probably tell you that we will manufacture it again. It will look a little different, a little faster and a little bigger."
That would an interesting target. Would, of course, only count if capable of doing so right off the production line with street legal tires.
Vinícius Buch's Next-Gen Tesla Roadster Concept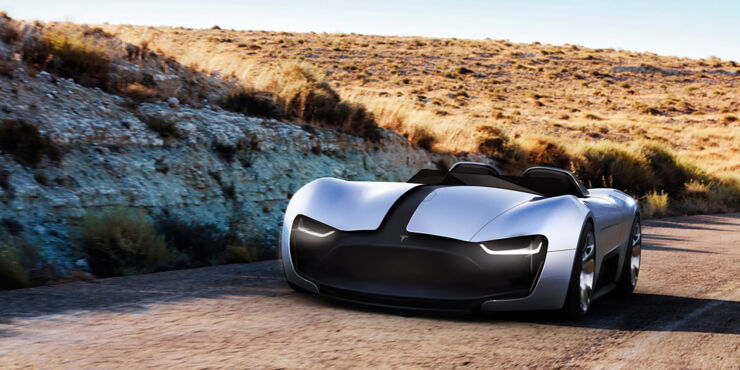 So, while we await for that to arrive designer Vinícius Buch has created a concept design of what it might look like. The render shows a futuristic-looking silver car, which has an open top design, true to Musk saying it's going to be a convertible. It also features a slide-to-open function for the doors, a start button that's the Tesla logo on the front of the car, and inside it has a split touch screen and keyboard.
Check out some images of this Tesla Roadster concept, below.