700lb BBW Model Monica Riley Wanted To Be So Obese She Was Unable To Physically Move
At 700lbs Monica Riley was already morbidly obese, but the 27-year-old from Forth Worth, Texas wanted to put on even more weight. Riley, a model for Super Sized Big Beautiful Woman (SSBBW) sites, explains in the Barcroft video above how her boyfriend and feeder, Sid, wanted to help her get to 1000lbs so she could claim the title of fattest woman on the planet. Monica could eat 30 chicken nuggets in one go without breaking a sweat.
But thankfully she has ditched this ambition due to the fact she wants to get pregnant and have a baby.
It certainly was a rather unusual relationship goal, and it's certainly didn't do Riley's physical health much good. "The plan was to reach 1,000lbs [50st] and become immobile." explains Monica Riley in the video. "I would feel like a queen because Sid would be waiting on me hand and foot and he's excited about it too. It's a sexual fantasy for us and we talked about it a lot. He already has to help me get off the sofa and get me out of bed. If I lay down after a big dinner he has to help me roll over because my belly is too full for me to roll—it's a big turn-on for both of us."
BBW Model Monica Riley's Scary Food Regieme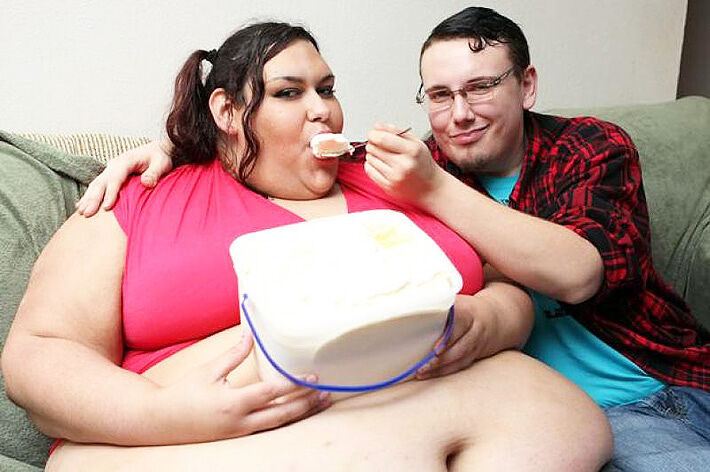 Monica Riley when she weighed 700lbs and her feeder/boyfriend, Sid. Image: Instagram/Monica Riley
Part of the fetish included feeding Monica through a funnel. Like, for instance, a 3,5000 calorie shake which consists of Pop Tarts, cream, milk, ice cream, and weight-gain powder. All mixed together for an experience Monica calls "very sexual."
To work towards 1000lbs Riley's average daily food intake consisted of six biscuits, six sausages in a bread roll, a big bowl of sugary cereal, two weight gain shakes, four McChicken sandwiches, four double cheeseburgers, some large French fries, macaroni cheese, and Taco Bell. All topped off with an entire gallon of ice cream.
Overweight pretty much all of her life, a few years ago Monica Riley was preparing for bariatric surgery (which involves reducing the size of the stomach with a gastric band) after an ex-boyfriend made some negative remark to her and urged her to shed the pounds. But at the last minute she decided to pull out of the operation and decided to embrace her figure instead.
Why Monica Riley Gave Up On Her 1,000lb Dream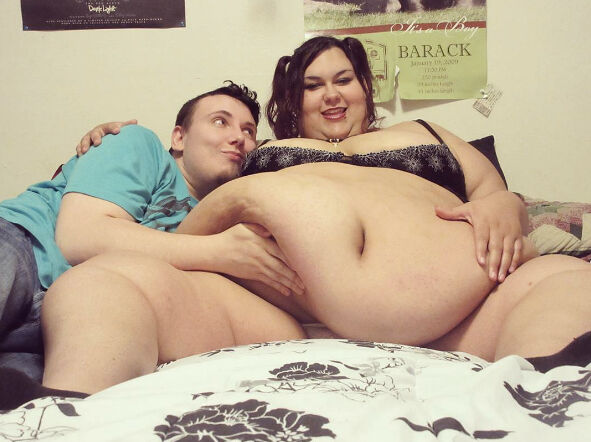 Monica Riley when she weighed 700lbs and her boyfriend, Sid. Image: Instagram/Monica Riley
However, since the Barcroft video came out in 2016, Riley had had another turn around with regards her weight. Now, instead of wanting to become the world's fattest woman, she wants to lose weight. She's already shed 210 pounds (15 stone).
The turnaround happened after Monica Riley fell pregnant with Sid, twice, and had two miscarriages. Now pregnant for a third time she's decided to eat healthier. She now consumes only 2,000 calories a day instead of the previous 8,000 to 10,000. Even with the weight loss she's still a high risk pregnancy, explaining she'll have to be induced five weeks early, but it's certainly an improvement.
Model Monica Riley Now Wants To Have A Baby
Appearing on British TV show (see video above) This Morning she said, "After my two miscarriages and knowing that I want to have a family, once I got pregnant for this third time we sat down and had a discussion and thought, 'what is the main cause?.'" continuing, "It was all how much I was eating and what I was eating, definitely."
She now eats vegetables and chicken, and fewer carbs, eating smaller portions and less snacks. And the funnel feeding has gone. "That wasn't the only aspect of our sexuality with each other. I'm in love with her as a complete person. She's my soulmate, we have so much in common. I love her." said Sid.
See below for how Monica Riley used to look before her recent weight loss. And check out her Instagram page
Photos Of 700lb BBW Model Monica Riley