David & Goliath Reloaded: An Amazing 600lb vs 169lb MMA Mismatch #MindBlown
"Let's get ready to c-r-u-m-b-l--e!!!" Something tells me that there was a slight mix-up on the fight billing schedule for this meeting of a modern day David & Goliath conflict - 600lb Emanuel Yarbrough Vs 169lb Daiju Takase at the Pride 3 event (Pride 3 was a mixed martial arts event held by KRS-Pride, later renamed Pride Fighting Championships) on June 24, 1998 at the Nippon Budokan in Tokyo, Japan).
This is one of those records that will likely never be broken. A 431lb mismatch against the heaviest person to ever compete in a professional sport and a midget in comparison, you can almost hear Daiju Takase thinking to himself, "I can't believe I'm doing this. I am not getting paid nearly enough..) How could this little Japanese dude possibly win!?
Well, stop your grinning and drop your linen, because this turns out to be one of the strangest fights you have ever seen, after Daiju Takase stops circling Emanuel Yarbrough like he's stuck in the huge guy's orbit he decides to come in close and trade blows, 'bad mistake' we all say and as if to prove us right, inevitably Yarbrough finally manages to catch hold of him, just like a scene from jaws where the big shark grabs it's latest victim, dragging them down for the kill, and you think it's all over.
But sometimes things never quite turn out as you expected them to.....
-------------------------------------------------------------------------
Background on the fighters (what Wikipedia says):
Daiju Takase (高瀬 大樹 - Born April 20, 1978 in Tokyo) is a Japanese mixed martial artist and kickboxer. He has fought as a middleweight and welterweight in the Ultimate Fighting Championship and PRIDE Fighting Championship. He is noted for being the second of five fighters to defeat and first of three fighters to finish former UFC Middleweight Champion Anderson Silva.
Takase's mixed martial arts debut came at PRIDE 3, where he defeated the 600 lb Sumo wrestler Emmanuel Yarborough. He then fought in a variety of organizations, including Pancrase and the UFC, facing tough opposition, including losses to Jeremy Horn, Ikuhisa Minowa, and Nino Schembri.
On June 8, 2003, Takase faced Anderson Silva at PRIDE 26. At the time, Silva was on a 9-match winning streak, and given Takase's unimpressive record, he was a heavy underdog. However, Takase surprised spectators with a first round triangle choke submission victory. With this win, he becomes notable for being one of the five men to ever defeat Anderson Silva.
Takase then fought in PRIDE's Bushido promotion, and continued to face difficult opposition with mixed success, including a victory over Carlos Newton and losses to Rodrigo Gracie and Hayato Sakurai.
Takase most recently fought on July 26, 2014, when he got a TKO win over Hee Seung Kim at ROAD FC 16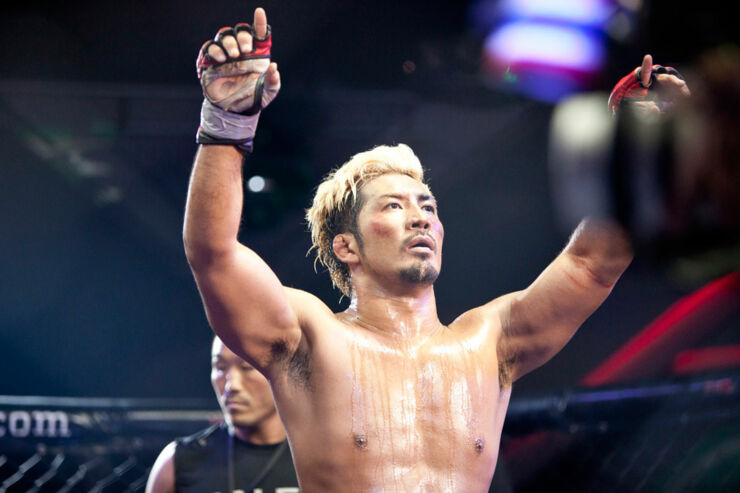 ------------------------------------------------
Emmanuel 'Manny' Yarborough (born September 5, 1964) is an American amateur sumo wrestler and mixed martial arts (MMA) competitor, also having competed in judo, wrestling, and American football. He is 6 ft 8 in (2.03 meters) tall and has weighed up to 882 lb (400 kg). He holds the Guinness World Record for the largest athlete. Emmanuel wears a size 21 shoe.
He was the 1995 World Amateur Sumo Champion and is considered to be one of the most famous sumo wrestlers outside Japan. He competed in UFC 3, a mixed martial arts competition, losing to the much smaller Keith Hackney (who has since taken the nickname "The Giant Killer") and Daiju Takase (169 lbs) in Pride Fighting Championships.
He was born in Rahway, New Jersey.