Anatomy Art: Artist Danny Quirk's Incredible Body Illustrations Reveal What Lies Beneath Our Skin
Danny Quirk is an American artist who uses the human body as a canvas for his stunning anatomy art. The result is like a window into the physiology that lies under our skin.
That might sound a bit gruesome, but Quirk's anatomical art is more curiosity than horror story and nods to the human anatomy art of the Renaissance. For the artists of that period it was a way to get a better understanding of how the body worked. It meant they were then able to create more realistic representations in their paintings.
"My anatomical works combine classic poses, in dramatic chiaroscuro lighting, with a very contemporary twist." Quirk explains on his Behance page. "Illustrating what's underneath the skin, and the portrayed figure dissects a region of their body to show the structures that lay beneath."
The results are like looking at a modern day version of Leonardo da Vinci's anatomical drawings.
Danny Quirk Talks About His Anatomy Art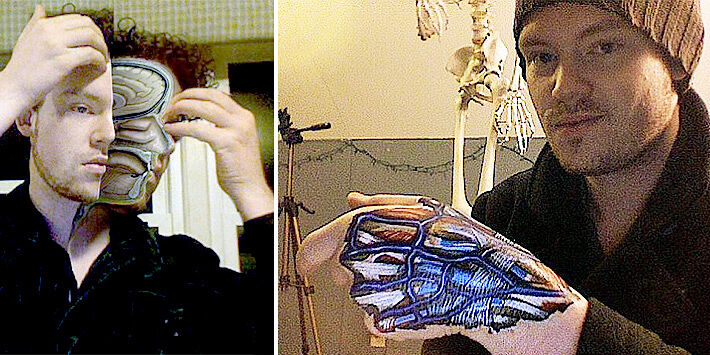 Danny Quirk shows off his own design drawn onto his face and hand.
In Quirk's anatomy artwork the complex biology that lies beneath our skin and flesh is laid bare, the tendons and muscles, veins and arteries are revealed in his illustrated dissections.
"It seems there is a skewed connotation with the perception of anatomy in art," Quirk told MyModernMet. "For whatever reason, people tend to view it as 'morbid' or 'creepy.' Part of the goal of these pieces is to combat this ignorance, and educate individuals as to the beauty that lies beneath. Having spent time working with cadavers and creating illustrations for medical publications, I got to experience first hand just how complex yet delicate the body is, wonderfully illustrating beauty is more than skin deep."
You can check out some of Quirk's anatomy art below. See more on his Facebook and buy prints at his Etsy.
Examples Of Danny Quirk's Anatomy Art