Rodney Mullen 'A Beautiful Mind': An Interview With The Man Who Invented The Ollie
If there's a man who knows about skateboarding, it's Rodney Mullen. He's the guy that not only invented the ollie, the flat ground version anyway, but pretty much defined skateboarding as we know it today. Back in the 70s he started freestyle skating and took it to a level that has never been equaled. Mullen has stuck with skateboarding ever since, transforming his incredible freestyle tricks into today's street skating arena. he is a skate god.
In this video Rodney Mullen. gives an interview with skating website The Berrics, where he talks about the skating community, why it's important to fail, and waxes philosophically about the sport and how it's impacted his life.
Rodney Mullen is a reserved and quiet guy, preferring to stay out of any limelight and speaks with a voice that makes you initially think he's a little crazy, maybe one acid tab too many, eh? But no, it's just the way he is.
His persona shows just how wrong you would be in your assumptions, once he hits his stride you suddenly realize that Rodney Mullen is some kind of super genius with an incredible intellectual dexterity that crosses boundaries, a totally unexpected trait for a man who has spent most of his life on a skateboard. Go figure.
Rodney Mullen 'A Beautiful Mind': An Ethos On Life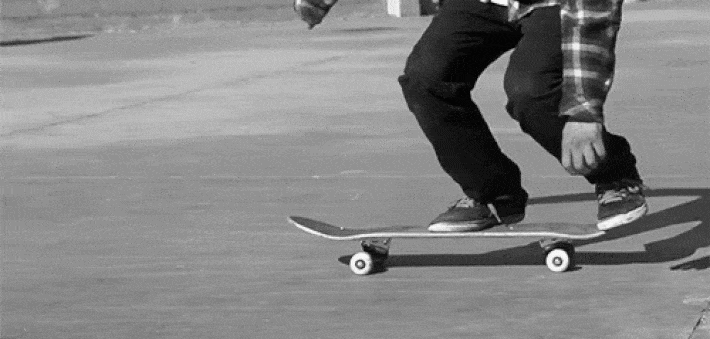 Rodney Mullen showing his "Ollie" / Image source: Imgur.
Mullen might be talking about skating, but somehow it touches a synapse of anyone who listens to him and relates to their life, occupation and ethos on life, whatever and whoever they are. I don't know if it's just me but this man needs to be listened to. His words and thoughts transcend the boundaries of skateboarding.
From The Berrics:
Rodney Mullen has seen it all. Besides inventing the entire platform of street skating as we know it, he's lived through and witnessed every iteration thereof—from his days as a freestyle champ in the '80s to modern day technical wizardry. And while he knows how to manipulate a plank of wood better than any other living being on the planet, he's also got the uncanny ability to articulate what it means to be a skateboarder better than anyone else. We sat him down for a quick chat, and got his take on the essence of skateboarding.
As he mentions in the video Rodney Mullen's also done an incredible TED Talk, below, which is equally great to watch-someone get this guy a TV show. And make sure you check out his website.website.
Rodney Mullen: Pop An ollie And innovate!