Shadows Of Everyday Objects Are Tuned Into Awesome Doodles By Belgium Artist Vincent Bal
Belgium artist Vincent Bal has a thing for everyday objects and the shadows they cast, he creates awesome doodles out of the scenes that the object's shadows throw, scenes that he goes on to create into amazing and some highly amusing doodles via his illustration skills, using the layout of the shadows that are created.
Most of us will just see a shadow and think nothing of it. The most we'll do is perhaps remark at what a neat pattern it makes, but Vincent Bal sees so much more. He sees a canvas for some of his awesome doodles.
The Belgian filmmaker and illustrator's inventiveness with his creations seemingly knows no bounds with everyday objects—a Yoda toy's shadow becomes a howling wolf or a leaf becomes a bird's beak. Or an artichoke's shadow becomes Bob Ross. Sunglasses are two humps of a camel.The wonderful thing is that when you see the end result of his awesome doodles it feels like they should have always been like that.
Artist Vincent Bal Talks About His Shadow Art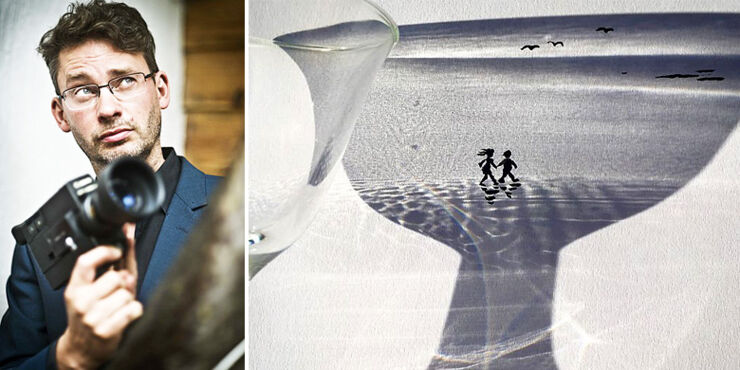 Vincent Bal with an example of his awesome doodles - Photo / Bart Grietens
Bal says that he's always been into doodling since he was a kid and was inspired by Belgium creations like Tintin and Lucky Luke to become a comic artist. His awesome doodles are a result of those beginnings. However that's not how things panned out, instead he became a filmmaker. "As a director, my drawing came in handy for making storyboards and communicating with the crew." he notes.
He also remarks that filmmaking can be a long, sometimes frustrating process. Then one day he got the idea to draw on a shadow. And he's been making them ever since.
"While I was working on a new script last April, I noticed how my teacup made a nice shadow on a piece of paper." he writes on Bored Panda. "I drew some lines on what was a totally ordinary, everyday object and suddenly the shadow was an elephant. Since that day I've been posting a doodle a day...I love how quick it is. I have an idea, make it, and find an audience, all in less than half an hour. I love the freedom. There are no restrictions. I can just watch a shadow and see if I recognize a shape." Check out Bal's awesome doodles below.
And make sure you check out more on his very creative illustrations on Instagram, Facebook, and his website.
Examples Of Vincent Bal's Awesome Doodles