"BRACE FOR IMPACT" - Urban Improv Turns a Subway Ride Into A Hilarious Star Trek Scene
Walk around a major capital city like London and people are wrapped up in their routine lives. What they don't expect is some urban improv to pounce on them on their daily commute and, say, get them to reenact the classic camera shake scene from the original Star Trek Tv series whenever the USS Enterprise gets attacked.
But, sometimes, that's exactly what people need in their lives to shake things up a bit. And it's what's happening in these amusing videos made by London-based digital advertising agency The Viral Factory.
"It's a teaser campaign for an online gambling site called Mr Green (if you look closely there's a bit of ambient branding in each film)." explains Matt Smith, co-founder of The Viral Factory. "Their ethos and strapline for the campaign is Live Without a Dull Day, so we came up the idea of a gang of people running round London encouraging people to liven up their day a bit by just looking at their daily grind in a different way, not being afraid to try something new and getting involved."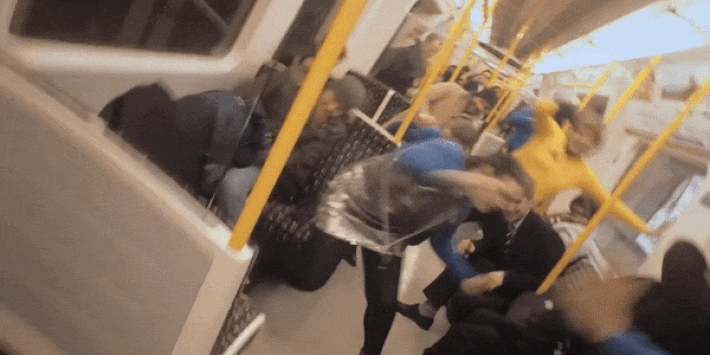 Actors performing urban improv on the London Underground
So along with commuters on London's subway system doing the Star Trek shake, we get dinosaurs marauding through London parks, strangers flirting in a coffee shop, Irish dancing while queuing for lunch, and an impromptu rave outside of an office building.
As with any urban metropolis, Londoners are notoriously crabby and you might think not necessarily up for having their daily bubbles interrupted by urban improv. But that wasn't the case.
"Amazingly, given that we shot this in London where people can be a bit blazé and unresponsive, the reactions we got were great." notes Smith. "Not from all of the people all of the time, but in general it was much less hard going than we feared it might be, and it showed Londoners in a new and positive light – turns out we're not all moody and miserable! It helped that the improve group were genuinely fun and had lots of energy, and that what we were asking people to do wasn't all that hard, but at the end of the day they could have ignored us or worse, and they didn't."
Check out some of the Urban Improv videos below:
Awkward Coffee Shop Flirting Urban Improv
Next time you're drinking your morning cappuccino, try livening things up a bit by flirting with the person sitting across the room from you.
Dinosaurs Chase Down a Jogger
You might expect the odd squirrel or even a rogue dog to be curious as you jog along for your lunchtime run, but you don't expect to be chased by a bunch of pterodactyls. It's certainly motivating though.
90s Rave Outside an Office
So you're in work, in the office, trying to get on with some urgent business, when a group of ravers appears at the windows, dancing like it's 1AM at Fabric. Do you join them in throwing some shapes? It'd be rude not to, right?
Irish Dancing Urban Improv
There's a time and a place for Irish dancing and, it seems, queuing for a food truck is one of those times.
The Floor is Lava Urban Improv
Remember playing the "floor is lava" game as a kid? Well, why not play it on a road crossing too!