Disneyland Unveils Star Wars Land, It's called 'Star Wars: Galaxy's Edge' & Includes A Themed Resort
Star Wars Land is real, or at least it will be in 2019. So prepare to get very excited. Disney Star Wars Land - or 'Star Wars: Galaxy's Edge' as it's officially called - is on track to open in the next two years at the The Disneyland theme parks in Orlando and Anaheim. And now, thanks to a panel discussion at the Star Wars Celebration convention, more details have emerged from Disney around what they're going to be like has been revealed.
These tantalizing secrets, from both the Disneyland Star Wars Land and the Disney World Star Wars Land, were unveiled at the Star Wars and Disney Parks: A Galaxy in the Making panel. It featured creatives from both Lucasfilm and Walt Disney Imagineering who have teamed up to bring a brand new Star Wars world to life.
The new world, set over 14 acres, will be set in "a remote trading port somewhere on the Outer Rim, which was once a busy crossroads along the old sub-lightspeed trade routes and one of the last stops before wild space" the panel reported. And it will be in a place that hasn't been seen yet in any films from the franchise.
What Will The Disney Star Wars Land Look Like?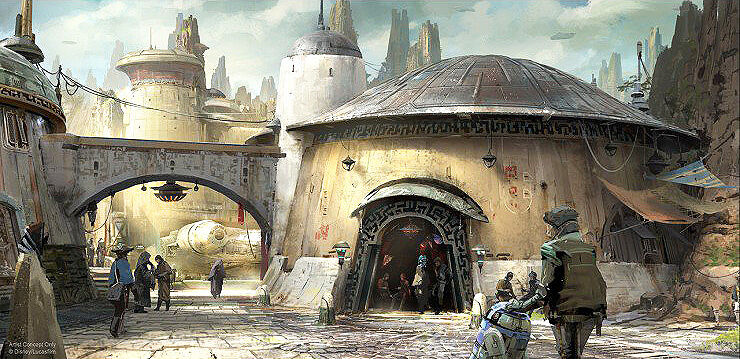 Along with a video (above), more sketches of what the lands will look like were also released. And, if you're a fan of the galaxy far, far away prepare to get excited. Because it sounds like the Disney Star Wars Land is going to be more than just a bunch of rides in a theme park. Much, much more. It's going to be a full on inclusive experience akin to immersive theatre.
In the video the creatives behind the project talk about how it will put you in the movies, you'll be able to see them, smell them, live them, fight with them and fight against them. This is made possible because Disney are working with the team at Lucasfilm that is bringing the new movies to life.
You'll be able to interact with characters, pilot the Star Wars spaceships, and visit a cantina bar—basically walk through a movie, except it'll be a brand new movie. Plus, your actions at places will have ramifications elsewhere in the park. "You can essentially build a reputation in the 'Star Wars' universe," said Pablo Hidalgo of the Lucasfilm Story Group.
Be Part Of Disney's Ambitious & Immersive Dream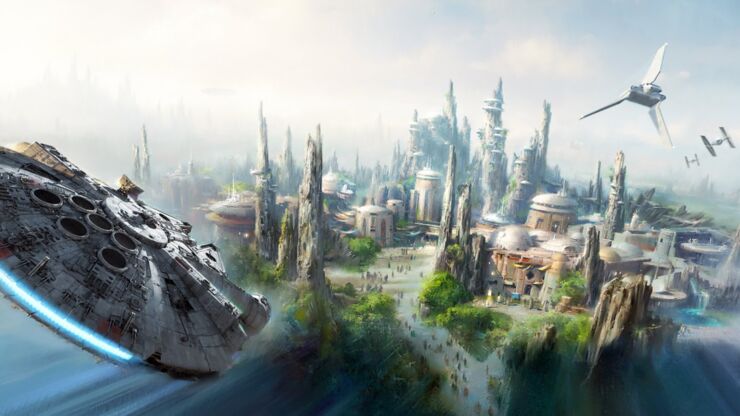 This all ties in with Disney having previously spoken of guests being able create their own adventures at the 14 acre lands at Disneyland and Walt Disney World Resorts. They'll also be able to step aboard and pilot the Millennium Falcon, navigating it through space and firing the laser cannons undertaking "a customized secret mission." But how you pilot it will have consequences later on in the park, "An experience might begin on board the Millennium Falcon and follow you right out the door of the attraction and into the local watering hole." Disney Imagineer Asa Kalama noted. Radio-frequency identification (RFID) technology could be used to create a cohesive experience that allows you to be tracked throughout the park.
Visitors will also witness the arrival of the First Order, which will set off a climactic battle between stormtroopers and Resistance fighters that guests will find themselves immersed in the middle of.
"There are going to be a ton of opportunities to help out and support the Resistance," says Kalama. "Lots of smugglers and bounty hunters who are looking for a little bit of help and might be willing to offer you up a side job, and for those of you who are interested in supporting The First Order, that will absolutely be an opportunity as well."
Oh yeah, there's AT-ATs too.
Disney Team Share Star Wars: Galaxy's Edge Details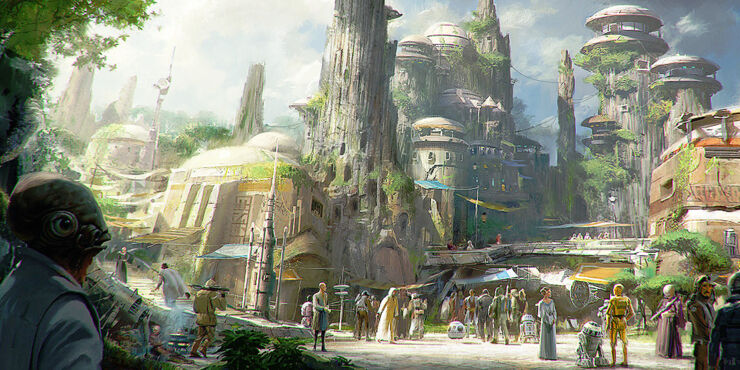 Here's what the latest Disney blog says about the new info from the panel:
The team shared exciting new details about the story behind this mysterious destination somewhere on the Outer Rim — lying on the edge of the Unknown Regions. The remote village was once a busy crossroads along the old sub-lightspeed trade routes, but the prominence of the outpost has been bypassed with the rise of hyperspace travel. Now home to those who prefer less attention, it has become a thriving port for smugglers, rogue traders and adventurers traveling between the frontier and uncharted space. It's also a convenient safe-haven for others intent on avoiding the expanding reach of the First Order.

Unusual characters from across the galaxy have landed here, preferring the "no questions asked" environment as well as easy access to exotic supplies and an abundant supply of ready rogues looking to join a crew for their next adventure.
Disney Chairman and CEO Bob Iger announced last month, "our Star Wars Land theme parks are scheduled to open in 2019." Disney will be releasing more information as we get closer to the project's completion.
Walt Disney World Immersive Star Wars Resort
Bob Chapek, Chairman of Walt Disney Parks & Resorts, announced at the D23 Expo that Walt Disney World will get an immersive Star Wars-inspired themed resort. This will compliment the upcoming Star Wars Land, which the expo announced will be officially called Star Wars: Galaxy's Edge, and reiterated that it is due to open in Walt Disney World and Disneyland in 2019.
The official Star Wars-themed resort will be part of the Disney 360 vacation concept. In a new blog post by Disney it stated that the resort will be a "revolutionary new vacation experience [and] will be [like] a living adventure that allows guests to immerse themselves in an entirely new form of Disney storytelling."
It the video above from the expo Chapek says it will involve guests going on a voyage into space that will span "several days."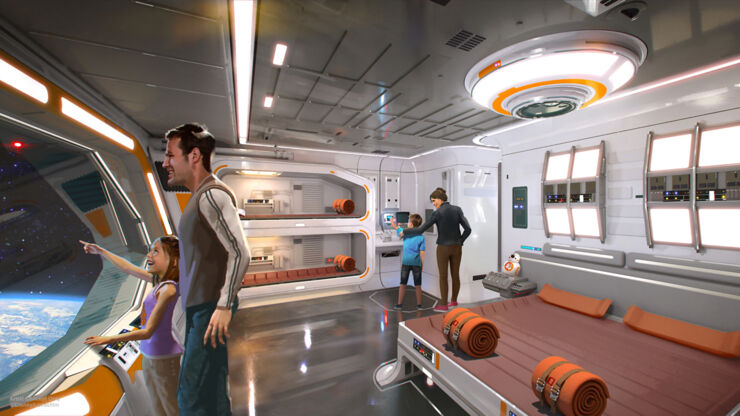 "It's unlike anything that exists today." Chapek said. "From the second you arrive, you will become a part of a Star Wars story! You'll immediately become a citizen of the galaxy and experience all that entails, including dressing up in the proper attire. Once you leave Earth, you will discover a starship alive with characters, stories, and adventures that unfold all around you. It is 100% immersive, and the story will touch every single minute of your day, and it will culminate in a unique journey for every person who visits."
Looking at the concept art for the Star Wars themed resort it seems guests will be able to interact with all kinds of Star Wars characters who will be freely roaming around. In the guest's rooms (above), which are decked out like the inside of a space ship, when you look out the windows you will look out into space as though inside a ship flying along. In fact also in the video above Chapek notes that every window in the resort will have a view into space.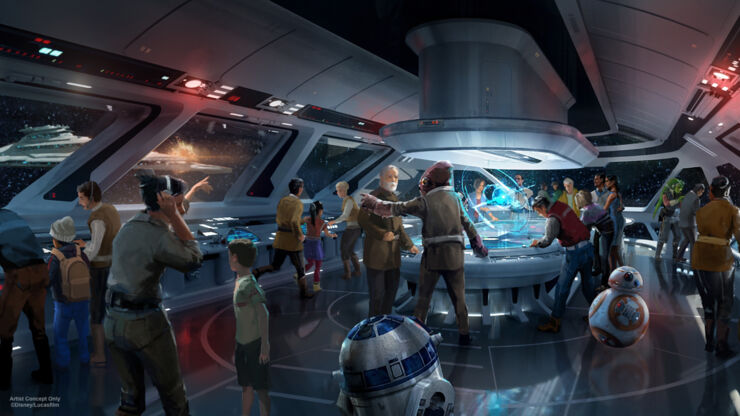 The color-scheme is orange and white just like BB-8 who's in the room. So it seems guests rooms might be themed on different characters.
Another picture (above) shows a bar with a droid bar man and various droids taking orders and hanging out. A third photo (below) shows guests in a type of command center, a Star Destroyer can be seen out the window, and it looks like a lot of activity is going on. So looks like guests will partake in a space battle between the Empire and Rebel Alliance. Also in view in the pic is R2-D2, BB-8, and a Mon Calamari officer issuing some orders.
Basically if you're a Star Wars fan, this looks it will be the place to stay if you're visiting the Magical Kingdom.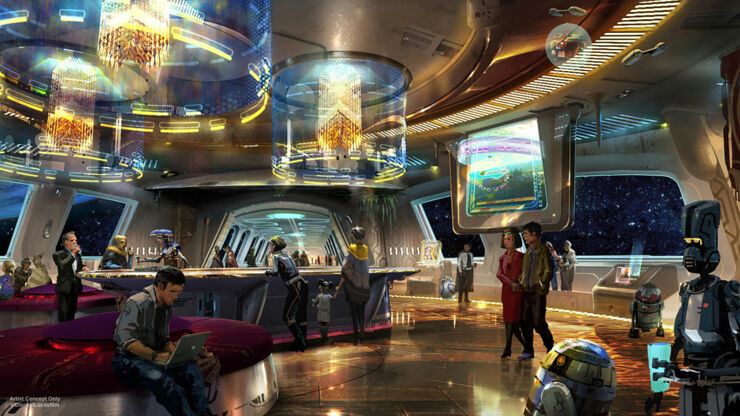 Concept Images For The Star Wars Land Theme Park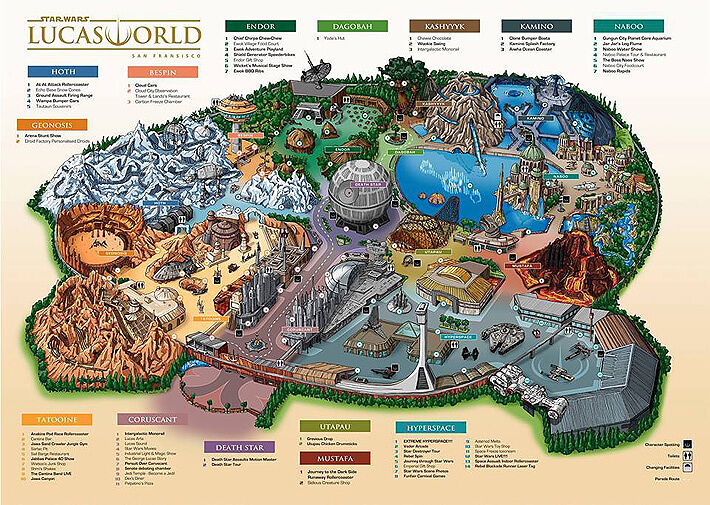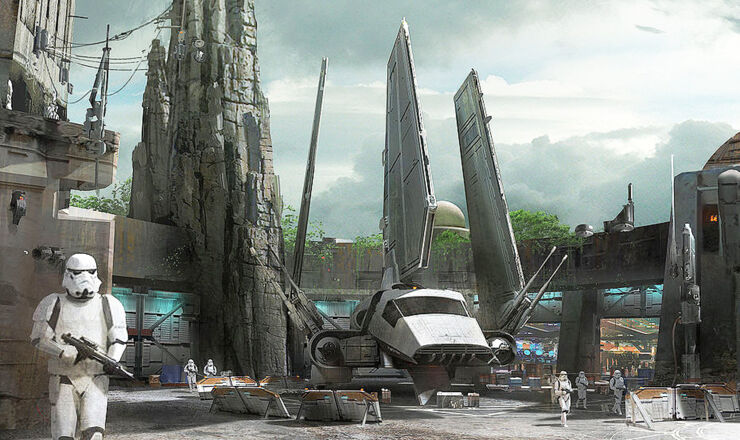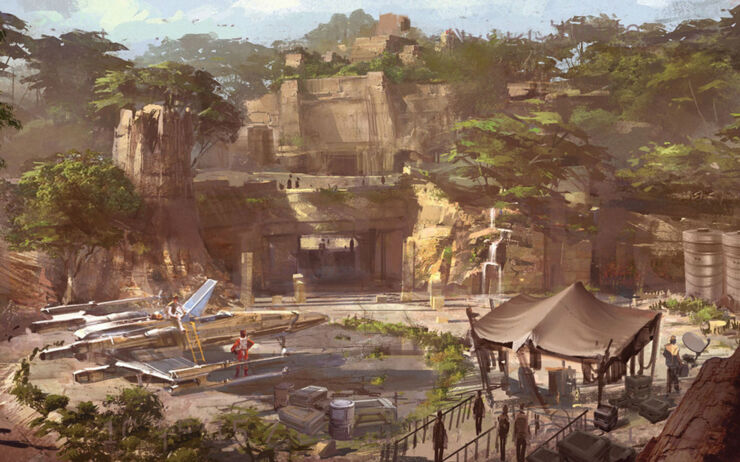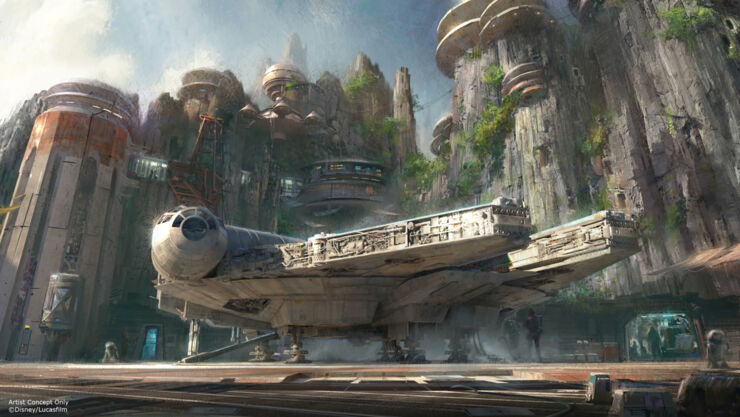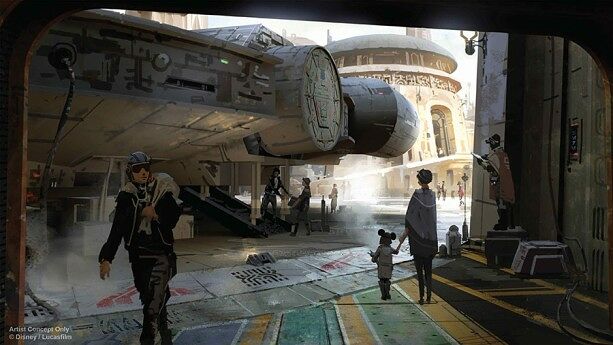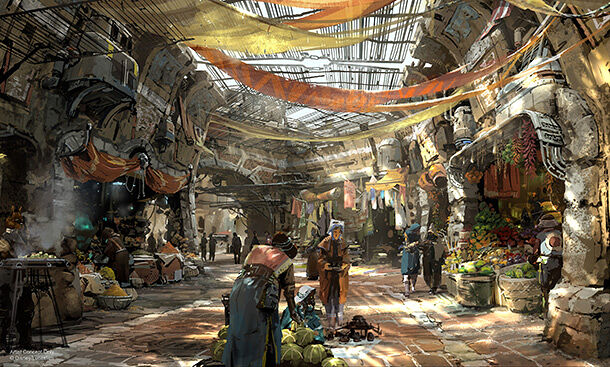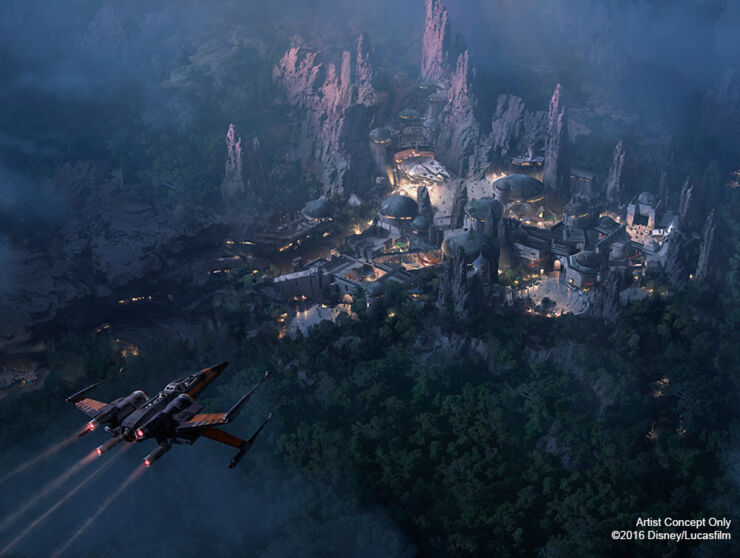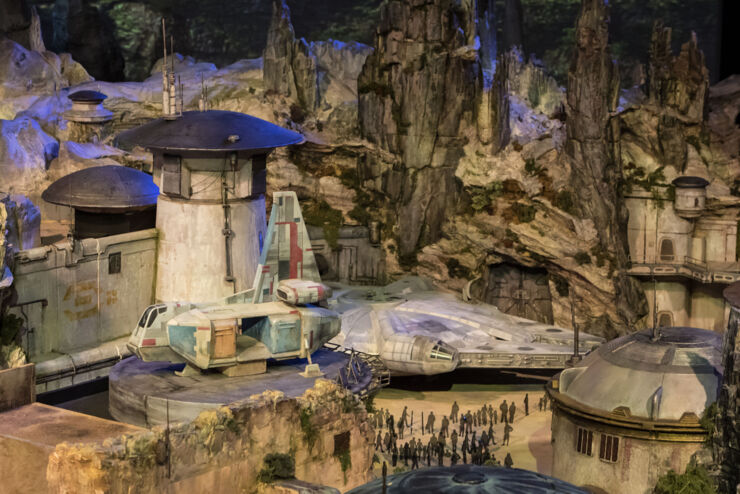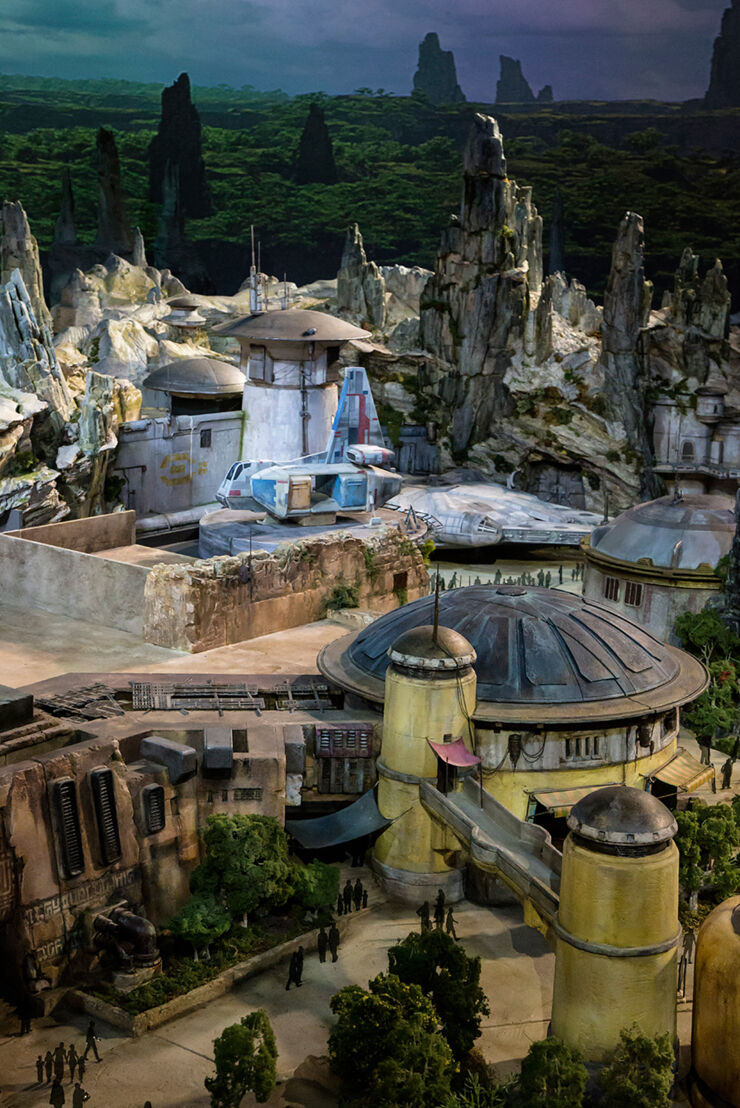 Construction Gets Underway At Star Wars Land
With so much activity across the 14-acre Star Wars Land construction sites at Disneyland and Walt Disney World Resort as this new world is created, Disney wanted to show you how things are shaping up in the video below—and you may not believe what you're looking at(-at).
To read more, visit the Disney Parks Blog.
Star Wars Land Model Gives First Look
As the 2017 D23 Expo there was a detailed model on display showing what these new lands will be like. For those who couldn't make it there, Disney released a video (above) which gives the first proper look at the layout of Star Wars Land.
"Both Star Wars-inspired lands will transport guests to a never-before-seen planet, a remote trading port and one of the last stops before Wild Space, where Star Wars characters and their stories come to life." said the Disney Parks blog. "Here, guests will find themselves in the middle of the action at two signature attractions: one that lets guests take the controls of Millennium Falcon on a customized secret mission, and an epic Star Wars adventure that puts guests in the middle of a climactic battle between the First Order and the Resistance."