Joker Origin Movie Is Being Planned With Martin Scorsese And 'Hangover' Director Involved
A Joker origin movie is being planned by DC and Warner Bros. with news that it will be potentially be produced by Martin Scorsese. Jared Leto will not be playing the Joker and it will not be set in the DCEU (DC Extended Universe). It will instead be made as part of a new DC Comics banner/franchise. The film will be a stand-alone origin story for Batman's greatest nemesis and one of the most famous comic book villains ever created and set in a gritty, hard-boiled, crime genre with an early 80s setting, much like Scorsese's Taxi Driver.
Deadline and Variety reported the news and Warner Bros. have got the Hangover movie's Todd Phillips to direct and co-write the script for the untitled Joker origin movie, along with 8 Mile writer Scott Silver. Phillips is also on to produce the new Joker movie alongside none other than Martin Scorsese.
Jared Leto was the latest actor to have played the role of the iconic Joker, in 2016's Suicide Squad—it's previously been played by Jack Nicholson in 1989's Batman and then by Heath Ledger in 2008's The Dark Knight. Leto will be playing the Joker role again for the Suicide Squad sequel and also in an upcoming untitled project featuring him and Margot Robbie as Harley Quinn in their own standalone film (see video above). The latter Variety says will be a "criminal love story" and will be directed by Glenn Ficarra and John Requa who currently work on NBC's This Is Us.
However, Jared Leto won't be in the new planned Joker origin movie which will likely feature a younger actor.
What Will The Joker Origin Movie Backstory Be?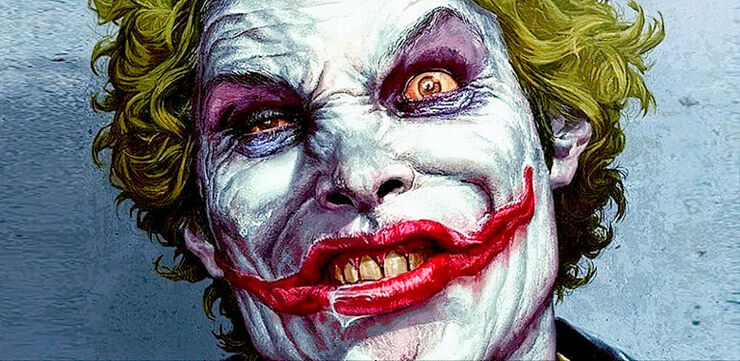 Deadline said, "The Joker Origin movie will be the first film under a new banner that has yet to be named in which WB can expand the canon of DC properties and create unique storylines with different actors playing the iconic characters." continuing, "I'm told that the intention is to make an origin story that isn't part of any other iteration."
"The intention is to make a gritty and grounded hard-boiled crime film set in early-'80s Gotham City that isn't meant to feel like a DC movie as much as one of Scorsese's films from that era, like Taxi Driver, Raging Bull or The King Of Comedy." note Deadline.
Many people have regarded Alan Moore's 1988 The Killing Joke one-shot graphic novel as the definitive origin story for Joker. Speaking last year, Polygon.com writer Susana Polo stated, "Definitively knowing the Joker's backstory can really only do two things to the character. It can humanize him, running counter to the Joker's use as an embodiment of pure evil; or it can explain him, which would run counter to his use as an embodiment of pure chaos. Or it won't add anything at all to him, in which case why are we even doing it in the first place?"
Polo finishes with "There's no backstory you can give the Joker that could be scarier than not knowing."
Who Will Play The Lead In The Joker Origin Movie?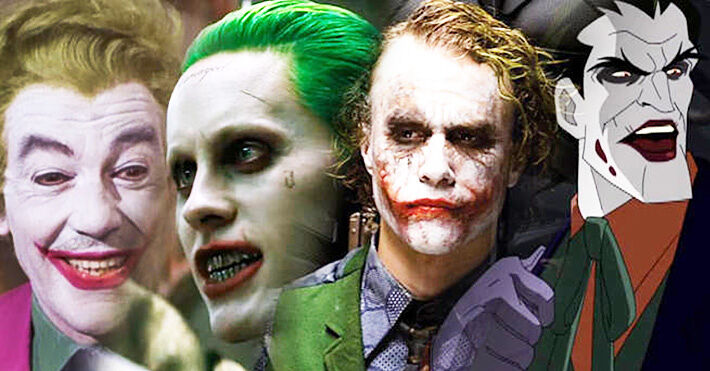 While it's thought that current Joker incarnate Jared Leto won't be featuring in the Joker origin movie, there's been no indication yet who might be cast. Because it's such early days still, it likely won't be known for some time.
However one actor has already expressed their interest in playing the role of the Joker. And that is Canadian actor Steven Ogg, who plays Negan's right hand man, Simon, in The Walking Dead. He's also popped up in TV show Westworld and featured as the motion capture artist for Grand Theft Auto V playing the role of Trevor Philips in the game.
Speaking with Cinema Blend about playing the Joker Ogg said, "It'd be fun. I mean, it seems to screw everyone up, whoever does it. They end up going a bit crazy, except if you look at Nicholson's Joker. But what I was reading, and I'd love to do it, is the younger, like 'how The Joker became The Joker' is what they're working on. So I'd assume it would be a younger person. But that type of character, there certainly would be a lot of interesting things to explore with him. I would love to do my own different take on it, on him. So yeah, if you're offering it to me, I'll take it."
It would be an intriguing choice, although if the Joker origin movie is looking for a young actor that would obviously work against Ogg.
Leonardo DiCaprio as Joker?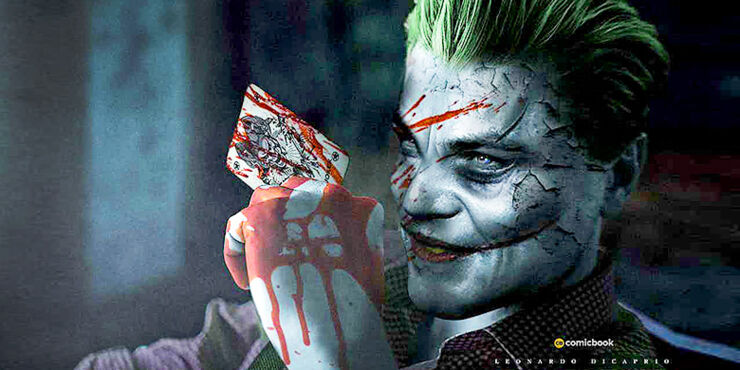 Fan art mockup of Leonardo DiCaprio in Joker origin movie. Image: ComicBookMovie
But if not Ogg, then how about Leonardo DiCaprio as the main villain in the Joker origin movie? The Wolf of Wall Street star's name has recently been thrown into the ring, as part of an extended plan by Warner Bros. A plan that started with them approaching Scorsese to produce (which still has to be finalized), so they could then use his credentials to lure in DiCaprio who has worked with the iconic director on five of his movies, including The Aviator, Gangs of New York, The Departed, Shutter Island, and The Wolf of Wall Street.
Getting a serious, Oscar-winning actor like DiCaprio onboard could begin an intriguing departure from the current DC Extended Universe (DCEU) movies, which have given us Man of Steel, Batman Vs. Superman, Suicide Squad, and Wonder Woman—the latter of which being the most favorably received.
According to the Hollywood Reporter, "Warners wants to branch off with stand-alone movies that are unconnected to that version of the DC world. The new movies will have non-traditional takes on the heroes and villains of DC, and hopefully, attract actors and filmmakers who don't typically toil in the comic-book movie world...The plan is to launch a separate label for these projects to distinguish them from the rest of the DC films. For Joker, which could be the initial entry for the label, sources say the studio and [Todd] Phillips would want DiCaprio or another A-lister to play the character as a gritty crime boss in a Scorsese-esque Gotham underworld."
Until we find out if DiCaprio, or Ogg, or someone else will play DC's most infamous villain, check out some of the reactions for the Joker origin movie from fans. Which have been mixed to say the least, with some thinking it sounds interesting while other considering it an abomination. See those responses below.
Twitter Reacts To Martin Scorsese & Joker Origin
Martin Scorsese on board to produce a 1980's Gotham City crime film based on the origins of the Joker? You have my attention... #TheJoker
Nerds currently reacting to news that #TheHangover filmmaker Todd Phillips is tapped to co-write and possibly direct Joker film
Jared Leno Responds To Not Playing The Joker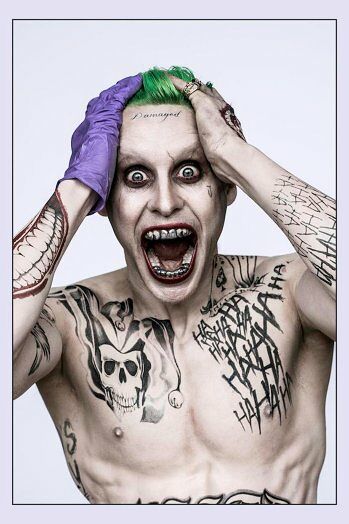 Image: Jared Leto as the Joker via @DavidAyerMovies / Twitter