How Ecolog International Delivers A Traditional Christmas Pudding To A British Soldier Overseas
Ecolog International knows when it comes to the festive season in England, Christmas Pudding marks the traditional end to the classic British Christmas dinner. It's up there with family gatherings, the Xmas tree, decorations, presents. And let us not forget the star of the show, the Christmas turkey (with roast potatoes, plenty of gravy and Brussel sprouts of course).
Serving Christmas pudding is an age old tradition, whether you actually like it or not (there are many variants of the Christmas Pudding recipe, with ingredients ranging from plums to peanuts), and so every year it makes it's appearance at the end of the meal. But what if you are a British soldier serving overseas. You're not able to get home to your loved ones and your absence from the family dinner table on Christmas day can be a difficult and sad moment for family members and soldiers alike.
But in the heartfelt video above Ecolog International comes up with a wonderful festive idea to make sure that, even though his family are half way around the world, there is an opertunity for this soldier to feel that he is joining in on the Christmas Day celebrations by eating a Christmas pudding. One that his mother has made herself for her son and sharing the traditional Christmas Pudding moment with her son via a live internet video chat.
Ecolog Make Christmas Pudding a Special Moment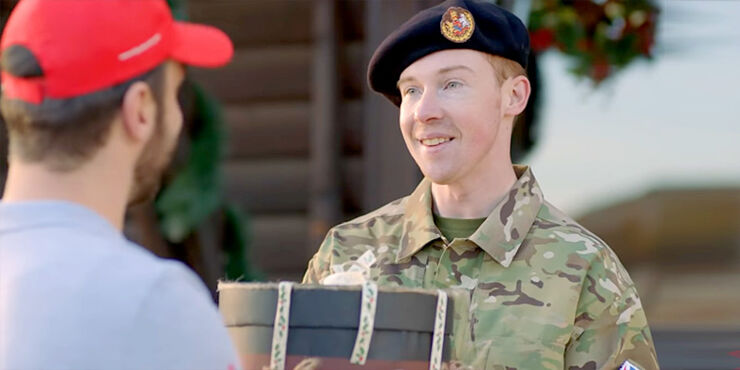 This has been made possible because Ecolog's festive message this year is 'Serving Those Who Serve' and they are able to facilitate this statement because they just happen to be a global provider of quality, reliable, integrated service solutions. They support the military, government, humanitarian and other private organisations in their operations, anywhere, anytime.
Headquartered in Dubai, UAE they are active in 36 countries and in a wide range of environments, including some of the world's most challenging areas. From beyond the Arctic Circle to the scorching deserts, the rugged terrain of Afghanistan and Africa. Which proves very handy in this instance getting a Christmas pudding to a soldier serving in the remote Falkland Islands in the South Atlantic Ocean on the Patagonian Shelf.
They help their customers focus on their mission and core competencies, while Ecolog takes care of the rest. And in this case the result is making sure a mother and her son celebrate Christmas with each other over a traditional Christmas Pudding. What could be more festive and heartwarming. We just hope he likes it.
For more information on Ecolog check out their website.