Edward Cabral's Spectacular Halloween Pumpkin Artwork Will Put Your Jack-o'-lanterns To Shame
Edward Cabral and his pumpkin artwork takes pumpkin carving to the next level. The artist lives in Chicago and likes to incorporate iconic pop culture visuals in his impressive designs.
With Halloween just around the corner, it means you're probably going to attempt your very own pumpkin carving soon. And when you do, if you're feeling particularly creative then Edward Cabral and the pumpkin artwork he produces would serve as some great inspiration.
The artist doesn't only design pumpkin artwork but also likes to create art using cakes, sandwiches, and ceramics too. "I work a lot in media that cannot be archived," notes Edward Cabral. "Like food and unfired ceramic, because I enjoy watching my work decay."
Much of his pumpkin carving can be seen at the annual Jack-O'-Lantern Spectacular, a Halloween festival in Louisville, Kentucky.
How Edward Cabral Creates His Pumpkin Artwork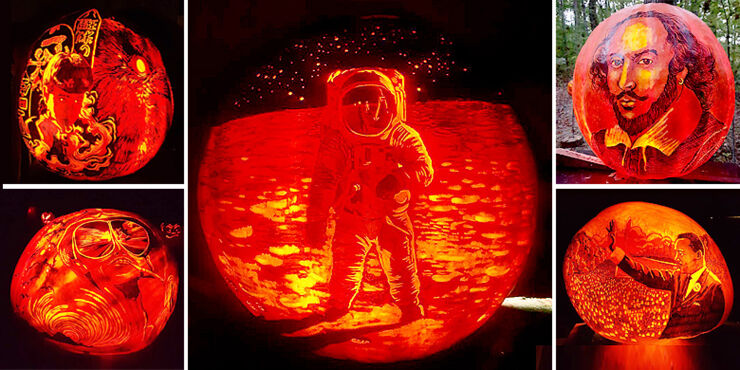 Edward Cabral's amazing Halloween pumpkin artwork / Image source: Instagram.
Cabral's jack-o'-lanterns are undoubtedly works of art, it's just that his pumpkin artwork uses a squash plant as a canvas with which to compose something that is equal to a painting.
And Edward Cabral toils over his pumpkin carving too, because a single piece can take over six hours to make. Sometimes even longer, he tells Mashable.
The process starts with him finding an image he wants to use, then he has to find the right-sized pumpkin to use as the canvas. Once that is done he draws the design onto the pumpkin, uses paint for the middle tones, then caves out the finer details and highlights various parts.
The results are some of most spectacular pumpkin artworks you're ever likely to see. They include carved scenes from films like Blade Runner, Fear and Loathing in Las Vegas, along with the moon landing, and classical artworks.
You can check out some below. Head over to the Edward Cabral website or follow him on Instagram for more.
Examples Of Edward Cabral's Cool Pumpkin Carving
Little Shop of Horrors pumpkin for the broadway skit
Trumpkin round 2 is out on the trail
Game of Thrones pumpkin ?
A pumpkin I made last year
Phantom of the Opera pumpkin on the trail
#huntersthompson #batcountry #jackolantern
Here's my American Gothic carved jack o'lantern, on view until it rots (probably by wednesday). . . #pumpkin #pumpkins #pumpkinspice #pumpkinspicelatte #jackolantern #jackolanterns #pumpkincarving #carving #halloween #happyhalloween #foodart #huntgram #Louisville #kentucky #keeplouisvilleweird #502pumpkins #chicagoart #chicagoartist #artistsofinstagram #artistsoninstagram #drawing #inktober #inktober2016 #sharpie #grantwood #americangothic #artinstituteofchicago #contemporaryart
My #tiger #jackolantern on the trail last night
My #shakespeare #jackolantern that's already rotted away from a warm rain over the weekend. The theme for this year's show is "The World is a Stage."
Final pic of the man on the moon, carved and lit up. Show opens in a few hours!
Man on the moon, carved. Will be lit by tomorrow ?
Obligatory #huntersthompson #jackolantern because I'm in #Louisville
When your pumpkin game is so raw the mayor has it removed from the show... ?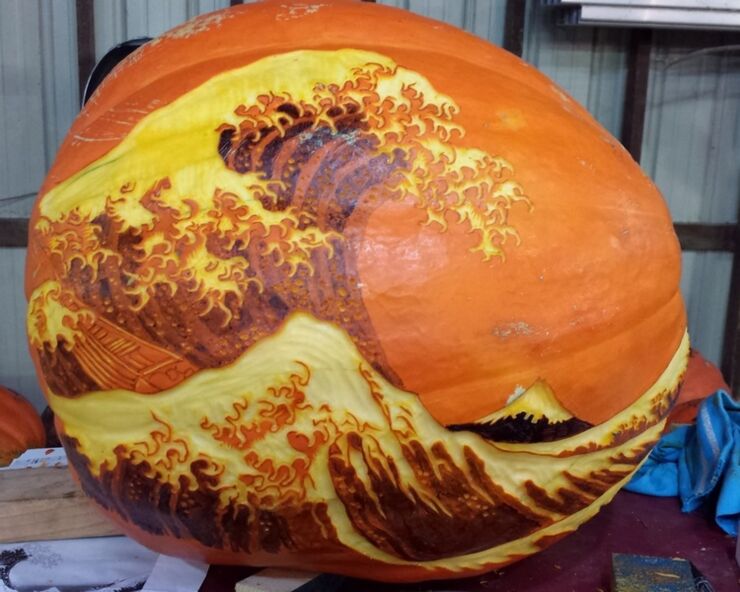 Edward Cabral's amazing Halloween pumpkin artwork / Image source: Instagram.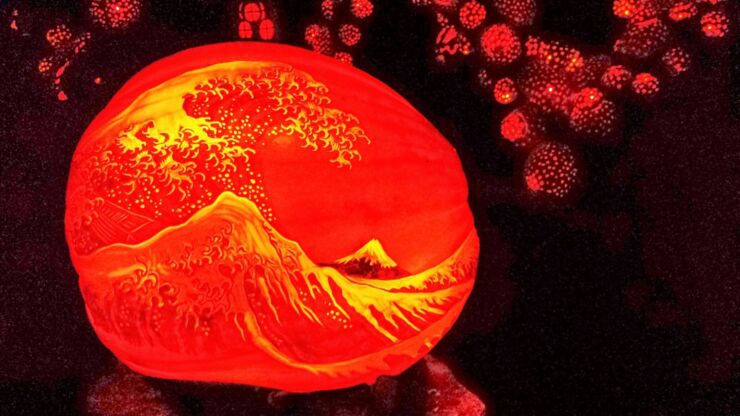 Edward Cabral's amazing Halloween pumpkin artwork / Image source: Instagram.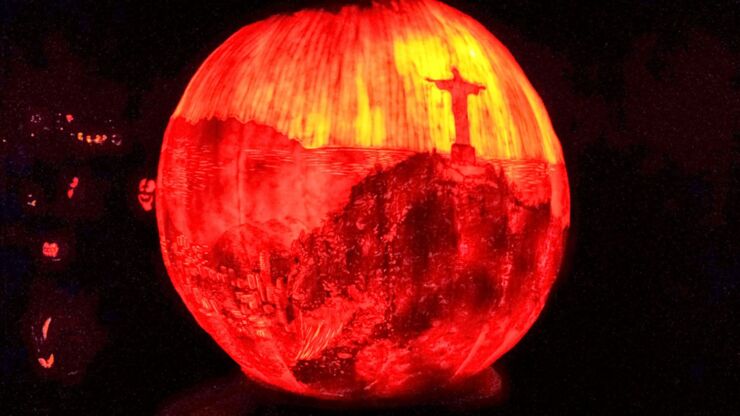 Edward Cabral's amazing Halloween pumpkin artwork / Image source: Instagram.