The Faroese Are Taking On Google Translate With 'Faroe Islands Translate'
If you want to learn Faroese, the language spoken by the people of the Faroe Islands, an archipelago of 18 small islands in the North Atlantic—forget Google Translate. Because it's not on there and the islanders are doing something about it, by attempting to get inclusion in the service by providing their own version.
Faroese is spoken by fewer than 80,000 people across the globe (it also has 37 words for fog) and due to its exclusion on Google Translate, it means visitors who want to learn local phrases are unable to, as they might Spanish, Welsh, or Slovenian. It's a frustration that Faroe Island locals, the tourism board and the prime minister (who penned an open letter to Google - see video below) decided to tackle themselves in a group effort.
That group effort has found form in the Faroe Islands edition of Google Translate, called Faroe Islands Translate. Anyone wanting to learn a word or phrase in Faroese can head to the site, type in what they want and it will be translated. Not only that but you'll get an added personal touch too which you don't get with Google. Because once you type in your phrase, providing it hasn't been translated already, it will get sent to a random Faroese person and translated and delivered to you in a short video clip.
Faroese Gets It's Own 'Faroe Islands Translate'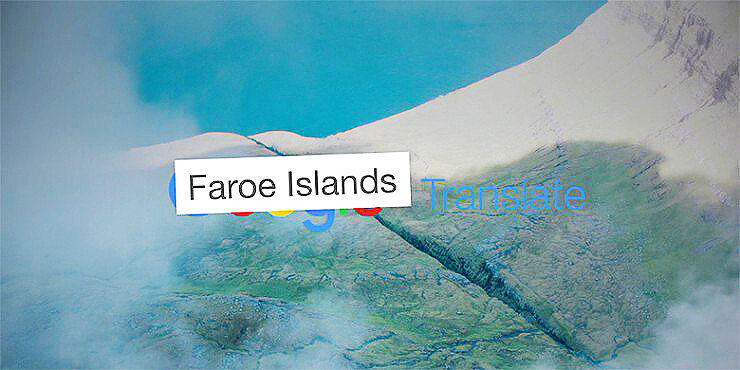 Faroese Translate / Screenshot via Vimeo. Credit: Visit Faroe Islands
We tried the phrase "We are thrown into existence" but didn't hear anything back. Maybe it was too existential. You can, however, find an already substantial database of translated phrases which includes "I'm Pickle Rick" and "I like turtles" among many more. Have a go yourself on 'Faroe Islands Translate' and see what happens.
"Whilst most Faroese people speak good English, we have a beautiful language of our own that we would love to share with those who visit, and with the wider world in general." explains Faroe Islands Translate Project Manager, Levi Hanssen of Visit Faroe Islands. "When traveling in most countries, tourists can use Google Translate to help them to communicate with local people and to feel as if they are a true part of the destination that they're visiting. Sadly, in the Faroe Islands, this isn't currently possible—and we want to change that.
The Faroe Islands Get Google 'SheepView360'
This is not the first time the Faroe Islands have had to take things into their own hands to get Google to listen either. Last year the they petitioned Google to get Street View by creating their own unique version of the service, called Sheep View. Which, as you can guess, used cameras mounted on sheep to capture the islands.
And it worked too, because Google eventually sent some cameras and now the Faroe Islands are viewable in Google Street View. This latest campaign hopes to get the tech giant to add them to Google Translate too.
"We're taking matters into our own hands and enlisting a whole host of local Faroese people to allow us to help those who want to learn a little Faroese. In doing so, we will also build up a video database that visually and audibly logs the Faroese language, something that's never been done before. Our dream is to have Google Translate but, in the meantime, we will have our self-made Faroe Islands Translate!"
Check out and learn some Faroese here and learn more about the Faroe Islands here.
Prime Minister of the Faroe Islands Contacts Google