Legendary 'Harrah Hot Rod' Ferrari Daytona That Once Raced A Helicopter Is Up For Auction
When it comes to a Ferrari Daytona there can't be many that have a history as colorful as Bill Harrah's 1971 Ferrari 365 GTB/4 Daytona aka the 'Harrah Hot Rod.' The car has recently come up for auction and, if you have the money, it could be yours to cherish. It's a truly beautiful piece of automobile machinery.
Harrah made his money from various casinos he built that bear his name. But along with his casinos he also became famous for his car collection, which he bought with the fortune he amassed. Harrah died in 1978 and by then had collected an amazing range of prestige fast cars that encompassed nearly every great model built in his lifetime. Many of these cars were customized to suit Harrah's free-form approach to driving.
One of his most renowned and beloved cars was his 1971 Ferrari Daytona 365 GTB/4 and although factory built, was adapted with its own set of customizations which can't be found on other models. These included nine-inch rear wheels, fender flares, and an upgrade to the engine. It also came with the standard beige leather interior and pop-up headlights.
The Story Behind The Legendary 'Harrah Hot Rod'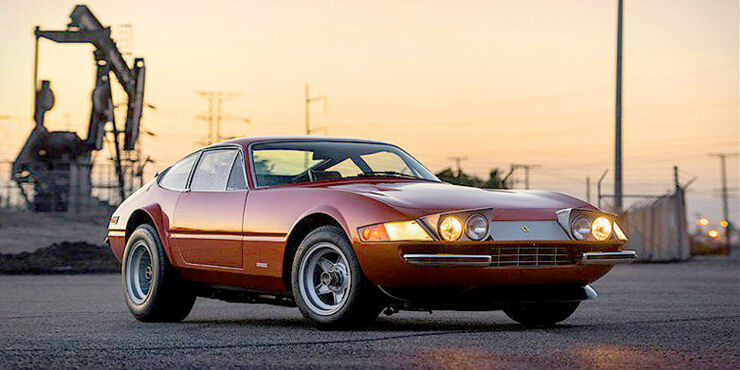 Along with the upgrades this Ferrari Daytona also comes with a legendary story attached. The story goes that Harrah was once approached by a salesman from aircraft manufacturer Sikorsky. The salesman was offering the car-lover a faster way to get between his casinos in Reno and Lake Tahoe.
Harrah responded that he would purchase a helicopter if it could beat his Ferrari Daytona in a race between the Reno and Lake Tahoe casinos. The legend goes that the helicopter lost, with Harrah's custom automobile averaging around 146 mph along the way to claim its win.
Since his death the car has passed through some new owners, with the current owner, who's now selling it, giving it a new paint job, in the original color, and bodywork, along with a suspension and front end rebuild. It's also had a rebuild of the matching-numbers engine, with new pistons, rods, valves, and timing chain.
The car will be for sale by RM Sotheby's at the Monterey Motor Week on 18 to 19 August 2017. It has no reserve but it's thought it'll top the one million mark, at least.
Check out some photos of the Ferrari Daytona below, courtesy of Robin Adams and RM Sotheby's. Learn more about the car at RM Sotheby's website.
Bill Harrah's Legendary 1971 Ferrari Daytona