Beautiful And Rare 1967 Ferrari 330 GTC Pininfarina Is Up For Auction
This rare 1967 Ferrari 330 GTC Pininfarina up for auction and is one of only 598 that were built. In a shift from the types of cars Enzo Ferrari had previously produced, his company created this series of vehicles intended for the road rather than the track. The two-seater coupe was an elegant Pininfarina-designed coupe that was more spacious and powerful than the famed Ferrari 275 GTB, yet smaller than the 330 GT 2+2. The Ferrari 330 GTC was followed later that same year by the 330 GTS Spyder to give both closed and open options.
As such it was fitted with air conditioning and power windows, something not often seen at the time, and also came in the color of argento over nero. This particular Ferrari 330 GTC was initially sold to a Mr. Coppola in 1967 (not Francis Ford) and six years later was sold again to Luigi Chinetti Motors. The Ferrari 330 GTC then left Italy for the United States and was then bought by someone in Savannah, Georgia.
After changing hands a few more times the Ferrari 330 GTC was repainted in red. Its current color, black over a red interior, was done in 1989. The 330 GTC was then passed to somebody in Minneapolis who, in their decade of ownership, showed the Ferrari at the Cavallino Classic and the Concorso Italiano.
This 1967 Ferrari 330 GTC Pininfarina Gets Around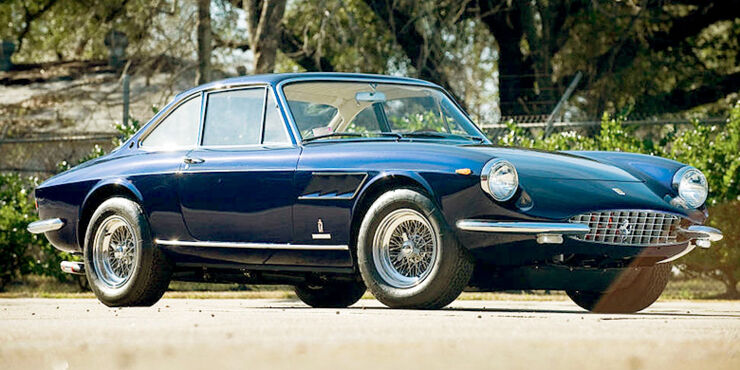 Around nine years ago it went to its current owner. Over the many years since 1967 done its fair share of driving, clocking up around 26,600 miles. But it still has its original engine and has recently had a mechanical overhaul.
It has a 4.0-liter V12 engine, independent suspension and disc brakes, and if you weren't convinced enough of its pedigree already, the Ferrari 330 GTC Pininfarina is considered one of Ferrari's greatest touring cars.
"Well regarded for its luxurious, yet sporting driving dynamics thanks to its rear-mounted transaxle providing perfect balance." notes RM Sotheby's who are auctioning it. "The [Pininfarina] 330 GTC is considered to be one of the most usable and lovely Ferrari grand tourers of the 1960s. Well-presented in attractive colors with a recent mechanical overhaul by Motion Products, this particular 330 GTC is certainly not to be overlooked."
A previous 1967 Ferrari 330 GTC by Pininfarina was sold by RM Sotheby's for $1,023,000. Check out some pictures of this model, which is being auctioned at Monterey Car Week in August, below.