Inside Abbey Road: Google Lets You Go Into The Legendary Recording Studios & Take A Virtual Tour
Abbey Road Studios is one, if not the, most famous recording studio on the planet. It's seen everyone from Pink Floyd to the Beatles to Edward Elgar to John Williams and Jay-Z come through its doors. And sitting outside it is the only pedestrian crossing in the world that's a major tourist attraction.
People from the world over visit the black and white road markings and then walk up to the white-painted walls that sit in front of the manor house turned recording studio and scrawl their names.
Then, ignoring the sign that says No Tours they walk into the building and up to reception and ask to be shown around. And, of course, because it's a working studio they're refused.
But now, thanks to a collaboration with Google you can take a virtual tour of the main studios 1, 2, and 3, and nose around the mastering suite.
Inside Abbey Road is Google's latest interactive Street View-esque project, in a similar fashion to the Pyramids of Giza Street View or their Google Cultural Institute.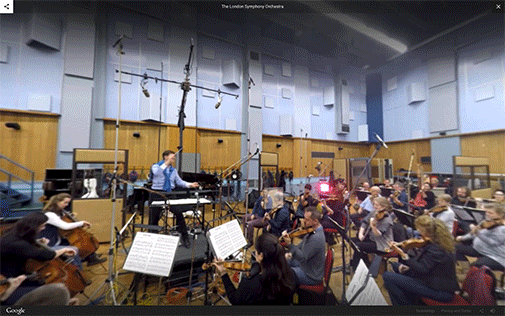 The London Symphony Orchestra playing in studio 1
But Inside Abbey Road is more akin to an interactive documentary. The detail is meticulous—photos and videos of performances are placed on the exact locations they took place—and that's because Google used a 3D LIDAR laser scanner to capture the studios and mastering room, before overlaying it with footage from a HD panoramic camera. The result is over 150 360-degree panoramic photos stitched together, containing over three hours of content.
There are hidden animations to come across—entering a room you might see an engineer busying themselves at a recording desk or Giles Martin tinkering in a control room—and a wealth of archive videos, photos, and information you can access by clicking on various icons. Videos are embedded in the environment and detail everything from the recordings that took place to the musical innovations. You can even play around on a virtual J37, the legendary four-track recorder the Beatles used to record Sgt. Pepper's Lonely Hearts Club Band.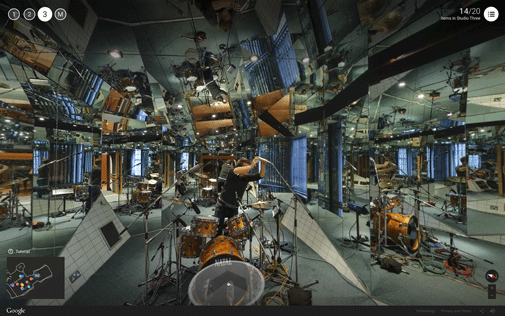 The mirror room in studio 2. Studio 2 is where Pink Floyd recored some of The Dark Side of the Moon and Wish You Were Here
Along with the ability to peruse the place at your own leisurely pace, there's also a choice of three tours to take. One is by broadcaster and former Kenickie band member Lauren Laverne, who tells some of the stories that form part of the myth of the place.
Another is by engineer Mirek Stiles, who started at the studio 15 years ago as a runner and now heads up their audio products, where you can buy plugins that replicate the effects produced by equipment at the studios. The other tour is by producer Giles Martin, son of Sir George Martin, who's been involved with the studio for years. His mother was working there back in 1948 and his father in 1950.
"Abbey Road Studios has been a hive of creativity and source of world-class recordings for more than 80 years." Martin says, "The artists using the studios have sold countless millions of records and have helped create popular culture as we know it today. It's an inspirational place and an honour for me to work there today. This collaboration with Google gives the outside world a great insight into the everyday workings of the studio and allows anyone to glimpse the magic that goes on inside the world's most famous recording studio."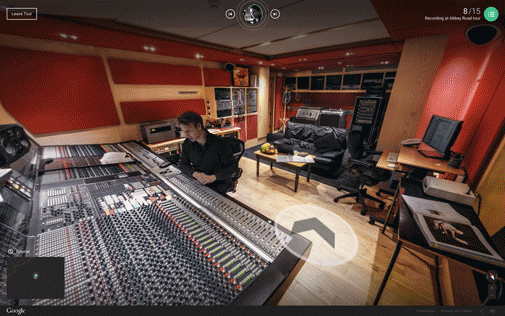 Giles Martin in studio 2's control room
The whole thing is stacked full of knowledge from the studio's beginning back in 1931 to the present day. For instance, did you know stereo sound was invented there? Yeah, me neither. That and many more morsels of musical history and innovation are their to be discovered in a project that gives the public access to a place previously inaccessible. Go check it out here.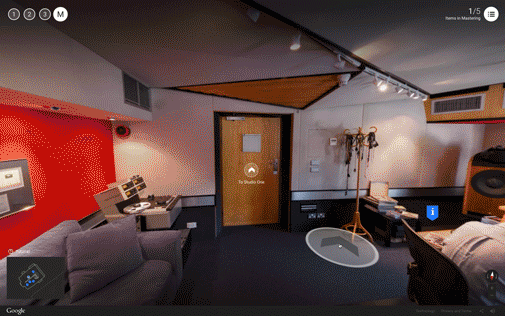 Transitioning from the master room to studio 1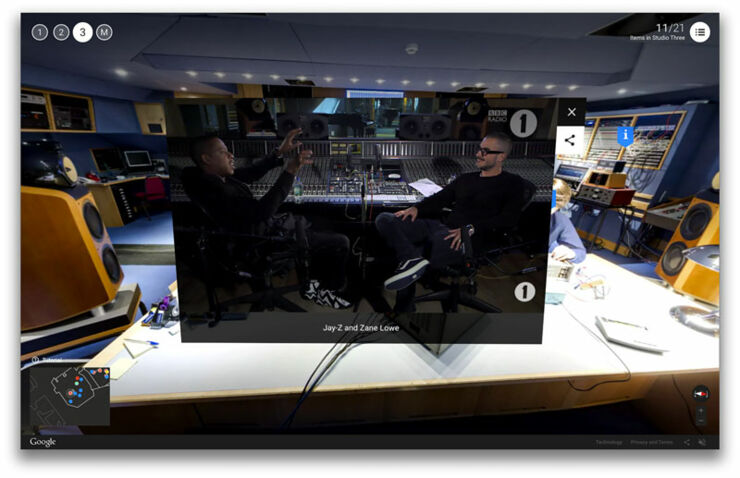 Jay-Z in studio 3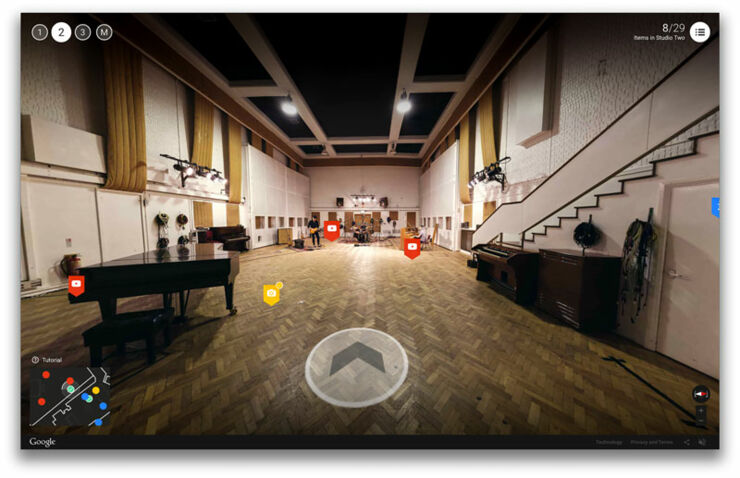 Entrance to studio 2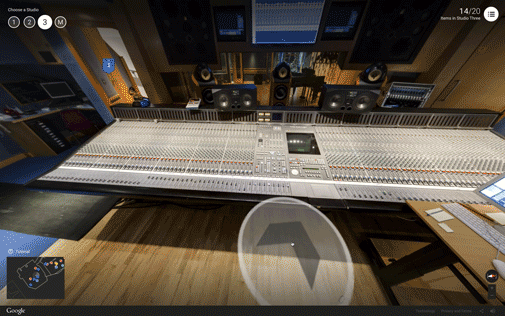 Zooming on on a console in studio 3
GIFs courtesy of Google